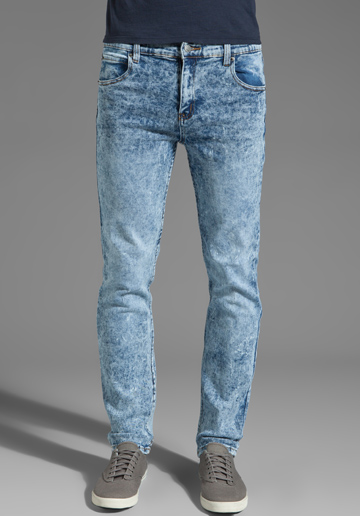 Jeans are a versatile staple in most women's wardrobes. They are constructed of denim material and most commonly seen in shades of blue. However, they can also be found in all other colours on the spectrum. Jeans are available in a wide array washes, rises, and cuts. It can be difficult to find just the right pair of jeans to fit a women's style, size, and price range because of the wide selection available. Women's jeans are sized according to the inside leg measurement. However, when finding the right size, a women should also take into account her overall body shape. Buying used women's jeans is not only an environmentally sound decision, it can also cut the cost. Many women often purchase new jeans with a pre-aged look, so the usual worries regarding wear and tear apply less to buying used jeans. A well-worn pair of used jeans can be indistinguishable from a brand new pair bought at full price.
In order to help buyers to purchase used jeans, they need to learn about the various types of jean washes, provide information about the different jean fits, give insight to the types of jean rises, advice on how to find the best jeans for a particular body shape and consider the issues to address when buying used jeans.
Types of Jean Washes
The majority of jeans are washed during the manufacturing process in order to get rid of excess dyes in the material. However, some jeans, known as raw denim, are left unwashed after the production process giving them their dark colour. Used jeans are likely to have been washed many times, so it is safe to assume that they are faded to some extent.
Types of Wash

Description

Acid Wash

Fallen in and out of fashion throughout the decades

Feature bleached areas on the fabric

Dirty Wash

A well worn appearance

Most are distressed to some degree.

Stone Wash

One of the more popular washes

Either uses actual stones or chemicals to achieve a casual look

Vintage Wash

A worn in look, but not to the same extent as dirty wash

Often distressed in appearance
While some washes are considered more stylish than others, determining which wash best fits the wearer's style is simply a matter of personal preference.
Types of Fit for Jeans
Jeans are made to fit in a variety of ways. While some hang loosely from a woman's body, others are more close fitting. The leg shape of jeans tends to differ between the fits.
Bootcut
Bootcut jeans are snug fitting around the thigh area then gradually taper outward towards the opening of the trouser leg, which is generally 18 to 20 inches in circumference. These jeans can be either high or low rise.
Straight Leg
Straight leg jeans have a straight, narrow leg, which is a constant circumference from the knee to the hemline of the jeans. They can be either high or low rise.
Skinny Leg
Unlike boot cut jeans that have a slight flare at the hem, skinny jeans are designed to hug the ankles. These jeans are tight fitting the whole length of the trouser.
Flare
Flared jeans are snug fitting around the thighs and then flare out just below the knees. The trouser leg opening of the jeans is larger than that of bootcut jeans, ranging 21 to 27 inches in circumference. Flares are typically low rise.
Types of Jean Rises
The length between the seam of the crotch and the waistband determines the rise of the jeans. Wearer's should measure both their front rise and back rise in order to ensure a comfortable fit.
Low Rise
Low rise jeans usually have minimal space between the crotch and waist, measuring five to eight inches. These jeans fall well below the wearer's belly button and typically look best on slimmer women as they fit tightly around the lower part of the tummy.
Mid Rise
Mid rise jeans are the most commonly worn and measure 8 to 12 inches between the waist and crotch. These jeans fall just at or below the navel and are flattering for most women.
High Rise
High rise jeans generally have a rise of more than 12 inches and sit a few inches above the wearer's navel. These jeans are considered less fashionable than low rise and mid rise jeans and as such, are not as popular. High rise jeans may be prefered by women who want to conceal their tummy area.
Finding the Fit for the Wearer's Shape
A woman's body shape can alter the look of her jeans greatly. Buyers should consider jeans that downplay their problem areas and highlight their attributes.
Slim
Women with a slim figure look great in a wide array of jean styles. Bootcut jeans and jeans with snap pockets across the bottom can help to create the illusion of curves on a slim woman's body. Women may choose to show off their slim figure by wearing a pair of skinny low rise jeans.
Curvy
Curvy shaped women look best in bootcut jeans or flares. These women should avoid straight leg jeans that do not give definition to their legs and fail to show off their figures.
Athletic
Women with an athletic body type should consider bootcut jeans or flares, which add curves to the body while highlighting the shape of their legs. Low rise jeans also help to highlight an athletic woman's curves.
Full Figured
Darker coloured jeans best flatter a full figured woman's shape and create a natural slimming effect. Bootcut jeans or flares help to balance out the figure. While mid rise jeans best hide the tummy area, low rise jeans can help make a woman's hips and bottom appear smaller and elongate her torso. Full figured woman should avoid flap pockets and other details that bring attention to their problem areas and make their bottoms appear even larger.
Things to Consider When Buying Used Jeans
When buying used jeans, women should inspect the clothing carefully for any unwanted signs of damage. Some wear and tear to the jeans may be acceptable, and even considered stylish, but there are some areas that may be problematic. Buyers should check that the area between the thighs of the jeans is not worn out, creating a hole. As a woman's legs rub together, this area tends to receive a high amount of wear.
Buyers should also consider the size of the jeans. While many used jeans may have the original sizing around the inside leg, the length of the jeans may have been altered to fit the height of the previous wearer. So, buyers should always ask about any alterations that may have been made to the garment. Shortening the length of the jeans is an easy adjustment, but, lengthening them can pose a bigger problem. It is also important to consider the main type of shoes that are to be worn with the jeans as this affects the desired length. Women choosing to complement the jeans with a pair of high heels should add a few extra inches of length to the legs than a woman who plans to wear the jeans with a pair of ballet flats.
Buying Used Jeans on eBay
Used jeans can be found at many charity shops, car boot sales and from online shops that specialise in pre-owned clothing. Buyers who want to ensure they are buying a perfectly fitted pair of jeans should take careful measurements to make shopping online easier. For buyers looking to pay a competitive price or who want a specific pair of used jeans, eBay offers a large selection.
Looking for used jeans online gives buyers a wide variety of choice in the price range to meet any budget. Buyers can easily search for used jeans by going to the eBay home page and typing in "womens used jeans" into the search bar. This provides a large number of search results.
For those who know exactly what type of jeans they require, they can select the advanced search feature and then filter the listings by category, price, or buying format.
Conclusion
Women's jeans are staple component of every wardrobe and buying used jeans are a great way to save money. Although jeans are considered a form of casual wear, they are increasingly transformed by accessories into evening wear. Now that jeans are worn more frequently, the aged look is more prevalent, and it is replicated in pre-aged new jeans. Many jean styles such as dirty wash and vintage wash are known for giving jeans that worn in look. Used jeans are also a great option for those who are environmentally conscious. Women should always consider their body shape when looking for the perfect pair of jeans. The fit and rise along with colour all play a role in deciding which pair to buy. While darker jeans can help to slim a wider figure, bootcut jeans can help to balance out a woman's curves. With all the available choices of used jeans on eBay, it is more than possible to find the best pair to complement a woman's body shape.