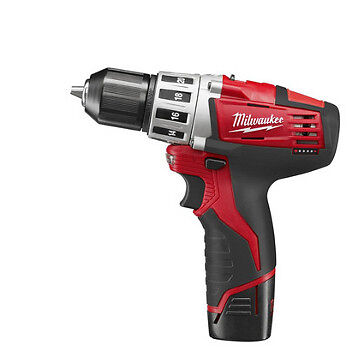 Cordless drills allow users to operate a powerful electric drill without the disadvantage of being tied to an electric plug outlet. This freedom of movement makes cordless drills more convenient than cabled drills. It often also means that a great saving in time and equipment cost can be made by avoiding the need for long cables, while still making it easy to carry out work in distant or otherwise inaccessible areas.
The latest cordless drills benefit from an increasing number of advanced features. These add greatly to their convenience, utility, and appeal. However, there are some instances where cordless drills have not yet caught up with corded drills. There are also areas where some types of cordless drill are better than others. Before buying a cordless drill, therefore, it is important to research the market and to be sure that the drill under consideration is suitable for its intended purpose.
Although cordless drills are widely available, they are not always available at sensible prices. Their battery technology can make them more expensive than ordinary drills, and their high utility can make them attractive targets for retailer's markups in the high street. Better deals on cordless drills can be obtained on the Internet, where online markets such as eBay often have a good choice available.
Attractive Features of Cordless Drills
The obvious advantage of a cordless drill is convenience. No more trailing twenty or thirty metres of electronic cable across a building site floor, with all the confusion and potential danger that such cable represents. For outdoor work, a cordless drill represents a particular advantage, in that areas remote from electricity can be easily accessed. And for awkward to reach areas, such as under sinks and inside cupboards, up ladders, or in other working at height situations, the absence of a cable can render construction or repair work safer and more trouble free.
Built-In Work Light
Flowing from the above advantage is the fact that many cordless drills take full advantage of their flexibility by providing an LED work light to illuminate the awkward to reach areas that they are so suited to. This ensures a hassle-free use of a drill in various conditions.
Extended Battery Life
There are now cordless drills available that make use of the same advanced, lithium-ion battery technology that mobile phones have already been using for a few years. With reduced memory effect, far more complete charging, better overall battery capacity, plus lighter weight compared with old battery technologies, lithium-ion battery drills make an already attractive product even better. Cordless drills are available using three battery technologies as this table shows.
Battery Technology

Advantages

Disadvantages

Nickel Cadmium

(NiCad)

Cheap

Memory effect; heavy; poor charge holding

Nickel Metal Hydride

(NiMH)

Mid-rank performance, price and weight

N/A

Lithium-Ion

(Li-Ion)

Light in weight; no memory effect; high charge capacity

Expensive
For occasional use, NiCad is fine, but the more the drill is going to be used and the more demanding its use, the greater the benefit of spending money on an advanced battery technology. Buyers can use the above chart to weigh their options in terms of the types of battery technology available for cordless drills.
Spare Battery Pack
There is also the option of having a spare battery pack so that if the first runs out in the middle of a job, the work can be continued without delay. Many cordless drills come with two battery packs as standard. Cordless drills often also come with "smart" chargers, which can frequently charge a battery in as little as half an hour. They also help keep the battery in good condition by matching the charge to the actual needs of the battery. This extends the battery life and maintains optimum power.
Hammer Action
Cordless drills can now be bought with hammer action. This is a pulsing mechanism that can manipulate the chuck thousands of times a minute to add greater momentum to the penetrating power of the bit. When used in concert with appropriate hardened drill bits, hammer action improves the drill's ability to penetrate tough materials such as concrete.
Gears for Increased Torque
Gears control the way the power of the turning drill motor is delivered. Gears can be optimised for faster maximum speed with lower torque or for higher torque. Torque is the low speed twisting power, which makes some jobs, such as driving in screws for example, much easier. Although cordless drills do not yet match corded drills in terms of the number of gears they have, professional cordless drills can be bought with two gears, and some models now have three. This extra flexibility makes cordless drills ideal for use as a powered screwdriver, making many construction and carpentry jobs faster and more efficient.
Cordless drills with just a single gear can still be great drills for everyday purposes but may not be suitable for professional use as the single gear does not provide much versatility in terms of torque. If buying a cordless drill for heavy duty use, it is probably worth spending a little more to get more gears.
Speed Control
Different from the torque control provided by gears, the ability to vary the speed by varying the power input allows more flexibility when dealing with varying materials. It also allows better accuracy when starting the drilling process, at which point a low revolution rate makes it easier to stabilise the bit.
Higher Power Ratings
Cordless drills typically have power ratings ranging between 7.2 up to 24 volts. The higher the voltage rating the more powerful the drill, allowing it to tackle tougher materials faster and with less fatigue for the user. With modern advanced battery technology, cordless drills can sustain higher power ratings for longer, giving greater productivity and convenience.
Greater Versatility
Today's cordless drills have more functions than simply drilling. Many come with the option of a drilling kit, which has a selection of different drill bits. For even greater flexibility, some higher specification models may have keyless SDS chucks, which allow for drilling into masonry, metal, and even concrete. There are also kits that include a set of screwdriver heads too so that the drill can also be used as a cordless screwdriver in a range of different circumstances.
Considerations When Buying a Cordless Drill
When buying a cordless drill it is important first of all to consider what functions it is going to be asked to fulfil. Is it going to be used simply for drilling, or is having a set of screwdrivers likely to be an advantage too? Is it going to achieve the sort of heavy usage that would make investing in a model with extra gears worthwhile? Is a low power model for general use likely to be adequate? Or should it have a high power motor? And what sort of battery life is likely to be needed? These questions go a long way to determining the specification of the drill that is required. And the specification, in turn, determines the amount of money that is going to have to be paid.
That said, not all retailers are equal when it comes to cost, and it certainly pays to shop around. High street retailers can be particularly expensive for electrical items, especially if the model being considered is a higher specification model. Cordless drills are often available at more competitive prices online, where Internet markets such as eBay often have a good range on offer
Finding Cordless Drills on eBay
Finding cordless drills on eBay is simple. Starting at the eBay homepage, type a search phrase such as "cordless drills" into the search bar. This brings up pages full of listings for the cordless drills currently being offered for sale on eBay, including both new and used items and items from well-known branded manufacturers. You can narrow these listings down by specifying those characteristics important to you. For example, if you want a cordless drill made by a particular manufacturer, you can specify that. If you specifically want a new rather than used cordless drill, you can specify that. Or if you specifically want a cordless drill with hammer drill function, you can specify that.
Once you have a set of listings that you are happy with, read the descriptions carefully and study the photos. Use this information to help you decide on the most suitable cordless drill for your needs. Should you need further information, you can easily contact the seller via the information on their profile page. This page also shows feedback from past customers, which should help you judge how reliable the seller is.
Conclusion
Cordless drills are a convenient way to take a drill to places that are difficult to reach or otherwise inaccessible to electrical wires. Even for ordinary use, the absence of a cable makes cordless drills an easy and convenient way to work, and this convenience is enhanced by some cordless drills having integral work lights to illuminate dark locations, such as inside cupboards.
The latest cordless drills incorporate many advanced features, such as hammer drill function, gears for controlling torque, speed control, and the ability to act as a cordless screwdriver. Modern cordless drills also take advantage of lithium-ion battery power packs to achieve fast charging and long working times, as well as light weight. And cordless drills can be bought with different power ratings, making it easier to drill into tough materials.
The high utility value of cordless drills can make them attractive targets for high street retailers to add markups to their selling price, which makes it worthwhile to shop around. Rather than buying in the high street, cordless drills are available at more competitive prices online, where Internet markets such as eBay have a good selection at keen prices. The breadth of range, ease of searching, and competitive pricing make eBay a good place to buy a cordless drill.