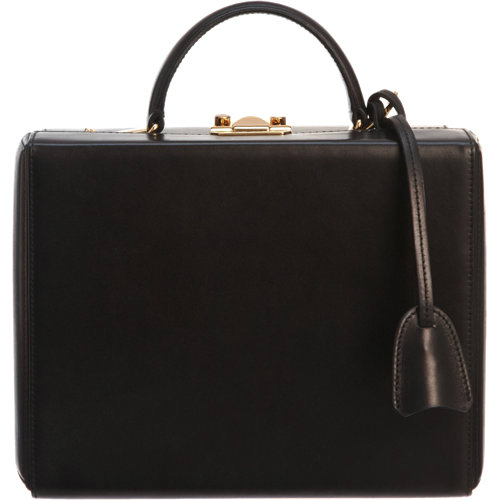 Despite the advent of the digital age, nothing can polish off a good business look like a women's briefcase. While it may be needed to hold a digital tablet and a cellphone instead of paperwork exclusively, a quality briefcase is still a great way for a woman to look professional and put together in a business environment. Today's briefcase options for women are wide ranging and can offer a feasible solution to any woman with a sense of style. Gone are the days of the traditional, rectangular, men's style briefcase. When shopping for a briefcase, women can benefit from having a clear idea of the different styles available in the world of women's briefcases and their applicability in different workplaces. Having an understanding, as well, of the retail options available to them can also be of great help. Although women's briefcases may be available in mainstream retail shops, they may encounter a wider selection of briefcases online through the auction site, eBay.
A Brief History of the Briefcase
The first iteration of a briefcase was created in 1826 in Paris by the bag manufacturer, Godillot. The manufacturer placed a metal frame inside a traditional, collapsible carpet bag, thereby creating the first structured carrying case. From there, other variations on a structured bag design appeared on the market, including the classic Gladstone bag and the lesser-known Rosebery.
By the middle of the 19th century, the first rectangular structured briefcase was in use in Paris. The trend would eventually come to define business accessories for professionals and, by the mid-20th century, was prevalent in business environments around the world. As women moved into the business world, briefcases slowly transitioned into more varied and feminine designs. Today, women's briefcases vary from the traditional briefcase look to more fashion-forward choices.
Types of Briefcases for the Working Girl
Thanks to the diversity available in women's briefcases today, any woman with a sense of style, working in any milieu, can find a viable bag that reflects both her own ethos and complements her professional environment. The following are some of the more popular types of women's briefcases, including descriptions on their features and recommendations on the business environments in which these briefcases are compatible.
The Working Girl's Schoolbag-Style Briefcase
For women who work in more casual or creative business environments, a schoolbag-style briefcase can provide a fun and easy solution to a woman's briefcase needs. A schoolbag-style briefcase resembles the classic knapsack structure of a child's schoolbag. These whimsical variations on a traditional briefcase can feature a single strap for carrying the satchel across the chest or on the shoulder, or two straps for wearing it on the back, and a carrying handle at the top of the case. Schoolbag-style briefcases are commonly found in leather or in canvas with leather trim. Schoolbag-style briefcases also usually come with one or two front pockets and sections that allow a woman to keep accessories and devices organised.
The Working Girl's Handbag-Style Briefcase
Handbag-style briefcases for women mimic the style of a fashion handbag or purse. They give a woman a way to look fashionable and on-trend while still getting the functionality she needs from a briefcase. A handbag-style briefcase can be large enough to carry a small laptop and typically has a single large cavity inside the bag for toting items. The facade of a handbag-style briefcase can have all the usual details of a woman's fashion handbag, including buckles, logo details, and an arm strap. The bag may be made of leather, faux leather, faux alligator, or suede. Handbag-style briefcases can work well in media and fashion business environments or in a field such as sales or real estate where au courant polish can be an essential part of a woman's business persona.
The Working Girl's Satchel Briefcase
Satchel briefcases resemble old-school travel satchels, typically with a leather or faux leather design, large front buckles, spacious exterior pockets, and a long carrying strap. These briefcases offer voluminous storage options and are usually quite large. A satchel briefcase can have a slouchy or structured design. This type of briefcase can do double duty as a carry-all for other items needed during the day, including a change of clothes and toiletries. Satchel-style briefcases are often found in faux leather designs as well. They are a good option for the working girl in creative fields, or technical fields such as engineering or architecture. They are not necessarily appropriate for traditional corporate environments.
The Working Girl's Executive Briefcase
Executive briefcases for the working woman are based on the classic attache design that defined much of the latter half of the 19th century. These boxy, rectangular briefcases open up like a suitcase and have one large interior cavity for storing paperwork and devices. The interior of an executive briefcase can feature pockets and dividers that provide a woman with a way to organise her belongings. The exterior of an executive women's briefcase is typically one colour of leather or faux leather, most often in black or dark brown. Executive briefcases are ideal for women who work in corporate environments, in financial services, or in any professional environment with a corporate-style dress code.
The Working Girl's Messenger-style Briefcase
Messenger-style briefcases are large satchels that are typically worn at the base of the back with a large strap worn diagonally across the centre of the chest. These bags are ideal for toting laptops and can feature front pocket designs that provide some organisational structure to the bag. Messenger-style bags are a good choice for writers and professionals in creative fields. Messenger bags can be found in canvas, vinyl, and leather typically. They are highly sturdy and resilient bags that can stand up to a good deal of use and wear and tear.
The Working Girl's Travel Pilot Bag-Style Briefcase
Pilot bag briefcases are attache-like briefcases that typically have a wheeled structure and an extendable carrying handle that allows a working girl to wheel the briefcase through airports while carrying other bags, tickets, etc. This travel-style of briefcase is a perfect choice for professionals who travel often for business. The briefcase can function as a carry-on or as a reliable and sturdy check-in item. The interior of these briefcases is much like any briefcase, while the exterior is often made of a durable vinyl blend to protect it during storage and travel. When not being rolled through an airport, the handle can be retracted into the body of the case, giving it a look much like a traditional briefcase and making it appropriate for a wide range of business environments.
Shopping for Women's Briefcases
Mainstream, offline retailers may carry a limited range of briefcases for women. Office and luggage specialty stores may offer some selections as well. The options available at offline retailers, however, are usually limited to seasonal trends and colours. Women who want to look through one of the widest catalogues of briefcases can do well to leverage the power of the online auction site, eBay.
Buying Women's Briefcases on eBay
There are a good number of ways in which you can approach buying a women's briefcase on eBay, but you can opt for beginning with a basic search. Typing in a general term such as "women's briefcase" can produce a large number of listings for your perusal. If you have a certain style in mind already, run a search using that term; for example, you could search for "women's schoolbag briefcase". Keep an eye out for eBay's related search suggestions. These useful tips can help refine your search or open up new possibilities you had not considered.
The buying process on eBay can be greatly facilitated by taking some time when on the site to get to know the sellers you come across. If you see a listing that seems relevant to your needs, take a moment to review the seller's past auctions and look through feedback the seller has received from other customers. Alternately, you may choose to only purchase from eBay's top-rated suppliers. Either option can ensure that you receive exactly the type of briefcase you want from a reliable supplier.
Conclusion
Finding the right briefcase to complete a business ensemble can be a perfect finishing detail to a woman's professional persona. Women's briefcases have transitioned away from the narrow confines of the executive style attache and now include myriad options that can flatter any woman's sense of fashion. Wading through these options can seem like a tall order of business, but not if if a woman takes the time to familiarise herself with the different styles available. If she takes the time to consider the style can best complement her professional look, a woman can begin the process of buying a briefcase on the right track. While some traditional vendors may offer a limited selection of briefcases, online auction sites such as eBay offer a much more diverse range of selections. On eBay, women can access any number of briefcase styles and, by taking the time to evaluate their sellers, find the ideal briefcase to match their professional endeavours.