Paste a YouTube Video URL
Please enter a valid YouTube URL
Uploading...
Remove link
Link to an eBay page
Only URLs from within eBay are allowed
Pianos! Aren't they great? Who wouldn't just love to be able to play the piano,eh? Impress the ladies - impress the men if that what your into - but wait! Is it really that easy I hear you ask? No of course not. It takes years and years of practice, expensive lessons and no social life just to get to the stage where you sound like Les Dawson on a good night.
And they aren't cheap either, a really good one will set you back thousands even if you buy it on ebay and it would be just your luck that the seller doesn't accept returns. And you will want to return it. Why? Because you won't sound like Chas n Dave or that Harry Colonic jnr bloke just by buying a 120 grand Bosendorfer on Buy It Now.
I must have looked at fifty or sixty different pianos and every single one of 'em was faulty. Oh yeah, when you turn up Mrs Mills who's selling it will make a reasonably good fist of that Gabriel Aplin record to get you to buy it and as soon as you get it 'ome, the batteries have gone or summat cause it sounds RUBBISH!
So my best advice is to take along somebody who actually knows a thing or two about Pianos.. Fat Reg or Phill Collins would be good, or even that Liber Ace geezer, mind you he must be getting a bity whiffy by now but even he knows more about Pianos that you do and every little helps. A quick word about Piano Stools, they can be very heavy, not to mention smelly so be careful what you feed your Piano on, ( most are fed on sheet music) as you will be cleaning them up.But dont be put off! Get your dream Piano and play with an orchestra, play with a jazz quartet or just play with yourself...
Paste a YouTube Video URL
Please enter a valid YouTube URL
Uploading...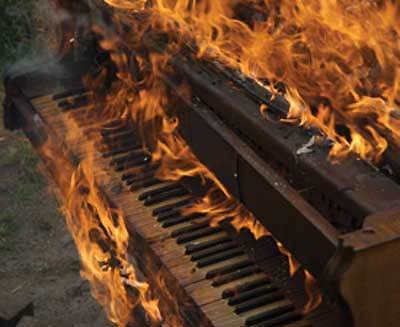 Remove link
Link to an eBay page
Only URLs from within eBay are allowed