Bad weather and poor-quality roads can make everyday motoring a challenge in the UK. So having a high-riding SUV at your disposal can help you keep moving when things take a turn for the worse. What's more, modern SUVs tend to be more efficient and easier to drive than the glorified commercial vehicles of old, so they make great family cars, too. And you don't have to spend big to get a nice one, either. Stephen Errity, production editor of Auto Express picks his top 5 choices for around £5,000.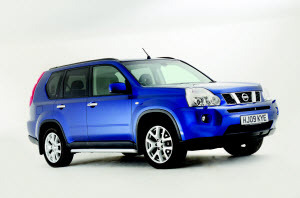 eBay loves: Rugged off-road ability
Watch out for: Not exactly pretty

The Nissan X-Trail is surprisingly capable off-road, with decent ground clearance and tough mechanicals that get the power down even when the going gets slippery. It's also a great tow car, plus it's practical, reliable and well equipped. However, if you're keen to try some off-roading in an X-Trail, don't assume any car will be up to the job; some examples are front-wheel drive only, and these are obviously at a disadvantage in the rough. You have a choice of 140bhp 2.0-litre and 166bhp 2.5-litre petrol engines, alongside a 2.0-litre diesel with 148bhp or 170bhp. The one thing that disappoints is the poor residual values – but this is great news for used buyers, as they can pick up clean, low-mileage X-Trails for a great price.
---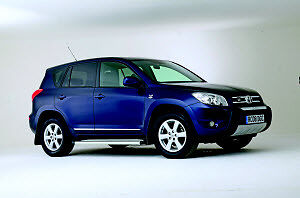 eBay loves: Modern styling and good to drive
Watch out for: Small boot and limited rear space

The Toyota RAV4 is now in its fourth generation, but at this budget you're looking at the popular second-generation car. This is considered to be one of the original and best 'soft-roaders', and it boasts sharp styling in a conventional 4x4 shape. Despite this, it's not really suited to off-roading. Some models get four-wheel drive, but this is one SUV that's happier on tarmac than mud. In fact, it drives and feels very much like a hatchback, with minimal body roll in corners. Inside, everything is well laid out, although access to the rear seats is restricted in the three-door model. Plentiful supply on the used market means high-spec cars with reasonable mileage are easily tracked down.
---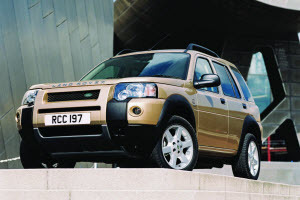 eBay loves: Classy image and peerless off-road
Watch out for: Reliability can be sketchy
The Freelander was Land Rover's entry to the compact family SUV market, after years of producing the Spartan Defender, heavy-duty Discovery and upmarket Range Rover. Like almost every other car in this class, petrol and diesel engines are offered, as well as a choice of three or five-door bodystyles. Where the Freelander sets itself apart from rivals is its considerable off-road capability, though this may not be a priority for some buyers. But should you need it to, the Land Rover is able to traverse steep hills, shallow streams and rough forest tracks with ease. Less impressive is reliability – Japanese rivals are simply more dependable and less likely to go wrong than the British-built Freelander. The second-generation Freelander 2 is a much improved car, but unfortunately still out of reach for the buyer on a £5,000 budget.
---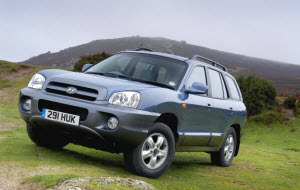 eBay loves: Practical and affordable
Watch out for: Thirsty petrol engines
Before the Santa Fe came along, Hyundai was known as a manufacturer of cheap but unglamorous models such as the Accent hatchback. But with its rugged looks and excellent practicality, the Santa Fe became a very popular family SUV in the UK. At this budget, you'll be looking at the first-generation model, produced from 2001 to 2006. Most cars are very well equipped, and there's a choice of 2.0-litre diesel or 2.4 and 2.7-litre petrol engines. We'd recommend the diesel, as it's more suited to powering a heavy car like the Santa Fe, and the petrol cars can be very thirsty. If you're buying used, pay particular attention to the interior – many of these cars will have been used to transport young families, and so have quite a lot wear and tear!
---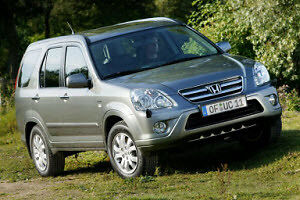 eBay loves: Spacious and very reliable
Watch out for: Not the last word in off-road ability

In the past, Honda was not traditionally associated with 4x4s or SUVs, but it hit the jackpot with the first-generation CR-V in the mid-90s, offering the high driving position and practicality of an off-roader along with the handling and fuel economy of a regular family car. The second-generation model arrived in 2002 and improved on the formula. As with the Santa Fe, the diesel engine is the real star of the show here – Honda's 2.2-litre provides enough power to move you along swiftly while using very little fuel. A 2.0-litre petrol engine is also available for those who don't cover enough miles to justify a diesel, but either way, the CR-V makes for a great spacious family car. Just don't expect it to match a true off-roader on the rough stuff. SE models are quite well equipped, but hunt down a top-of-the-range Executive version if you want all the toys.