Action Camera Buyer's Guide
If you want to record yourself on a snowboard on the moguls, hammering down a dirt track on a mountain bike or ploughing through a river in a Land Rover, a normal camcorder just won't cut it; most models are just too big and too delicate. Action cameras are small enough to be strapped to your chest, handlebars or helmet, or stuck to your car dashboard or roof, and are tough enough to shake off dirt and dust and survive being splashed or dunked in water.

Action cameras come in all shapes, sizes and specifications, and vary in terms of features, toughness and specification. Here we'll take you through everything you need to know about choosing the model that suits you.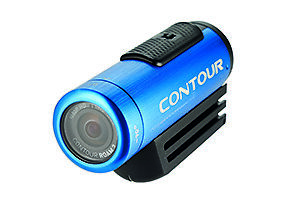 eBay loves:
Great design, excellent value
Watch out for:
You need to plug it into a computer to change settings
RRP:
£170
The tiny
Contour Roam2
is easy to place where you want it, as it's so small. It's also waterproof to 1m, although you can buy a case that will make it waterproof to 60m. It's easy to use: just slide the switch on top and it starts recording. The downside is that you have to use a computer to change any of the recording settings. Video quality is pretty good for the price, but spend a bit more and you'll get better quality.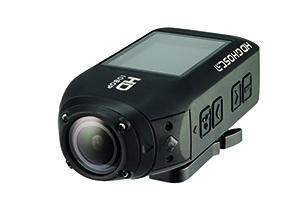 Drift Innovation HD Ghost
eBay loves:
High quality footage, flexible mounting and great apps
Watch out for:
Not always clear which way the lens is rotated
RRP:
£250
The
Drift Innovation HD Ghost
has a tough-looking exterior and is waterproof to 3m. There's a lot of flexibility when it comes to mounting, with a standard tripod screw mount giving you plenty of options. Plus, there are tons of manufacturer options from handlebar to helmet mounts. Its lens rotates, so you can mount the camera in any way and ensure that your video comes out flat. You can change all of the settings on the 2in screen or via the excellent Android and iOS apps. Smooth, steady, high-quality footage finishes the package off nicely.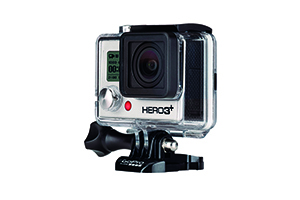 GoPro Hero3+ Black Edition
eBay loves:
Amazing footage, great apps
Watch out for:
Expensive
RRP:
£360
The GoPro range is the best-known for action cams and the
Hero3+ Black Edition
is one of the company's best. It can shoot video in 4K (at 15fps), but drop the resolution to 1,280 x 720 and you've got 100fps slo-mo. It's easy to use, and you can adjust settings using the controls and small LCD display. Using the Android and iOS apps adds in a live preview mode. Footage is excellent, and you get high-quality smooth video in all situations. It ships with a waterproof case (to 40m), although it blocks access to all controls bar power and record.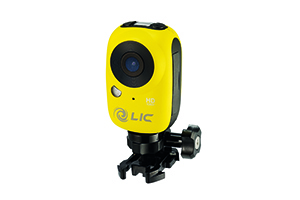 eBay loves:
Low price, great mobile apps
Watch out for:
Video quality is good rather than outstanding
RRP:
£120
The
Liquid Image Ego
is one of the cheapest and simplest action cams: it's the size of a matchbox and weighs just 68g. It comes with a simple mount and a couple of sticky pads, but a standard tripod screw mount gives you lots of third-party alternatives. It's only splashproof out of the box, but there's a waterproof case (safe down to 40m) available. You can adjust video modes on the camera, but for a live preview and to change still photo modes you need the excellent Android or iOS apps. Quality isn't bad either, although more expensive cameras produce better results.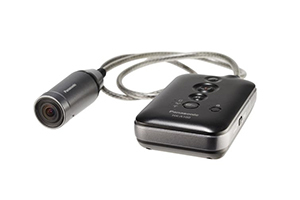 eBay loves:
Clever design, high-quality footage
Watch out for:
It's not designed for rough sports
RRP:
£155
This is more of a life-bloggin camera than an action camera. It's split into two parts: the camera lens and the control box. The
Panasonic HX-A100
camera comes with a headband, so you can wear it, while the control box slips into the provided armband. It's not waterproof, so best for use in gentler sports and for cycling. The control box lets you start and stop recording, but to view a live preview and change settings you'll need the high-quality Android or iOS apps. Video quality is great, with brilliant image stabilisation keeping everything smooth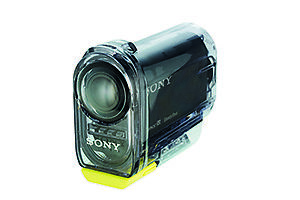 eBay loves:
Amazing image stabilisation, neat design
Watch out for:
Extra mounts are expensive, clunky mobile apps
RRP:
£179
Sony's HDR-AS15
is a mini camcorder that slips into a waterproof housing. The mount comes with two sticky-pads (one flat and one slightly curved), but you can buy handlebar and helmet mounts separately. Sony's electronic image stabilisation does a fantastic job of keeping footage stable and image quality is very good. You can adjust settings using the small LCD, but for a live preview you'll need the slightly clunky Android or iOS apps.
Award

Contour Roam2

Drift Innovation HD Ghost

GoPro Hero3+

Liquid Image Ego

Panasonic HX-A100

Sony HDR-AS15

LCD screen size

None
2.0in
0.5in
None
None
1.2in
Video recording resolutions

1,920x1,080 (25/30fps)

1080p (25/30fps)

4K (12.5/15fps), 1,920x1,080
(24fps, 25/30/48/60fps)

1,920x1,080 (30fps)

1,920x1,080 (25/30/50/60fps)

1,920x1,080 (30fps)

Video recording media

microSD

microSD

microSD

microSD

microSD

microSD

Memory slot

microSDHC

microSDHC

microSDHC

microSDHC

microSDHC

microSDHC

Size (HxWxD)

55x34x100mm

33x52x105mm

40x55x28mm

57x32x38mm

25x60x64mm

47x25x82mm

Weight

145g

167g

76g
68g
167g

65g
What you need to know when buying an action cam

Weather-proofing

Perhaps the most important part about choosing an action cam is whether it's suitable for the environments in which you'll be using it. There are a lot of different choices and options out there, with companies taking different approaches.

Some cameras have no built-in protection, instead relying on a dust- and waterproof mount to keep them safe. Others have weather-sealed bodies, which can survive a mild dunk or a shoot in the rain. If you want to shoot in and around water, though, you'll need a camera that's either completely waterproof or a model that has an under-water housing.

Mount

An action camera is useless if you can't mount it securely to your person, vehicle or a vantage point, so you also need to examine the type of mounts available for the camera. Some come with rigid mounts, which are perfect for eliminating wobble during fast movements, but give you less flexibility when positioning compared to pivoting or ball-and-socket mounts. Some cameras come with more types of mount than others, but the least you should expect is a flat-surface mount with an incredibly sticky 3M VHB sticky pad on the bottom.

We mention in the reviews the kinds of mount the cameras have, but even if the camera you want doesn't have the kind of mount you need, there's a good chance it will still be available for an additional cost: the manufacturers' websites have sections dedicated to the multitude of action camera accessories available.

Take control

Action cams differ massively in the controls that they provide. Some have very basic start and stop buttons, while others have full LCD displays that let you preview and play back content, as well as configure settings. The more controls and options a camera has, the bulkier it tends to be, though.

However, just because an action camera doesn't have a screen to playback footage doesn't mean you have to carry a laptop with you to view your video. Many have built-in Wi-Fi, which lets you playback recorded video on the camera's iOS or Android smartphone and tablet apps. Some apps can also change the camera's settings wirelessly, so you can switch video mode or change the interval between time-lapse photos without plugging the camera into a computer, or have a live view mode, so you can view footage from the camera in real time from your handheld device. Most cameras also have HDMI outputs, so you can even play back video straight to a TV, controlling playback from the camera's own controls or an app.

Resolution

Resolution and frame rate are both important factors. Practically all action cams can record at Full HD (1,920 x 1,080) resolutions at 30fps, but this is a minimum. For UK TV, a model that can record at 25fps is better. Better yet, look for a model that can record at 50 or 60fps, as this will help you capture smoother video, which is incredibly important for fast-moving scenes. Some newer cameras can shoot Ultra HD 4K (3,840 x 2,060) video, although this tends to be at a reduced frame rate (15fps) and can eat up a large memory card quickly.

Battery and storage

Most cameras can also take still images, and sport time-lapse modes, so you can take a string of photos at an interval to stitch into a video later or make a single composite action image. Battery life is also very important, since you don't want to miss that all-important shot while you're out on the trails/track/waves.

All the cameras record to microSD cards and, as you'll fit around 2.75 hours of video on a 16GB model, you won't have a problem with capacity. Very few action cameras are supplied with the necessary memory cards, so you'll need to budget around £10 for a 16GB model.

Sound

All action cameras have built-in microphones, so can capture audio to a certain degree. However, the cameras' small size means the microphones are tiny as too, so audio quality is never more than passable. If you want to capture high-quality audio, you'll need to use an external microphone, so look for a camera with a microphone input. Some models have normal 3.5mm inputs while some have smaller 2.5mm jacks, so you may need an adaptor to attach your microphone.