While your smartphone is capable of taking care of most of your day-to-day photography needs, stepping up to a proper compact camera is still worthwhile. With a bigger zoom lens, better low-light performance and bigger sensor, you'll find that you can take much better pictures with a compact, without having to lug around something big and heavy. There's a staggering range of compact cameras out there, but David Ludlow, Group Editor at Expert Reviews & Know Your Mobile, can help you find the model that suits your needs. He evens provides a nifty
comparison table
highlighting the features of his favourites.
---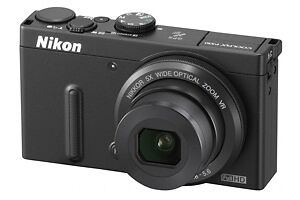 eBay loves: Large sensor, excellent photos, brilliant video mode
Watch out for: Performance is a little sluggish
RRP: £230
The Coolpix P330 has a sensor that's 50 per cent bigger than the one you'd find in most compact cameras. With its 5x zoom f/1.8 lens that lets in more light, image quality is nothing short of brilliant. With a high-quality video mode too, the P330 is great camera if image quality is paramount. The fact it's well made and looks gorgeous is just a bonus.
---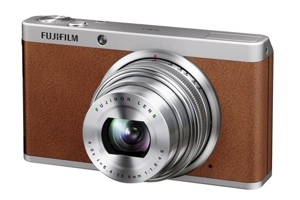 eBay loves: Clever sensor technology, great low-light performance
Watch out for: Video quality isn't very good
RRP: £130
This camera uses Fujifilm's excellent EXR technology. When there's not much light, it acts like a 6-megapixel camera, capturing more light per pixel; when there's more light, it jumps to a 12-megapixel camera. Combined with the bright f/1.8 4x zoom lens, low-light performance is great. Only the lacklustre quality of the video mode lets down this gorgeous-looking camera.
---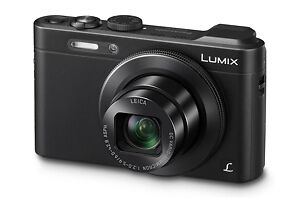 eBay loves: Decent zoom range, large sensor, built-in Wi-Fi
Watch out for Videos can look a little soft
RRP: £285
Panasonic has picked a large 1/1.7in sensor for its LF1 camera. With a wide-aperture f/1.7 lens, low-light image quality is very impressive. It's also very flexible with a zoom range of 28-200mm. General image quality is also very high, with sharp pictures produced in most situations. We like the Wi-Fi mode and Panasonic's smartphone app is excellent. Video isn't too bad, but we found that some HD videos were a little soft.
---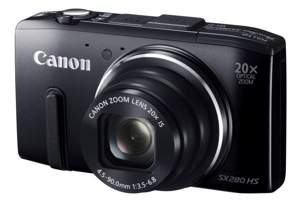 eBay loves: Excellent zoom range, brilliant quality
Watch out for: Smartphone app is a little clunky
RRP: £140
If you want a huge zoom range in a compact camera, you've come to the right place. With a range of 25-500mm, you've got everything from wide-angle to close-up telephoto. Fortunately, image quality is excellent, too, producing sharp and detailed photos and Full HD video. Wi-Fi and GPS are both built-in, although the Wi-Fi app is a little clunky.
---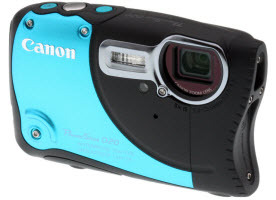 eBay loves: Great looks and tough construction, great image quality
Watch out for: Max aperture of f/3.9 is a little dim
RRP: £228
The PowerShot D20 is a camera that can take a good deal of punishment: it's waterproof to 10m and shockproof to 1.5m. In other words, perfect for those beach holidays. Despite the waterproof casing, the controls are all easy to access. GPS is nice to see, tagging where your photos were taken. Image quality is decent with a high-quality HD video mode, too.
---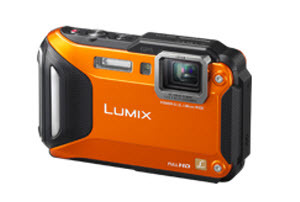 eBay loves: Wi-Fi, GPS and NFC, high image resolution, tough build
Watch out for: Underwater shots lack a bit of vibrancy
RRP: £269
The brightly coloured Panasonic Lumix DMC-FT5 (available in orange, blue, black and silver) is shockproof to 2m and waterproof to 13m, making it one tough camera. Its 16-megapixel sensor is one of the highest you'll find in a compact camera, producing high-quality photos in all conditions. With built in Wi-Fi and NFC (just tap the camera to an NFC-enabled smartphone to pair them), it's easy to control via Panasonic's app. GPS is an added bonus.
---
Nikon
Coolpix
P330
Fujifilm
XF1
Panasonic
Lumix
DMC-LF1
Canon
PowerShot
SX280 HS
Canon
PowerShot
D20
Panasonic
Lumix
DMC-FT5
Sensor
size
1/1.7in
2/3in
1/1.7in
1/2.3in
1/2.3in
1/2.3in
Sensor
resolution
12-megapixels
12-megapixels
12-megapixels
12-megapixels
12-megapixels
16-megapixels
Optical
zoom
5x (24-120mm)
4x (25-105mm)
7.1x (28-200mm)
20x (25-500mm)
5x (28-140mm)
4.6x (28-128mm)
Image
stabilisation
Optical
Optical
Optical
Optical
Optical
Optical
Aperture
range
f/1.8 (wide) -
f/5.6 (tele)
f/1.8 (wide) -
f/4.9 (tele)
f/2 (wide) -
f/5 (tele)
f/3.5 (wide) -
f/6 (tele)
f/3.9 (wide) -
f/4.8 (tele)
f/3.3 (wide) -
f/5.9 (tele)
LCD size
& resolution
3in
921,000 dots
3in
460,000 dots
3in
920,000 dots
3in
461,000 dots

3in




461,000 dots

3in




461,000 dots

Raw mode
Yes
Yes
Yes
No
No
Yes
Battery
life
200 shots
300 shots
250 shots
210 shots
280 shots
370 shots
Weight
200g
225kg
192g
233g
228g
188g
Size
61x107x32mm
62x108x33mm
62x103x32mm
63x107x33mm
70x112x28mm
67x104x29mm
---
Lens appeal
One of the major benefits of picking a compact camera is having a proper optical zoom. With a smartphone you only get a digital zoom, where the image is resized losing quality; an optical zoom lets you get closer to the action without compromising on quality.
At a minimum a compact camera should have a 5x zoom, but it's possible to get models that have a 20x zoom or more. You can't simply look at the number to understand the range of a lens, though, and you also need to know the actual zoom range in mm, from wide-angle to telephoto.
The size of the physical sensor affects the field of view, so to keep things simple all compact cameras have their range quoted as 35mm equivalent values. The smaller the starting number (24mm for example), the wider the angle and the more you can fit in the picture. At the other end of the scale, the telephoto number determines how big an object appears in the photo. As a rough rule, 24mm is a decent wide-angle lens for landscapes and capturing large groups of people; 150mm is a decent zoom range, with values of 300mm and above great for wildlife.
Remember, a larger zoom range doesn't mean better quality. In fact, the opposite is often true because it's difficult and expensive to make a lens that delivers excellent results throughout an excessive zoom range. As a result, some lenses are great at full zoom, but aren't much cop at wider settings.
The aperture size is also important, as the larger the aperture the more light that's let through, which means you need less light to shoot. Quoted as an f-stop number, such as f/2.8, the smaller the number the larger the aperture. Few lenses have a constant aperture, and it tends to be that the aperture decreases the longer the zoom that's used. An aperture of f/2.8 is excellent and means good low-light performance, but typical ranges are f/3.5 to f/5.6.
Image stabilisation
Image stabilisation is a method of reducing camera blur caused by your hands moving while a shot's being taken. It can help you shoot in low-light without a flash, but it's primarily useful when shooting on a compact camera with a large zoom, as at maximum zoom a tiny hand movement is massively amplified.
Most digital cameras have some form of stabilisation built in, but the quality differs. There are three main types of stabilisation: optical, CCD shift and electronic. Optical stabilisation moves the lens slightly to compensate; CCD shift moves the sensor, usually with the aid of tiny magnets. Both of these types are usually very effective. Electronic stabilisation uses the camera's processor to reduce shake, but it's often not very successful.
Sensors
Compact cameras have their sensor sizes quoted as a fraction, such as 1/2.3in or 1/2in: the larger the fraction (1/1.7in is bigger than 1/2.3in), the bigger the sensor. All compact cameras have smaller sensors than DSLR and CSC cameras, but size is still important.
In smaller sensors, each pixel receives less light, which can lead to poor-quality photos and lots of noise in images. As resolution differs between models, those with higher resolutions often produce more noise, because less light reaches each pixel.
Some of the latest models have back-lit sensors. These move the electrical wiring from the front to the back of the sensor to allow more light to reach each pixel. It doesn't always make a huge difference to quality, though. As a very rough rule of thumb, going beyond 14-megapixels on a compact camera can create problems with noise.
Video
Practically every modern compact camera is capable of shooting some form of HD video, but the quality of footage varies considerably. Once more, it isn't enough to read the specifications. One camera may take excellent 720p footage while another that claims to record at 1080p may have noisy images and terrible sound.
If video is important to you, one of the most important factors is whether or not the camera can focus and zoom during filming, because some can't. Video and audio quality is also paramount, but only reviews and example video clips give you this information. Another consideration is video format. Models that record in AVC (MP4) are preferable to those that use Motion JPEG, because the former employs more efficient compression and can store more footage per megabyte.
RAW mode
The ability to shoot photos in RAW mode can be a benefit, because it means you can edit the unprocessed 'raw' image from the sensor; you get to make decisions such as white balance, and how much noise reduction and sharpness to apply. RAW images have no noise reduction, so the full amount of detail is present. You will, however, have to correct any lens distortion. Most cameras automatically correct this before saving a JPEG file to the memory card, which is why the image may look distorted in the viewfinder when shooting an image, but the problem has gone when reviewing it afterwards.
Screen size
All digital cameras use their rear screens to compose and review shots, so choosing a model with a decent display is key. A 3in screen is a must on all but the tiniest of cameras. Resolution, quoted in dots, is also important: the higher the number, the clearer and sharper the picture: 460k dots is a good starting point, but look for 920k or higher for the best quality.
Rugged
You can make a lot of compact cameras water and dustproof by buying a specialist case for them. This lets you shoot underwater and on the beach in safety. However, for underwater shooting it's best to engage the camera's underwater mode, as it will correct for the colour cast caused by the water. These types of case can be expensive, so if you want a camera primarily for use on holiday, it may be best to buy one that's already water and dust-proof.
Power
Don't overlook the camera's power source. Those that come with alkaline AA batteries don't last as long as those with rechargeables. Lithium-ion batteries are usually specific to each camera model and can be expensive. Plus, some cameras require you to charge the battery in-camera, so you can't continue shooting with another battery while recharging the flat one.
Wi-Fi and GPS
Built-in Wi-Fi can be a real boon on a modern camera, letting you control the camera via your smartphone, so you can place the camera in positions you wouldn't normally be able to operate it in. You'll also be able to save shots straight to your phone, so you can share them online instantly.
GPS can be useful, too, automatically tagging where your photos were taken. Import your pictures into software that can read this information and you'll never have to force yourself to remember where a particular shot was taken.
SD Cards
Finally, although just about every camera comes with internal storage, this is really intended for storing a few shots in an emergency when you've forgotten to insert a memory card. Fortunately, a 4GB SDHC card costs as little as £5, but pay attention to the 'Class' rating. The number indicates the minimum write speed in MB/sec. A slower card may be cheaper, but it may also limit the speed at which your camera can take photos, especially in continuous mode. Class 6 or higher cards are a must.