If you're serious about your gaming you'll want to be able to play whenever and wherever possible - that means investing in a handheld gaming console. With a handheld console those commutes to work and long plane journeys will just fly by. There are plenty of options available, so we've rounded up all the best devices.
---
Sony PlayStation Vita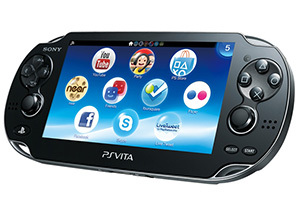 eBay likes: Fantastic graphics, beautiful screen, free games through PS Plus, PS4 remote play.
Watch out for: Memory cards are proprietary and expensive, not as many games as the Nintendo 3DS.
RRP: £179.99
If you're looking for a handheld gaming console with graphics to rival your home machine, the PlayStation Vita should be top of your list. The Vita is a powerful machine with a host of great features baked into its sleek chassis. With twin analogue sticks either side of the screen, playing games on the Vita feels just like playing on a home console. The huge 5-inch touchscreen is beautiful and immersive, and the OLED version on PCH-1000 series machine is bright, vivid and stunning to behold. There's built-in Wi-Fi for getting online and playing multiplayer games, while a PlayStation Plus account will ensure that you can download free games every month. You can use the Wi-Fi to play PlayStaion 4 games remotely too, so the Vita makes a great companion for the PS4. The PCH-1000 has no built-in storage, while the cheaper PCH-2000 still only sports 1GB, so you'll need to invest in a memory card to download games or save your progress.
---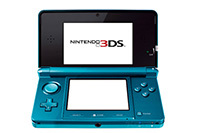 eBay likes: Huge gaming library, 3D works well, great first party line-up, flexible design.
Watch out for: Not as powerful as the PlayStation Vita, no twin analogue sticks, screens nowhere near as good as the Vita.
RRP: £149.99
The Nintendo 3DS is the evolution of the Nintendo DS console that launched back in 2005. As its name suggests the big USP for this handheld console is its 3D capability, and despite the fact that 3D never really took off in the living room, Nintendo's handheld implementation is far more successful. You can even adjust the level of 3D, since although the effect is very impressive, some may still find it uncomfortable to view at its full setting.
The 3D aspect isn't limited to playing games either, since the 3DS has a dual-lens 3D camera built into it. You're not going to be creating photographic masterpieces, but taking 3D photos is a fun addition to the package. As with all Nintendo consoles, the first party game line-up is great, with old favourites like Zelda, MarioLand and MarioKart all making appearances. But there's good third party support too, and backwards compatibility with the whole library of older DS games. The dual-screen, clamshell design is flexible, with the bottom screen boasting touch support and a stylus tucked away into the chassis to tap at it. The lack of twin analogue sticks means that the 3DS won't feel as natural to home console gamers as the PlayStation Vita, but you can buy an add-on to resolve that issue. Graphics are nowhere near the level of the Vita either, but there are far more games available in all genres. The more expensive 3DS XL sports larger screens, but that makes the device itself less pocketable.
---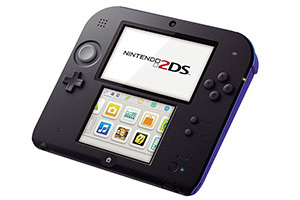 eBay likes: Plays all 3DS and DS games, much cheaper than the 3DS.
Watch out for: Slate design means screens aren't protected, the 3D effect on the 3DS is worth the extra cash.
RRP: £109.99
The clue is in the name – the 2DS plays the same games as the 3DS, but only in 2D. Not only does this make the 2DS cheaper, but it also addresses the concerns that some parents have with their children playing games in 3D. The 2DS also sports a completely different design to its 3DS cousin. Instead of a clamshell configuration, the 2DS is a flat, slate-like device, which makes it simpler for younger users, but also means that the screens aren't protected when you're not using it. The bottom screen is still touch sensitive, and you'll find a stylus hidden in the casing. There's still a camera too, but this one only shoots 2D photos. The 2DS is significantly cheaper than the 3D alternatives, but you need to be sure that you won't miss the extra features that the 3DS offers before making that saving.
---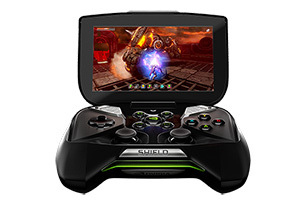 eBay likes: Great ergonomics, Android games play well, PC remote play is fantastic.
Watch out for: It's not for the technophobe, remote PC gaming requires an Nvidia graphics card, it's not cheap.
RRP: £249.99
When Nvidia launched its Shield handheld console at CES 2013 it came as quite a surprise, but it really shouldn't have. Nvidia is a company that's been at the forefront of gaming and 3D graphics for well over a decade, and it now produces some of the most advanced mobile chipsets that you're likely to see in a tablet or smartphone.
With Shield Nvidia leveraged all its experience in gaming to produce a device that addressed many of the issues that hardcore gamers had with handheld consoles. Shield is ergonomically superb, with a control layout that feels much like an Xbox 360 controller, while the 5-inch, high-resolution touchscreen is also excellent. Shield runs the same Android operating system that you'll find in a variety of tablets, but Nvidia has adapted it to be even more game friendly. But the real beauty of Shield isn't its Android gaming, it's that you can play your PC games remotely on it – so while your PC is running Bioshock Infinite, you can play it wirelessly on your Shield. And you can even choose to use the Shield controller, but have the video pumped to your HDTV for some big screen gaming.
---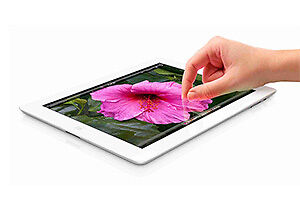 eBay likes: Great for casual gaming, games are cheap, it's a tablet too.
Watch out for: It won't suit serious gamers, lacks proper game controls.
RRP: £329.99
Although it's not really a handheld games console, the iPad turns its hand to gaming on the move with aplomb. With app-based games costing a fraction of the price of a Nintendo or PlayStation equivalent, it's no surprise that the iPad is the handheld of choice for casual gaming. In fact many of the best iPad games are free, or at least can be tried for free to see if you like them before paying for the full version. Of course the iPad lacks the dedicated controls of any of the devices above, but it's amazing how flexible the touchscreen and motion controls can be. And let's not forget that if you choose an iPad as your handheld gaming device, it's also a full-blown tablet, making it ideal for browsing the web, reading and sending email, watching video, listening to music etc. If you're a serious gamer, you'll want a proper handheld console, but if you only see yourself playing games to pass the time on the train, an iPad is worth a look.
---
If you liked this, check out our other related guides:
Handheld video gaming
|
Gaming accessories
|
Video gaming consoles