We've covered the brilliance of
wireless music streaming systems
, but for many people that's overkill – they just want a simple standalone speaker into which they can plug their iPod or iPhone (or even a full iPad in some cases), and use its screen to play music out loud. Thankfully, there are loads of high-quality speaker docks to choose from, as David Bayon, Contributing Editor at PC Pro, finds out.
---
JBL OnBeat Micro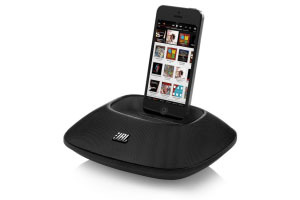 eBay loves: The battery makes it an ideal travelling dock.
Watch out for: There's no room for any real bass.
RRP: £30
Starting at the bottom of the price scale, this is a speaker and dock in one simple and very compact device. It works on battery power or from the mains, making it a great travel dock, and the quality – while obviously quite tinny – is perfectly good for a hotel room.
---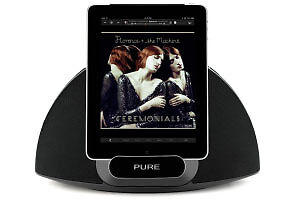 eBay loves: A great all-round package when you consider the price.
Watch out for: No radio, while the audio is decent it never excels.
RRP: £60
At this price you might expect a minimal feature set, but the Contour 200i Air is a dock and Airplay speaker in one. Sound-wise, it can't compete with the likes of the Zeppelin Air, but at this price who cares – it's a bargain.

---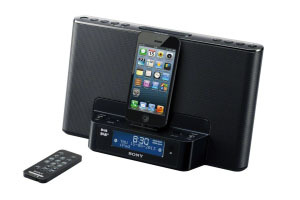 eBay loves: Charge your phone and wake up to its music.
Watch out for: Not exactly the pinnacle of audio quality.
RRP: £75
One of the best-selling speaker docks is… a bedside alarm clock. It makes some sense, charging your phone before waking you with a playlist, or something off the built-in digital radio or FM/AM tuner.
---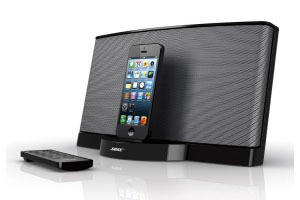 eBay loves: The design will fit nicely in any room in the house.
Watch out for: Fairly limited on connectivity for the price.
RRP: £200
A beautiful and high-quality audiophile device, although the fact that only the connector has really changed from the SoundDock II means it lags behind the competition when it comes to features – there's no Bluetooth or Airplay, for example. Still, fantastic sound.
---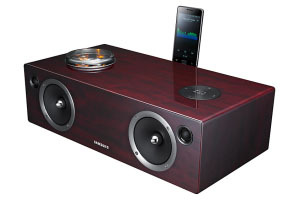 eBay loves: Amazing sound quality and elegant design.
Watch out for: You'll need an adapter to plug in new Apple devices.
RRP: £460
The old ones can still be the best, as this speaker dock from 2012 proves. A distinctive rosewood finish hides a valve amplifier, and the resulting sound is simply fantastic. Okay, it still has the old Apple connector, but with Micro-USB and Airplay support there are plenty of options.
---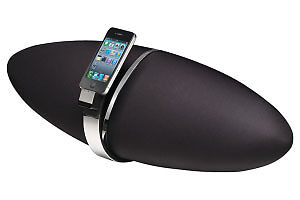 eBay loves: About as beautiful as a speaker dock can be.
Watch out for: You're paying for the full streaming system, so it might be overkill.
RRP: £499
Bowers & Wilkins makes high-end audio equipment, and its speaker dock is no different. This distinctive egg-shaped device is a dock and a wireless Airplay system rolled into one, and with five speakers the sound is delightful.


---
The right connector
The first thing to look for when choosing a speaker dock for your Apple products is the connector. That's because Apple changed the entire shape back in 2012, trimming the wide and tall connector of the iPhone 4S right down to a tiny plug that's so advanced it can be slotted in upside-down with no ill effects. You can buy an adapter to accommodate older Apple devices on a new dock, but you may find they don't sit quite so neatly as a result. You won't find many docks now that offer the old connector by default, but it's worth making sure before you buy.
While Apple devices are the focus, it would be madness to rule out all the other phones and MP3 players in existence, so many docks also offer standard 3.5mm inputs. You won't get the convenience of tapping away at the screen as it's held neatly upright, but it'll still play your music. Of course, some devices come with a remote control as well, which removes the awkwardness.
Performance and design
Engineers are finding ways to cram more and more into portable music devices, so you can expect generally high audio quality as long as you don't go for the absolute cheapest models. If you're an audiophile there are some fantastic high-end speaker docks from big audio brands, with built-in subwoofers for a fuller sound. They're not just standalone docks either: you can get full hi-fi systems that put an iPod dock front and centre.
The more you're willing to spend, the more outlandish and creative the designs become, with some manufacturers really making the effort to create a device that will fit in with stylish living room décor.
Other features
Some devices are more than just MP3 players. It might seem old-fashioned these days, but they can also include a CD player and digital radio, or they can double up as an alarm clock, while others go a step further and connect to your Wi-Fi for full Internet radio functionality. And although it steps on the toes of our wireless streaming article, yes, some devices offer a bit of everything, with wireless streaming capabilities and a docking area for the best of both worlds.
---