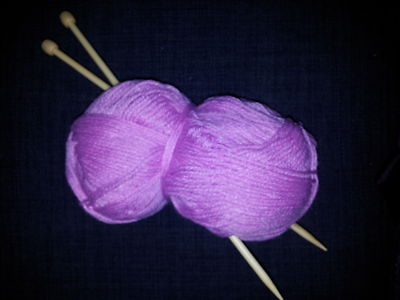 What are the best knitting needles to use for a beginner knitter?
I taught myself to knit nearly two years ago, and have learned through trial and error which knitting needles are absolutely fantastic, and which needles left me with nothing but sore fingers.
I started off with a pair of plastic needles, but found that they did not feel smooth enough, and knitting was a bit of a struggle. Plus plastic needles with a diameter of 4mm or less tend to be a bit on the flexi side, which can be a bit of a struggle when you're just starting out. Then I tried some metal needles, but they were very cold (especially in the winter) which may be an issue for arthritic fingers. Plus in the early days of learning to knit I found the tension of my wool was too tight, leading to very very sore fingers. There seemed to be a buzz about rosewood needles, so I forked out for a pair. They were nice, but not as smooth as I would have hoped. Then finally I decided to try a cheap set of bamboo knitting needles..... and have been a convert every since! Bamboo is the perfect knitting needle material from the beginner through to the expert, children and adults alike. They are light, durable and are super smooth to knit with. The smoothness really is what got me hooked, as knitting feels effortless and fast! It makes my favorite hobby even more enjoyable!