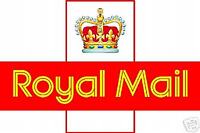 I worked for Royal Mail for 6 years, starting as a postperson & finishing up as a support manager i was retired due to ill health following my stroke which left me with left sided paralysis & cognitive residue.
I caught a postman/driver red handed with £12.000 worth of international packages in his lorry that matter was investigated by Royal Mail internal security POSIS and this postman/driver got away with it (and to date is still working for Royal Mail) All because i caught him on the loading bay and not outside the building.
Another instance another driver was caught stealing diesel from Royal Mail after a six months he was allowed to leave the business not prosecuted and the last i heard he was employed by UPS and guess what as a driver.
The majority of employees within Royal Mail are hardworking & honest but like with any business you get bad apples.
If your going to send a letter, packet or parcel through Royal Mail:
First of all, any packages you send should be made hard to open with staples and/or strong tape and it is advisable to make a concerted effort to disguise the shape of any object which is valuable and likely to be noticed by feel. Any objects being posted should be packed in such a way that if they have any sharp edges, then those sharp edges should not be able to puncture the inside of the package and cause it to lose it's contents, letters if your going to send postal orders or cheques place them in between paper so that they are not visible through light, if sending fragile items pack each item in bubble wrap with brown tape place them in a box with bubble wrap on the bottom, top & sides and place inside another box seal the box and place fragile handle with care stickers and finally remember always place a return to sender address because if the parcel cannot be identified and Royal Mail do their best to return posted items as all items of post that cannot be identified will go to Belfast to be destroyed.
If your going to send mobile phones or anything else of value if possible use the Special Delivery option as that item uopn arriving into a Mail centre will be logged and stored in a secure area with CCTV, recorded delivery is another option but all that requires is a signature and is not logged until it reaches the sorting office by the postman who is going to be doing the walk.
I hope this changes other fellow ebayers habits of the way they post their items and the services that they use because at the end of the day it will save you hassle if your an Ebay seller and the item that you post goes missing during transit although not your fault, Royal Mail require 15 days from posting date for standard mail posted through the 1st and 2nd class service before they will investigate your claim which is a great annoyance and if you lose postal orders through the post it's 120 days inland or over 6 months if posted internationally to see if nobody cashes in the postal orders which in my view is to long and a total cope out in Royal Mails with regards to postal orders they are now giving in printed cheque format better that the old orders and stamps system..