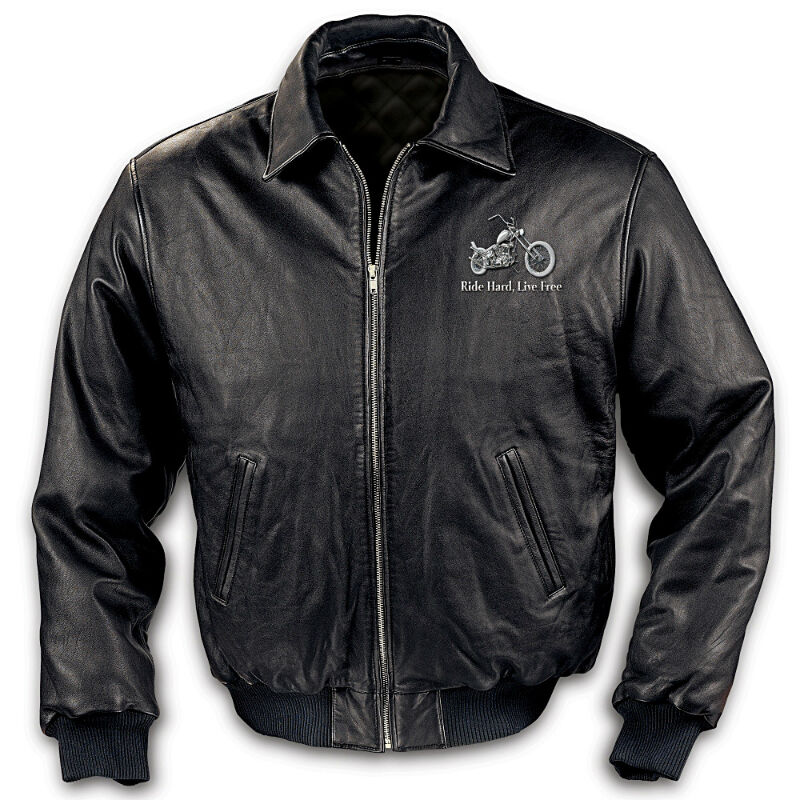 Riding a motorbike is a cost-effective mode of transportation that also benefits the environment by using less petrol than a car. Motorbiking is also a great pastime for people who enjoy the feel of the wind and sunshine on their face. Because motorbikes can be dangerous, though, they should be taken quite seriously. There are several safety considerations to keep in mind when riding a motorcycle. Wearing the proper gear is one of the most important things a rider can do to protect himself. First and foremost, a men's motorbike jacket is in order. The right jacket keeps a motorbike rider warm (the wind chill from riding can cause the air to feel considerably cooler) and protects him from injury. Like any piece of clothing, getting the right size is important, but when selecting a motorbike jacket, buyers should also think about colour, material, armour, and style before making a final purchase.
Size
The size of a motorcycle jacket is not only a matter of comfort but also one of safety. A jacket that is too large flaps in the wind and can get caught on various objects. A jacket that is too tight does not allow the wearer to add layers for warmth, and it also restricts movement. Generally, motorbike jackets are sized like regular apparel, although size charts may vary from one manufacturer to the next. The following chart gives a general guideline for matching chest measurements to jacket sizes.
Jacket Size

Metric Chest Measurement

(inches)

Imperial Chest Measurement (centimetres)

Extra small (XS)

34 to 36

88 to 92

Small (S)

36 to 38

92 to 98

Medium (M)

38 to 40

98 to 102

Large (L)

40 to 42

102 to 108

Extra large (XL)

42 to 44

108 to 112

Double extra large (XXL)

44 to 46

112 to 118

Triple extra large (XXXL)

46 to 48

118 to 122

Quadruple extra large (XXXXL)

48 to 50

122 to 128
So while the jacket should fit snugly, be sure to leave enough room underneath for layering light but warm clothing. These can be removed and stored and the jacket put back on when the rider starts to feel too warm.
Colour
If choosing the colour of a motorbike jacket seems like a purely aesthetic concern, think again. The right colour increases the rider's visibility; the wrong colour can actually be dangerous. While wearing a brown or black jacket is considered "cool", and black is by far the most popular colour of biker jacket, those dark tones are not ideal for riding. A general safety rule for all riders is to assume that one is invisible to other drivers. Wearing a more vivid colour increases the rider's visibility and is a good idea even during the day. When riding in inclement weather or at night, visibility is even more crucial. Highly noticeable hues for riding jackets include yellow, orange, green, and red. Many jackets combine black with a bright hue for visibility plus coolness factor.
Material
A common, painful, and devastating injury that occurs in motorbike crashes is "road rash", which is a light and humorous nickname for an often serious condition that is officially known as friction burns. Road rash is a general term for any skin abrasions that result from sliding across a hard, somewhat rough surface, such as tarmac or concrete. On the mild side, these skin injuries may simply be scrapes; however, a bad case may involve actually removing the entire layer of skin, much like a third-degree burn. When this happens, the victim is often treated in the burn centre, because the accompanying pain and susceptibility to infections are high. Moreover, medical personnel may need to remove dirt and debris from the wounds. In some cases, the patient may even require skin grafting. Although some bikers joke about road rash, and indeed it is sometimes mild, it is no laughing matter. The biker should be thankful that he or she was not hurt worse in the spill.
This somewhat grisly discussion of potential injuries is not meant to discourage people from riding motorcycles but to warn them of the dangers and encourage them to take proper precautions. By choosing a motorbike jacket made of a proper material, the jacket serves as a second skin; in other words, if the rider is in an accident, the jacket comes between him or her and the road; the wreck may destroy the jacket, but there is a possibility the jacket may save one's skin. Modern textiles, such as Cordura, have been invented that allow for better sliding in case of a wreck, thereby decreasing friction and the chance of burning. However, many people still prefer leather for motorbike apparel.
Armour
It may bring up images of King Arthur and the Knights of the Round Table (or "Monty Python and the Holy Grail"), but armour is a necessity for bikers as well. While the material of a rider's jacket can protect against abrasions, it does not protect against impact injuries, such as dislocations and fractures. Although full-body armour is a good idea, and worn by motocross riders, it is generally impractical for people who ride motorbikes for pleasure or transportation. Some jackets feature armour in strategic locations: usually the joints and large surfaces, for example, the shoulders, elbows, and back. The armour may be visible or hidden beneath the jacket, depending on the desired look. If a jacket does not come with armour, it is a good idea to look into armoured tops to wear beneath the jacket.
Style
The style of a motorbike jacket may have the least influence on its safety factor, but it is still a variable to consider. Most people want to be safe, but nobody wants to be embarrassed or feel like he is wearing a costume. If a rider does not feel comfortable in his motorbike jacket, he may not wear it, and this becomes a serious safety issue. Colour and material also play into this personal comfort. Some men feel better in neutrals than bright colours. Some chaps are the classic leather type, while other blokes prefer the sporty, modern image of a high-tech textile motorbike jacket. It is important to get a style that is easy to put on and take off and looks good with the type of clothing the rider normally wears.
Furthermore, some styles are designed to go with certain types of motorbikes. Long-distance travellers would probably look for a touring or urban style jacket, which is longer, usually a textile, and often waterproof for commuting in the rain. Sports bikers should look for racing and sport jackets, which are shorter and more fitted.
Where to Find Men's Motorbike Jackets
You can buy men's motorbike jackets from various retailers, including sporting goods shops, motorbike shops, and racing shops. It is best to avoid the jackets that mainstream clothing stores sell, as these "wannabe" biker-style jackets do not likely have the safety features necessary for actual riders. You might also check consignment shops or classified ads for used motorbike jackets, which are usually in good condition if they have never been in a crash. Online auctions are another good place to check for new and used jackets.
How to Buy Men's Motorbike Jackets on eBay
You can quickly and easily purchase men's motorbike jackets on eBay just by learning a few simple tips on how to search and shop. One way to locate merchandise on the site is to navigate through the directory of categories (start by clicking the link on the home page that takes you to all categories) until you arrive at motorbike jackets. You can then use the category filter on the landing page to specify men's jackets as well as other criteria, such as material, size, and condition (new or used).
You can also find men's motorbike jackets by entering a keyword into the Search box on the home page. Type in a series of words, such as "mens motorbike jackets black", and click on the Search button or press the Enter key. Note that keyword phrases do not have to be grammatically correct, and leaving out punctuation is fine as well. Once you see the results, you can use the category links to browse certain groups of merchandise or use the same category filters mentioned earlier to narrow down the listings.
Conclusion
Selecting a motorbike jacket is a matter of picking out the size, colour, material, armour, and style. It is important to get a fit that is snug but not too tight. The colour is a matter of personal preference, but keep in mind that bright hues are more visible than basic black, and any reflective areas can save a life when riding in the dark. The material may be standard leather, which is still respected for skin protection, or a modern textile that is slippery, abrasion-resistant, and perhaps even waterproof. Look for armour in the back, shoulders, and elbows to protect these areas in a spill or crash. Finally, choose a style that goes with the type of riding and feels comfortable. Additionally, buyers must make decisions regarding the brand and the specific type of textile, such as Cordura or Kevlar.
Riding a motorbike is a fun and popular pastime; however, it is also a dangerous one. A rider is exposed to the elements as well as to other drivers and road hazards. It is important to protect oneself as much as possible while on a motorbike, either as a driver or passenger. Like a helmet, gloves, and boots, a good motorbike jacket is essential. Buyers should get one they like and they should wear it every time they get on a bike for maximum protection.