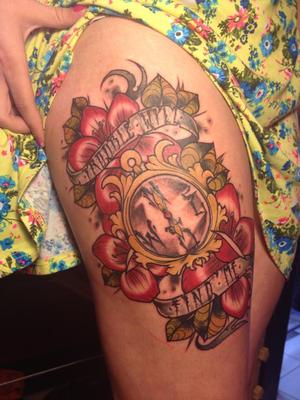 Add a caption
My most recent addition, thanks to Alex Rose @ Hammersmith Tattoo
I'm not completely covered in tattoos, I'm not addicted to them, but I do absolutely love the ones I have and hate when people don't understand why I have them!

I know it's a big step and a lot of people ask me how I chose the tattoos I have and, to be honest, they were all different.

My first tattoo (small line of text from my favourite poem on my rib cage) I got just before I turned 21. I had been thinking about this tattoos for years, the poem was one I studied during English GCSE and stuck with me ever since then. I wanted to get it somewhere that not many people would see. It was for me, not for anyone. My last "rebellious" act as a child before being considered a true adult. And I still love it now! It's delicate, and simple. But it hurt, which brings me to my first point:

- getting a tattoo will hurt, especially if you have a low pain threshold. Tattoos in different areas differ with the pain, but essentially you are still getting a tiny needle piercing your skin thousands of times! Be brave, eat a good meal before you go and be prepared for an uncomfortable few minutes/hours.

My second tattoo was a more unexpected addition. I went through some medical issues and had to spend a lot of time in the hospital getting blood tests (which I HATE, ironically haha). Every day I would watch them tie the tourniquet around my arm and get sick to my stomach about the upcoming few seconds. I thought to myself that there has to be a way to comfort myself, and then I had the idea. It is a PMA (positive mental attitude) tattoo on my inner elbow (just below where the blood is taken). Every time I looked at it, it made me feel stronger and happy and I knew I would get through that patch. Luckily I am now better and don't need so many blood tests but that will always remind me of what I went through! This brings me to my next point:

- tattoos don't have to mean anything, despite what people may say, but personally I am happy that I have stories behind mine and they mean everything to me. I feel that having meaning behind a permanent tattoo helps give it longevity.

My most recent, and potentially last, tattoo was a much bigger process (pictured). Up until this point, I had only gotten small black text tattoos. I've always loved large colourful flower and compass neo-traditional style tattoos, I had just never really known what I wanted permanently on my body. So for about a year I planned this one. I looked up other tattoos, patterns and imagery. I collated everything I liked and started to work out what would look good together. I spoke to various tattoo artists to see what I could do. And then an album came out (Trouble Will Find Me - The National) which really hit me and it all fell into place. It took 8 hours in one session to finish, was a hell of a lot of pain, but I could not be happier with the finished look. Which brings me to my last point:

- RESEARCH! Don't just walk in to a tattoo shop, point at one of their designs and get it that day. Really think about what you want, where you want it, and, most importantly, WHO you want to do it. There are so many tattoo parlours in the world, it would be a shame to get a tattoo done slightly not in the style you were hoping. I found my tattoo artists through the winners of tattoo conventions, looked through their work, and saw it would fit my design.

Hopefully this helps some of you who are thinking about making the leap! I've never looked back :)


FTC - I am a BzzAgent so have been asked to write a guide to help other eBay users!