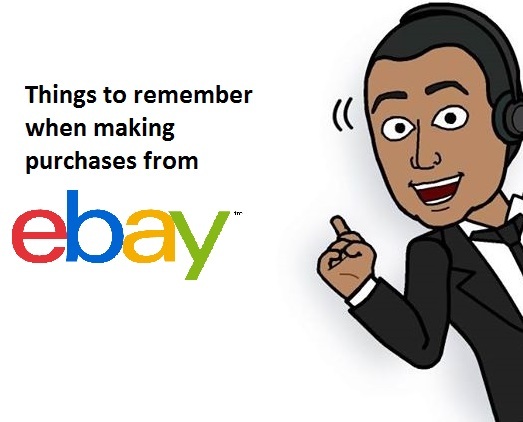 Well...
A lot of people, sellers and buyers seem to underestimate this site for what it is. I was always taught growing up through school never to trust websites that involve shopping because your personal details are always at risk, or that somebody may end up conning you out of that brand new bottle of aftershave you've just brought. People tend to make the wrong moves on items just based on looking at an image so in this guide are 3 things to bear in mind when making a purchase.
Number 1 - The Price
It's extremely easy to pick up an item that's dirt cheap and say to the person sat next to you ''This is like half the price it normally is in the average high street shop!''. Ever wonder why? Some retailers have a positive track record or a track record that's dwindling. Always have a look at the sellers reviews on the item if you're unsure. If the Ebay rating for them is positively high, then take a chance. If its negative, probably best to look elsewhere. There is always a chance that the item could be a cheap copy of the real thing but always check with an expert before buying.
Number 2 - Placing a bid and the Buy It Now
A lot of people found this part confusing. My partner was one of them. Placing a bid on an item and assuming that you'll get the item straight away is like me asking a monkey to give me his banana. IT WON'T HAPPEN. When you place a bid on an item, it means you are offering a basic price to the seller for the item. If another buyer offers more, then the option is to you to offer more. Whoever has offered more on the item at the end of the bidding duration is prompted to pay the price for the item. This price must be paid with the usual method you use to pay for items from Ebay. If not, then the seller can open an unpaid item case which really is not good if you have a Ebay account. With Buy It Now, well, I'll let you figure that one out.
Number 3 - The Dot Com Problem.
This actually confused me at first, I had a few people, my partner included, sorry if you see this, please DON'T KILL ME. LOL. A lot of people have asked me why their local location settings don't work on Ebay when they are searching for a particular item. Certain countries in the world on Ebay today have certain restrictions on what can be brought/purchased in and out of that particular country so the way I see it is that your locality would normally have it's own Ebay orientated domain so you can find the item only 10-20 miles away as opposed to 3000 miles away. If you are living in the UK like me. See what I did there? You would go to ebay.co.uk But if you for example live in the United States Of America then you would use ebay.com. Best to check with Ebay themselves for your local domain if you are not sure. Plus you'll save a bomb on delivery, airmail and excess charges if the item has to go through customs before it gets to you.
So that's about it...
Any feedback or extra comments please feel free to drop me a message here on Ebay, please no nasty or moody messages or messages in alien talk (Google Translate if it comes to it) and have fun shopping!