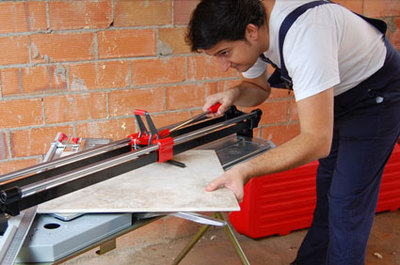 Tiles have been used since ancient times and have steadily grown in popularity whereby most domestic and business properties today will have some form of tiling in the premises. Tiles are often used to form wall and floor coverings, fireplaces and decorative surfaces and when laid properly can transform a room. They are hardwearing, easy to clean, water resistant and hygienic and can range from simple square tiles to complex mosaics.
Whether you are a professional tiler with large areas to tile or a DIY enthusiast wanting to tile a small area in your home purchasing the correct tiling tools is essential for a professional looking, attractive job.
At Tool venture we have all the tiling and flooring tools you will need for marking out, cutting, laying, grouting and cleaning tiles. Tool venture has a huge selection of essential tiling tools from top brands including
Marshalltown
,
Rubi
,
Sigma
,
Porsadrill
and
Stabila
.
For marking out we have a range of
spirit levels
and
laser levels,
chalk lines
and
wax pencils
. For cutting tiles see our range of
Rubi
and
Sigma tile cutters
. We stock a good range of
notched trowels
for spreading adhesive,
tile spacers
in an assortment of sizes and profiles,
grout saws
for removing old grout and
floats
for spreading new grout. The
Rubi Wash Boy
quickly removes excess water and debris from the sponge and is ideal when cleaning newly laid tiles.
Knee pads
are a must for protection from kneeling and both Rubi and McGuire Nicholas have heavy duty and light duty versions.
Our range of
Rubi tile cutters
are the perfect manual tile cutter for professional use and have a choice of cutting lengths to cut small, medium and large tiles. Our bestselling models of Rubi tile cutters include
Rubi TS 60
and
Rubi TS 60 Plus
, Rubi
TR-S
and Rubi
TX-N
series. For more demanding jobs the popular Rubi
TX 700-N
and
Rubi TX 900-N
manual tile cutters are ideal. Tool venture stocks a full collection of
Rubi replacement scoring wheels
to fit all the Rubi tile cutter models and the
Rubi Maintenance Kit
will help to keep your Rubi tile cutter in good working condition.
Our range of hand tile cutters also includes a choice of
Sigma tile cutters
. Professional quality Sigma Tile Cutters are an increasingly popular choice of manual tile cutter for professional users. Our range includes the popular Sigma
Standard
and
Sigma 3 Series manual tile cutters
and the bestselling
Sigma Max Series
and
Sigma Technica Tile Cutters
. The newest addition to the Sigma range is the
Sigma Klick Klock Series
. We stock
Sigma tile cutter parts
including replacement Sigma scoring wheels which are available in both Tungsten Carbide and Titanium.