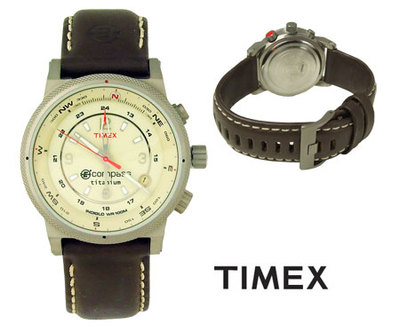 Expedition Titanium E-Compass Watch
A compass in a watch, a compass in a watch, I am reminded of the stand up comedians sketch about garlic bread..
I just love this watch, I love gadgets, yes and this is a one trick pony, well two trick pony if you count telling the time , oh hang on its a three trick pony. It tells the time lights up (Indiglo) and at the press of a button it springs into life as a compass. This simple action fills a hole in me that has existed since I was forbidden to have the shoes with the compass hidden in the heal when I was about seven years old.
It is solid the leather strap is tough, and the body is made from titanium and you can dive to 100 meters, something I do every day of course, wink wink.

the Expedition E-Compass watches employ a sophisticated, miniaturised sensor that detectsthe earth's magnetic field with a press of a button - point a dedicated fourth hand north. Precise to within 10 degrees the Expedition E-Compass watch allows the user to easily adjust for regional variation between magnetic and true north.