The purpose of this guide is to provide some basic information about buying and selling personalised number plates within the Cherished Numbers category on eBay.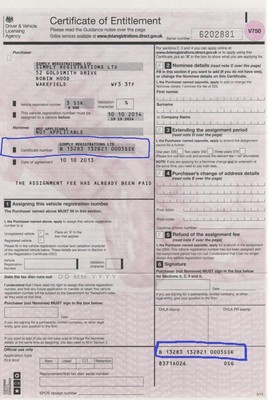 A personalised number plate or simply a 'registration mark' as the DVLA prefers it to be known, can be separated from a car and held on a V778 Retention Document. If the registration is held on a V750 Certificate of Entitlement it is brand new and has never before been displayed on a vehicle. Ownership of the actual certificate is non-transferable, however, the Purchaser or Grantee can sign & date in sections 1 & 6 and supply the V750/V778 to the buyer. It is then the buyer's responsibility to assign/transfer the registration mark from the certificate to their vehicle. When the registration mark is assigned/transferred to a vehicle the rights or entitlement switch from the person named on the V750/V778 to the registered keeper of the vehicle. This is by far the easiest way for ownership to pass from one person to another when buying or selling via eBay.

DVLA introduced a new facility allowing a private number plate to be assigned/transferred to a vehicle online. All that is needed is the certificate number or document reference number shown on the front of a V750/V778 and the V5C registration certificate (log book). Google "how to assign a private number plate online" if you want to move a plate from a certificate on to a car.

Do not reveal the certificate number or document reference number on your V750 Certificate of Entitlement (pink) or V778 Retention Document (green) until you have received full payment in cleared funds. If you include a scan of the V750/V778 as an image in your ebay listing, make sure you obscure or conceal this set of letters and numbers. It is possible for someone to instantly transfer your private plate to their car just by using the certificate number/document reference number.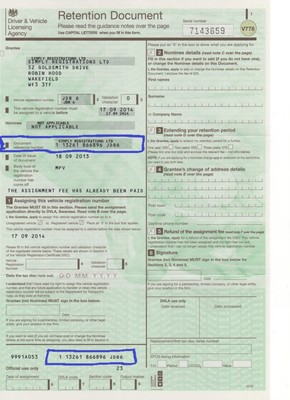 As the seller you should always make sure you have full payment in cleared funds before releasing the certificate to the buyer.

As the buyer you should do your best to make sure the certificate is genuine before handing over any money. I have personally experienced a case where the seller tried to supply a fake retention document so please make sure you know what the document looks like. Search online for the phrase V778 or V750 and select 'images'.

DVLA number plate fees changed in March 2015; there is no charge to add a nominee or extend a V750/V778. The fee to put a registration on retention has reduced to £80. Download DVLA form V317 for more information.

Most people use eBay for the right reasons. It is a great place to grab a bargain, but buying on eBay is often no different to buying from a stranger in the street. Use the feedback facility to read other eBay members' opinions and to help you get a feel for who you are dealing with.

Hopefully you are now one step closer towards your desired result of a pleasant and hassle-free eBay transaction.

If you found this guide useful, please click on the 'LIKE' button at the top of the page. Thank you, James Saperia.
Additional information:
All DVLA Local Offices closed in 2013, all work previously carried out by the Local Office staff is now handled by DVLA HQ in Swansea. If you have a vehicle enquiry you can call DVLA on 0300 790 6802.
Disclaimer
The intention of this guide is to assist anyone who is thinking of buying or selling personalised number plates on Ebay. I hope this information is useful, however I will not be held liable or responsible for any losses or consequences that arise as result of anyone using this information as a basis to carry out transactions via Ebay or anywhere else. Always carry out your own research and take all necessary precautions to avoid being a victim of fraud.