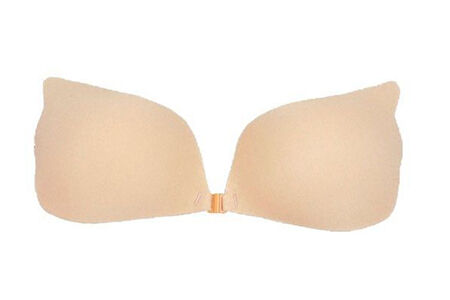 Many women like to wear strapless bras with tops or dresses that are strapless. This creates a stylish look, but many people find it difficult to find a strapless bra that is comfortable and supportive. There are a number of factors to consider when purchasing a strapless bra, including the style of the bra, how much support the bra provides, how much coverage it offers, and more. People interested in buying strapless bras can find them a number of ways, including on eBay, or at local retail stores such as Victoria's Secret.
Types of Strapless Bras
When purchasing a strapless bra, it is important to consider what type of strapless bra works best. There are many types of strapless bras available that perform different functions and have unique benefits. It is a good idea to learn more about the types of strapless bras available in order to make an informed purchase.
Strapless Push-up Bras
Strapless push-up bras can make breasts look larger and create cleavage. They are supportive, and ideal for creating a dramatic and eye-catching look. They generally work well with dresses or tops with low necklines. Some strapless push-up bras come with adjustable clasps so wearers can adjust the amount of cleavage they display.
Convertible Strapless Bras
Convertible strapless bras are versatile because they have removable straps. Many people prefer these because they work with or without straps, so they go well with many different styles of tops or dresses, and not just the strapless variety. The most common colours for convertible strapless bras include black, white, or beige.
Adhesive Strapless Bras
Adhesive strapless bras adhere directly to the wearer's skin. Most of them adhere to the wearer's breasts and sides, and do not have a band that goes all the way around. This makes them ideal for backless dresses. Some adhesive strapless bras are reusable, while others are only for a single use. They are fairly inexpensive and often come in packs of two or more.
Bandeau Bras
Bandeau bras are very comfortable. They are typically made of one solid strip of fabric that goes all the way around the body. They use elastic bands to stay on, and some of them have silicon linings that grip the skin. Many people prefer this type of bra under yoga or gymnastic clothes. However, bandeau bras are not as supportive as other types of strapless bras, so they do not work well for women with large breasts.
Strapless Bustiers
Strapless bustiers are similar to corsets. They support the wearer's breasts and shape her waist. They are usually fairly supportive, and many women find them slimming. Some women wear bustiers as undergarments, while others wear decorative bustiers as tops.
Features to Consider when Buying Strapless Bras
When buying a strapless bra, there are a number of features to consider. One thing to look at is the quality of the elastic band. Since many strapless bras use elastic bands as the primary means of support, these bands need to be reliable. A good elastic band can hold its tension without stretching out or snapping. For adhesive strapless bras, users should consider the quality of the adhesive material. Self-adhesive silicone cups are very reliable, but some women prefer cloth cups with adhesive tape inserts. However, this tape can lose its stickiness and fall off if the wearer becomes too sweaty.
Strapless Bra Sizing
Some women find it difficult to tell if a strapless bra fits correctly. If the bra has an underwire, it should support the breasts comfortably and evenly. If the wire is poking into the breast, it means that the bra is too small. If it is poking into the armpit, the bra is too large. If the breasts bulge over the top of the bra or under the armpits, this means the cup size is too small. Furthermore, if the fabric of the cups creases or puckers in the front, the cup size might be too large. If a bra fits well, the breasts should fill the cups completely, without spilling over in any direction.
How to Buy a Strapless Bra on eBay
eBay is a great place to find high-quality strapless bras. In order to locate the bra you want, simply type keywords into the eBay search bar. You can start with general keywords, such as "strapless bra", or use more specific keywords, such as "adhesive strapless bra", if you want to narrow the search. Strapless bras are great for providing support without the use of unsightly bra straps that could ruin the look of a strapless top or dress. With the number of options available, it is possible for nearly anyone to find a strapless bra that suits their individual needs.