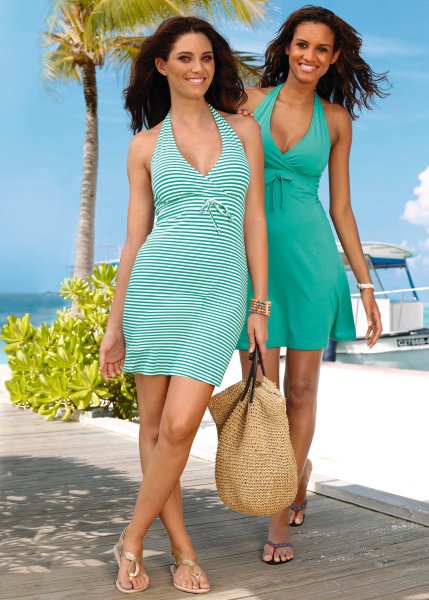 A halter dress is fastened around the back of the neck and is typically backless, although some straps may be strategically placed to be decorative. Halter dresses can be worn as casual or evening wear depending on the choice of fabric and the style of the dress. Halter dresses also range in shape, length, and colour. Block colour dresses are versatile, whereas patterns and prints have a limited wear. While some are well above knee length, others reach to the floor. Halter dresses typically feature a sweetheart or V-shaped neckline, although scooped necklines have made their debut on the dress too. While the upper part of the dress is form fitting, the skirt can have different styles. In order to help women to choose the perfect halter dress, this guide will provide insightful tips on bra choice, body type, fabrics, colours, and accessories, as well as how to buy halter dresses at online retailers, such as eBay.
Tip 1: Consider the Bra Choice
The bra type is one of the most important factors to consider when choosing a halter dress. Although some halter dresses may feature a built-in bra, the majority of women will need some form of extra support. As halter dresses feature a single strap around the neckline, the types of bras that can be worn are limited. Suitable bra options include a strapless bra, a convertible bra, an adhesive bra, or pasties.
Strapless Bra
Some strapless bras come with optional straps, but in general, the bra is designed to be worn without straps. These bras sometimes contain underwiring and padding, as well as gel or silicone inserts to help to enhance a woman's bust.
Convertible Bra
A convertible bra comes with detachable straps. These straps can be arranged by the wearer in a number of ways that complement the style of the dress. Wearers are able use the bra straps to mimic the neckline of the halter dress so that they match perfectly.
Adhesive Bra
Adhesive bras, also known as backless bras, are held in place by a specially formulated adhesive designed for the skin. These bras provide support and have the ability to enhance the cleavage. Adhesive bras are ideal for halter dresses that feature plunging backs. While some adhesive bras can be reused, others are designed for one use only.
Pasties
Pasties, also known as breast petals, are adhesive decorative patches that cover a woman's nipples. These patches come in a wide array of sizes, colours, and shapes. They are designed to prevent a woman's nipples from showing through the dress, as well as preventing the nipples from rubbing against the dress's fabric. Unlike other types of bras, pasties offer the wearer no support.
Tip 2: Consider the Body Type
When choosing the perfect halter dress, women should consider their body type. Although halter dresses are all similar in style, slight differences in strap width can make a difference in relation to the woman's body type. As a general rule, women with a larger frame should wear thicker straps, while thinner straps flatter a slimmer body type. Women should also try to balance their shape to the best of their ability. For women who are top heavy, a flowing skirt will best compliment her figure. For those who carry weight in their hip and thigh regions, an embellished bodice or plunging neckline will draw attention upwards and away from problem areas.
Tip 3: Consider the Fabric Choice
While linen, cotton, and cotton blend halter dresses are often reserved for the summer because of the fabrics' breathability, velvet, taffeta, or heavier silk dresses are ideal for winter wear. In the colder seasons, the halter dress can be paired with a jacket or cardigan. This not only provides the wearer with warmth, but also gives the dress a more formal appearance. Formal halter dresses may be made of chiffon or satin, and contain intricate beading or adornments on the bodice. When deciding on the best fabric choice, women should consider the care required to maintain the fabric's quality. While some materials, such as cotton, are machine washable and require little maintenance, other types, such as silk, have to be dry cleaned and require high levels of care.
Tip 4: Choose Colours that Flatter the Skin Tone
The right colour halter dress can complement a woman's skin tone or clash with her natural colouring. As a general rule, it is best to avoid colours similar to the colour of one's skin. In addition to skin tone, a woman should also consider the colour of her eyes. For example, blue clothing will bring out blue eyes and green clothing will bring out green eyes.
Women with lighter skin tones tend to look best in pastels and nude shades, such as beige and brown. For those who want to make a fashion statement, navy blue or light pink can really make the dress stand out. It is best to avoid harsh colours such as bright purple, red, orange, and yellow; black will leave the wearer looking washed out.
Medium and olive skin tones look best in earth-toned halter dresses. Complimentary colours include black, nude, beige, khaki, and navy as well as dark red and pink. Women with this skin tone should steer clear of lime green, olive green, and dark brown dresses. Colours such as gold and orange will make the wearer's skin look pale.
Colours such as white, khaki, grey, light blue, bright red, orange, and pink complement the skin tone of darker women. It is a good idea to avoid halter dresses that are black, bright green, and navy blue as they can be unflattering. If wearing black, women should complement the dress with a bright contrasting colour.
Tip 5: Consider Accessories
When choosing the perfect halter dress, women should think about how they plan to accessorise it. If the dress is intended for a casual setting, wearers may choose to complement the dress with strappy sandals or a pair of wedges. Halter dresses that are designed for a more formal setting should be paired with high heels. A clutch or small bag along with a shawl can help to add to the dress's formality. It is best to stay away from necklaces as they clutter the neckline.
Where to Find Halter Dresses
Halter dresses can be found at many bricks and mortar department stores. Buyers looking for these dresses can also browse items available in charity shops, as well as online retailers, such as eBay, for an even wider selection.
How to Buy a Halter Dress on eBay
When browsing for a halter dress on eBay, pay close attention to the description of an item that you are interested in buying. By reading the full listing carefully and looking at photos, you'll have a better idea of the condition of an item, and by getting to know the seller, you can feel more confident about making a purchase.
Understand Item Condition
Although you'll often be drawn to a listing by photos of the item, always be sure to read the detailed item information before making a purchase. Sellers must use standard terminology to describe the condition of their items and each listing will include a brief definition of the item's condition in the Item Specifics section.
Research the Seller
By analysing detailed seller ratings and reading reviews from past customers, you can decide if you are comfortable in buying from a particular seller. For a quick way to find the best sellers on eBay, look for those who have been awarded Top-rated status. As with all clothing bought online, it is possible that the dress does not fit, so ensure that the seller offers refunds before completing the transaction.
Conclusion
Whether buying a halter dress to wear to a wedding or to a nightclub, eBay offers buyers the pick of the most interesting and unique dresses at some of the best prices. In order to make a successful purchase, shoppers should consider a few key components of the buying process, which will help them to find the perfect dress. Firstly, consider the limited bra types that can be worn with a halter dress, and select the most appropriate type for the dress and the level of support needed. This involves looking at the body type and assessing which features of the halter dress can be chosen to compliment the figure. Next, think about where the dress will be worn and select a fabric that suits the conditions, whether warm or cool; formal or informal. While cotton is better suited to casual settings, chiffon can be worn at more formal events. The colour of the halter dress can have an affect on how well the outfit flatters the figure, so it should be chosen with care. To complete the outfit, understand how to accessorise the halter dress. The right accessories can either enhance or diminish a woman's overall appearance. With so many halter dresses to choose from, eBay can help any woman look and feel her best for any occasion.