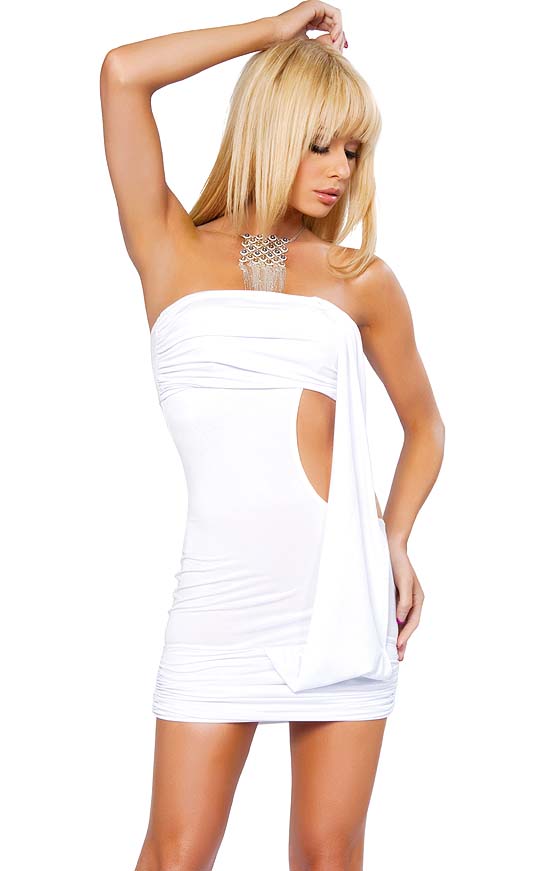 A strapless dress is a sexy, elegant, fun dress designed to flatter a woman's figure and draw attention to her face and upper body. However, a strapless dress is not always the most comfortable dress to wear. Many women have found themselves in situations that may involve continually hoisting the top of the dress back into position, boning digging into underarms or hips each time they move, or the constant feeling that the dress can come apart at the seams at any minute.
Strapless dresses are sold at many different clothing stores and department stores. Buyers can also head online to eBay to find that perfect strapless dress for any occasion at competitive prices. This guide provides suggestions to potential buyers regarding buying strapless dresses and offers tips on what to look for in a dress, such as structure, quality, and movement. This guide also provides information for individuals looking to purchase new strapless dresses online at eBay.
Tip 1: Look for a Strapless Dress With Structure
One of the most important aspects of finding that perfectly-fitted strapless dress is to ensure the dress has structure. A strapless dress should have enough structure that it keeps its shape even when hung in the wardrobe. Without structure, a strapless dress has little to keep it staying up. A normal dress relies on a woman's shoulders to keep it in place; a strapless dress, on the other hand, does not have anything that it hangs from to keep gravity from pulling it to the ground. It is not enough for the dress to be tightly fitted, as such a dress only becomes more uncomfortable the longer it is worn. A strapless dress requires support to stay in place. This is where boning and waist support come in. A great strapless dress offers good structural boning and waist support.
Boning
The bodice of the dress should have sufficient boning. Dress boning is a rigid strip of plastic that is flexible, allowing it to support a woman's upper body shape. Boning in a strapless dress runs vertically from the waist to the top of the dress. The boning should support the front, back, and sides of the dress. Boning not only keeps the dress up, it also allows the dress to be shaped in a flattering way, and does not rely on a tight fit to keep it in place. A good quality strapless dress should have sufficient boning that does not dig into the wearer's waist or under the arms when she moves.
Waist Support
A strapless dress that offers some sort of waist support can offer the wearer a more comfortable and supported feel and fit. Waist support can be built into the dress, or it can be added as an accessory. A wide belt is a great way to provide support to a poorly-made strapless dress.
Tip 2: Opt for Quality When Choosing the Perfect Strapless Dress
Although a good quality strapless dress is likely to cost more money, a woman who invests in a well-made strapless dress can get much more wear out of the dress. A women is also more likely to enjoy wearing a dress of superior quality, as a less expensive version might tend to slip. When looking for that perfect strapless dress, be sure to check out how well the dress is made, both on the inside and on the outside. The type of lining, as well as any padding used around the tips of the boning, can significantly affect how the dress sits when worn. Lining needs to be breathable, comfortable, and sit smoothly against the body. Some dresses also feature thin rubberised strips built into the lining at the top of the dress. These little strips sit against the bare skin and just add that extra support to the dress.
Tip 3: Wear the Right Bra
Many clothing designers and manufacturers recommend wearing a bra with a strapless dress, no matter how much structure or boning the dress may already have. Smaller-busted women can find wearing a strapless dress easier as they require less structural support to keep everything in place. For larger-breasted women, the dress requires more support. However, depending on the type of cut on the strapless dress, a woman's breasts can actually help to keep the top of the dress up and in place.
No matter what style of strapless dress one chooses, it is always a good idea to wear a strapless bra. Those women who struggle to find strapless bras that stay in place can opt for the type of bra that extends down to the waist, similar to a corset. Choose a strapless bra that has supportive underwire and push-up features. Sometimes, women find that going up a cup size with the strapless bra gives them that added support and comfort they need when wearing a strapless dress.
Tip 4: Try the Strapless Dress for Movement and Fit
When trying on a strapless dress, it is important that the wearer move around in it to ensure it is a comfortable fit. It is recommended that, when trying on a dress for the first time, the woman wears the same bra she plans to wear with the dress. A woman should stretch up, bend over, twist, and turn in the dress to get a feel for how the dress feels on. Sit down, stand up, and walk around the changing room with the dress on. The dress needs to stay up, not be too restrictive, offer a flattering silhouette without digging into the body, and feel comfortable and breathable. If buying a long strapless evening gown, be sure to wear the right shoes to get an idea of the correct dress length that is required.
The following table provides a sizing guide for buying a strapless dress. The chart gives the bust, waist, and hip measurements for each dress size. The measurements are in centimetres.
| | | | | | |
| --- | --- | --- | --- | --- | --- |
| Size | 8 | 10 | 12 | 14 | 16 |
| Bust | 78-82 | 82-86 | 90-94 | 94-98 | 98-102 |
| Waist | 62-66 | 66-70 | 74-78 | 78-82 | 82-86 |
| Hip | 86-90 | 90-94 | 98-102 | 102-106 | 106-110 |
Buyers should note that these measurements are a guide only, and dress measurements may differ between manufacturers and between dress styles.
Tip 5: Choose a Strapless Dress to Match the Occasion
Numerous types of strapless dresses are available for various occasions. Combined with the right accessories, shoes, makeup, and hairstyle, a simple, elegantly-styled strapless dress can take a woman from a cafe lunch with girlfriends to a night out with the boyfriend. Neutral or muted colours in soft, flowing fabrics can be worn on a casual summer's day, or the dress can be matched with the right jewellery, shoes, and clutch bag for a more elegant and formal occasion. The more common styles of strapless dresses available include formal evening gowns, strapless wedding gowns, cocktail dresses, and summer strapless maxi dresses..
In order to find that perfect strapless dress, a buyer should identify what style of dress she needs for the occasion. If one has a summer wedding, a friend's graduation party, or a formal work function to attend, then consider buying a dress that can be accessorised in different ways to be worn to all three occasions. In this way, a buyer can put her money into buying one good quality strapless dress rather than three separate dresses of lesser quality.
Find the Perfect Strapless Dress on eBay
A woman looking for that perfect strapless dress can head online to eBay. Searching for a strapless dress is easy on eBay. A prospective buyers can simply type "strapless dresses" into the search bar on eBay's home page to see listings of strapless dresses for sale. If you are for a specific type of strapless dress such as a satin strapless evening gown or a black strapless cocktail dress, simply type the words into the search bar.
Utilize eBay's Community Resources
eBay offers numerous community resources designed to help buyers get the most out of their buying experience. Buyers can meet other users, chat, ask questions, share information, and get tips and advice. eBay's community resources feature discussion boards, groups, an answer centre, and various other resources. Those new to eBay can read up on the website's community values and also take a look at the auction site's board usage policy and groups usage policy.
Conclusion
Whether looking to buy an elegant evening gown, a sexy cocktail dress, or a comfortable summer dress, one can find the perfect strapless dress to suit any occasion. When a woman understands what to look for in a quality strapless dress, she can get a lot of use out of her next strapless dress purchase. A perfect strapless dress offers structure and quality. A strapless dress should be worn with a bra for extra support, no matter what the woman's bust size. When purchasing a strapless dress, the buyer should try it on and move about in it, bending over, stretching up, and twisting. It is important to get the right strapless dress for the occasion. A number of choices are available for strapless dresses that can be worn dressed down and casual, or accessorised and dressed up. With some thought, a woman can find that perfect strapless dress to wear to a variety of occasions. eBay offers a wide selection of strapless dresses in various colours, styles, and prices.