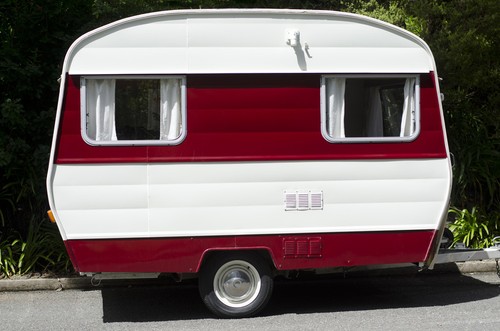 Mobile catering is an excellent choice for those looking to start a foodservice business. Start-up costs are relatively low, and mobility enables a proprietor to move his or her business if it does not succeed in a particular location. It is possible to find customers at a wide variety of locations. Proprietors can also easily change the type of food that they serve from their trailers. Furthermore, catering trailers are popular throughout the U.K.
The backbone of a successful catering business is the catering trailer itself. However, potential mobile catering proprietors should also be familiar with catering trailer regulations and insurance and basic marketing techniques if they wish to succeed. eBay is a good source from which to buy a catering trailer. By following a few tips for running a profitable catering business, proprietors can successfully shop for catering trailers on the web site and use them to generate healthy incomes.
Catering Trailer Regulations and Insurance
The British government regulates the foodservice industry in order to protect the public from foodborne illnesses and unhygienic practices that can result in sickness. Those planning to start a catering business should familiarise themselves with catering trailer regulations before spending a penny. Non-compliance with these regulations can result in fines and damage to a business's reputation, both of which can quickly sink a profitable catering business.
There are also plenty of opportunities for mishaps in the catering business, so it is important to purchase the right insurance. The following tips should help prospective catering business owners put their catering trailers in line with UK regulations and protect their catering trailers in case of an accident.
Register the Catering Trailer
No matter what kind of catering business a proprietor would like to open, he or she must register it with the local branch of the Environmental Health Department. A small hot dog trailer is still a business and must therefore be registered.
Learn Where and When It Is Possible to Operate a Catering Trailer
One of the main appeals of selling food from a catering trailer is that there is no fixed location where a proprietor must set up shop. It is possible to try different locations to see which one yields the most sales, and this flexibility can be important towards running a successful catering trailer. However, this does not mean that a proprietor can park his or her trailer anywhere and begin preparing and selling food. The local Council must first grant permission to use a location in the area and may issue a license confirming its permission after the proprietor has paid a fee.
If a proprietor wishes to operate his or her catering trailer on private property, such as at a sports venue or shopping mall, he or she must also obtain permission from the landowner. Many catering trailer owners may want to sell food late at night, but this may require an entertainment license, depending on the locale.
Acquire Hygiene Certification
Food prepared in unhygienic conditions is one common way that people become sick from food consumption. The British government has a responsibility to protect the public from illnesses generated in food service establishments, so local branches of government issue certificates confirming that food service businesses prepare their food in clean environments. A proprietor of a catering trailer, therefore, must obtain a Food Hygiene Certificate from his or her local Council, confirming that the trailer has suitably hygienic conditions for food preparation.
Purchase Insurance
Many things can go wrong with a business, no matter what kind of business it is. The opportunity for mishap increases with a business that uses powerful cooking apparatuses and serves food to the public. A catering trailer proprietor should, therefore, have various kinds of insurance to protect his or her business should something go wrong. Liability can quickly sink a catering business, so it is important to have insurance to cover liability from the public and employees. The catering trailer itself should also be insured against damage and theft.
Buy the Right Catering Trailer
The backbone of a profitable catering business is the catering trailer. This is both the place where employees prepare food and the main means of promoting the business. The right catering trailer must have an efficient layout, and it must be eye-catching to passers-by. When purchasing a catering trailer, a proprietor must consider the condition of the trailer, the equipment it contains, and its health and safety features.
Condition
When choosing a catering trailer, proprietors have the option of buying a new one or a used one. Each option has its benefits and drawbacks. Proprietors must weigh these and choose the option that best meets their needs.
New
New catering trailers give proprietors more flexibility over the type of equipment they want for their trailers and how they want their trailers to look. New trailers may also come with warranties, and they are likely already in line with health and safety regulations. These benefits also usually come with a higher cost, though. Proprietors can expect to pay more for a new catering trailer than a used one.
Used
A used catering trailer generally costs less than a new one. However, proprietors may have less control over the type of equipment that comes with the trailer. A used catering trailer may also feature the previous owner's business's logo on the outside, meaning that the new owner likely has to pay to have it changed.
A used catering trailer may also be worn, making it less appealing to potential customers. Lastly, a used trailer may require refurbishment to bring it in line with health and safety regulations. Still, the reduced upfront cost of a used catering trailer may make it the right choice for someone looking to launch a new business on a limited budget.
Equipment
A good catering trailer must have the right equipment for food preparation in it. If a proprietor is shopping for a burger trailer,, the trailer may already come with the equipment that the proprietor needs to cook burgers. No matter what kind of food a proprietor wishes to serve, a catering trailer should come with a griddle and a refrigerator.. It is possible to cook many types of food on a griddle, and a refrigerator helps keep products cold and fresh.
A bain-marie is another important piece of equipment because it helps keep food warm after cooking it. There are many different pieces of equipment that a catering trailer can have, so proprietors should research what they need for their specific businesses and make sure that the trailers they buy are either outfitted with them or capable of having them installed.
Health and Safety Features
The health and safety of employees and customers is an important consideration when buying a catering trailer. A catering trailer should be properly ventilated to allow smoke from cooking to easily escape. Smoke build-up creates a hazardous and unsanitary environment, so proper ventilation is one of the first things proprietors should look for in a catering trailer.
Moreover, every trailer should also have a fire blanket, fire extinguisher, and a valve for turning off gas in case of a leak. Making sure that a catering trailer has the proper health and safety features helps prevent the kind of accidents and violations of health regulations that can damage a profitable catering business.
Finding Customers
Although a good catering trailer is necessary to run a profitable catering business, success does not automatically follow the purchase of the right catering trailer. A proprietor must also choose the right location for the trailer and market his or her business properly. Doing these things helps a proprietor find the customers he or she needs to succeed.
Choose a Good Location
Location, location, location is the familiar refrain when it comes to property value. It is equally important to success in the catering business. Proprietors have a number of options when it comes choosing good locations for their catering trailers. A roadside location is a popular choice. Such locations are often publicly owned, removing the requirement for permission from a private landowner.
Licensed pitches are also publicly owned property, usually in the centre of town. If a town grants permits for catering trailers on a licensed pitch, competition for these permits may be strong. Permits to sell food from a catering trailer at a local outdoor market may also be highly sought. Many proprietors also choose to set up shop on industrial estates. These are areas zoned for industrial development. The presence of labourers on industrial estates presents a good opportunity to sell lunchtime food.
Marketing
Another important part of the formula for a profitable catering business is marketing. A good location goes a long way towards marketing a catering business, but proprietors can take a few additional steps to attract customers. First off, they should have eye-catching catering trailer signs.. Whether it is a passing motorist or a pedestrian trying to choose one from a collection of catering trailers, an appealing sign can help that potential customer choose to eat from a particular trailer.
Furthermore, a website helps customers find a catering trailer on the Internet. Using social networking websites is also a good way to get the word out about a new catering trailer. These sites also help proprietors connect with their customers and receive feedback about their business. Lastly, distributing a good deal of menus helps remind customers of a catering trailer's presence.
How to Buy Catering Trailers on eBay
You can buy new catering trailers from authorised businesses that sell them, and you can purchase used catering trailers from their owners via classified ads. You can find both new and used catering trailers on eBay.. It is easy to search for catering trailers and evaluate sellers on the site.
Searching for a Catering Trailer
You can perform a search from any eBay page with the search bar on it. Enter the term for the type of catering trailer you are looking for, such as "ice cream catering trailer&", into the search bar and click the Search button. You can then sort the results by new or used trailers, depending on your preference.
Evaluating Sellers
It is important to buy your catering trailer from a reputable seller. eBay enables you to check the feedback for a seller by clicking on the seller's user name on the listing. Feedback is a collection of comments and ratings that buyers have left for a seller. You can use this information to determine if the seller is likely to provide good customer service to you and a catering trailer that is as it is described in the listing.
Conclusion
Running a mobile catering trailer can be a profitable business. In today's busy Britain, many people are looking for quick, satisfying food that is not served in a fast-food restaurant. Running a mobile catering trailer is not as easy as it may seem, though. Proprietors must make sure that their trailers have the proper permits and that they are in line with U.K. health and safety regulations. They must also have insurance to protect themselves from liability and their catering trailers from damage and theft.
Running a profitable catering business also requires the right catering trailer, which proprietors can find on eBay. This should be outfitted with the right food-preparation equipment and health and safety features. Proprietors must also choose between new and used catering trailers, based on their needs. Lastly, proprietors must market their mobile catering businesses properly. Following these tips should help a mobile catering business to flourish.