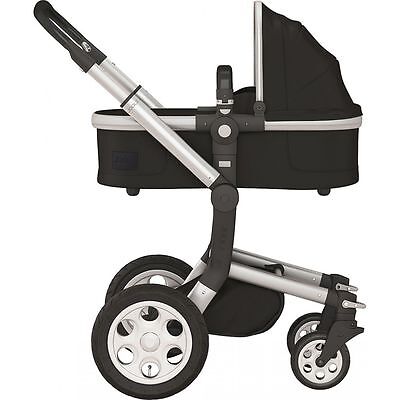 First of all, consider starting with just a frame.. A new baby is most comfortable in his/hers car seat. To streamline your pram-shopping, start with just a frame carrier. It's a frame with wheels and a basket that you snap your car seat on. It may not last more than half a year before your curious little one wants to be sitting upright, but it's an easy way to start if you're still not sure what kind of larger pram you're going to want.
Buy a pram and car seat together. One way to save money on a full-size pram is by getting a travel system: a car seat and pram sold together. The car seat snaps onto the pram initially. When your child is big enough, you can switch to using the pram by itself.
Learn what you're paying for. Prams do range in price. The price has to do with the features and materials. High-priced prams often have aluminum frames, rubber or air-filled wheels that absorb shock (so baby doesn't feel bumps as hard) . A lower price usually means a plastic frame and wheels. If you're not out on bumpy roads, trails, or in extreme weather, a souped-up pram may be a waste of money.
Think about your options. Some prams allow you to switch the way the seat faces, so Baby can see you or the path ahead. Other prams have snack trays that can snap across the lap once Baby is seated. These features are cool and do look good but may change the way a prams folds up. To know what is helpful and what will be a hassle to you, always try out a pram in a store.
Mostly, consider your life. The Catch-22: the heavier the pram, the smoother the ride for baby. But the heavier the pram, the harder it is to lift and cart around. Consider the tasks of your day-to-day life. Will the pram be in and out of your car? Will you need to lift it up and down stairs? My advice would be to TEST, TEST, TEST! Like buying a car, the only way to really know if you like a pram is to give it a test drive. Take the floor models up and down the store aisles so you can get a feel for every little detail, like the handles or handlebar, the height, and the stride. Also, talk to other mum friends who live a similar life to you. What pram do they like?
And accept that you'll buy another one eventually. Your pram will get you through babyhood. But for the toddler years, you'll probably need an umbrella pram, a small, easy-to-fold stroller for babies older than 6 months. Hopefully, it will see you through until your child is ready to walk like a big kid!