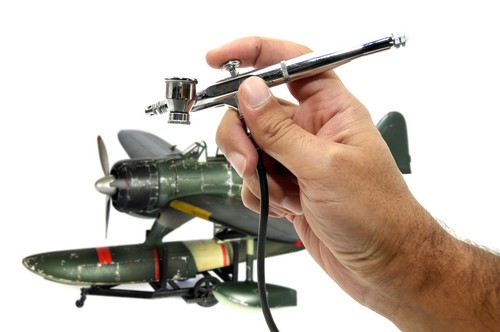 Building model aircraft is a traditional hobby that remains highly popular with people of all ages and backgrounds today. New hobbyists and old hands alike should take a look at this guide for helpful tips on how to build a model aircraft successfully. It explores the techniques and methods used to make a high-quality model, and explains how to purchase model aircraft sets and tools at competitive process on eBay.
Preparation
The preparatory stages before building a model aircraft can make all the difference to how easy and successful a build is.
Workspace
The first step is to prepare a useable workspace. A large, flat table surface should provide a suitable work area, providing enough room to keep all your tools and equipment to hand while still offering somewhere to build the aircraft. Laying paper or plastic sheets over the worktop will help to protect furniture from spillages and other damage.
Tools
Having the right tools is very important, as they can make the building process much easier and more efficient. It's worth investing in a good range of quality equipment – visit eBay and search under the Tools, Supplies & Engines category for a wide selection of tools. During any build, it's wise to keep tools and other items organised systematically, as there are lots of small bits and pieces involved in building model aircraft.
Items that may be needed include:
Paints
Thinners
Glues and cements
Brushes (in a range of sizes for different levels of detail)
Masking tape
Spray cans
Airbrushes
Tweezers
Sandpaper
Files
Clamps
Rulers
Many model aircraft builders like to have a magnifying glass nearby too, as this can be useful when it comes to examining finer details.
These tools can usually be found in specialist shops, but it can be even simpler to acquire them at the click of a button on eBay – check the Paints and Accessories listings under the Model Kits product category.
Deciding which Model Aircraft to Build
Collectors often like to choose which model aircraft that they wish to build based on how it will fit into pre-existing collections. Newer hobbyists might prefer simply to pick by size and appearance alone. Loads of model kits can be found on eBay, and going online is a convenient way of browsing and buying.
Out of the Box
When a model has been decided on and purchased, the next steps should always be to take out the parts and check that they're all there. Then:
Read the instruction manual carefully and examine the pieces provided.
Work out exactly how the pieces are likely to fit together – note that the pieces on the sprues are tagged with numbers that correspond to the charts in the instructions.
Look at the colour chart and ensure that all the paint colours that are required are to hand. Builders in need of extra paint colours should take a look at model aircraft paint listings on eBay.
Building a model aircraft is as much a matter of problem-solving as it is of workmanship. A project is more likely to be successful if potential problems are spotted before they arise, rather than dealt with after the parts have been put together.
Remember, the instructions are a good guide, but they are not infallible, and it is possible to customise model craft to personal tastes; models can be assembled and painted in many different ways. To help with this, look at photos of the real aircraft on which the models are based, either online, in aviation books or magazines, or even in museums.
Preparing the Plastic
Before building is started, plastic pieces, which will still be on the sprues, should be cleaned in a weak mix of water and soap. This will help to remove any oily residue that may be left on the plastic from the factory, and will significantly improve the painting process. Allow the parts to dry again after washing.
Assembling the Model Aircraft
Painting
The assembly process can be relatively complex, but it will become familiar over time. It will probably not be possible to paint the entire model at once. Many model aircraft builders like to paint the smallest, most difficult parts first, before removing anything from the sprues. This allows them to paint the whole part without holding onto any of it with their fingers, which would get in the way and smudge any paintwork.
It can also be a good idea to paint the internal parts of the plane that will eventually be visible from the outside before putting any pieces together. The cockpit and its contents (including the pilot and ejection seat) and the landing gear often fall into this category.
Later, once the model is assembled or mostly assembled, other painting techniques will be important:
When using brushes, it's convenient to paint all the parts of a certain colour at the same time. This saves time spent on cleaning brushes between colours (which should be done using paint thinner, which can be found on eBay).
Using an airbrush or spray-can is a good way to get a uniform base coat with a smooth finish. Cover with masking tape any areas that aren't meant to be painted, and spray the model evenly with rapid, constant, back-and-forth movements. Do not spray the same spot for too long, and try to keep at least three inches away from the model to prevent paint from building up or running.
To highlight details on the model after a base coat has been applied, use a "drybrush" technique. To do this, remove almost all the paint from the brush on a paper towel before applying it all over the required areas.
To add depth and realism to the recesses of the model, apply a "wash". This is normally made up of about one part paint and nine parts thinner, and is applied liberally over the entire model. The wash will run into the deeper areas and will largely disappear from smooth surfaces, leaving the whole model looking more weathered. Another excellent weathering effect can be achieved by using a standard pencil eraser. This works especially well on shiny or metallic coats.
Gluing
When assembling the aircraft, it is useful to have both hands free as much as possible. Where feasible, try to rig parts in clamps, bands or tape so that they are kept still while glue is applied.
The first aim at this stage is to put as many pieces into place as possible without applying glue; it's a good idea to be 100% sure of where everything goes before sticking it together permanently.
Different plastic glues and cements have different properties – there is no "correct" option when it comes to gluing model aircraft. However, it is almost always advisable to apply glue in small quantities. A great tip is to use a special plastic nozzle on a glue tube in order to be able to squeeze out smaller quantities.
Plastic glues work best when directly applied between plastic surfaces – they will be less effective if the surface is already covered in paint. If a part that needs to be glued has already been painted, the paint coat can be removed using a sharp hobby knife or a file.
The cockpit and other internal components should always be secured in place first. The next stage will normally be to glue together the two halves of the fuselage (main body of the plane). After that, assemble the tail, wings, nose (or propellor), and finally the landing gear.
Sanding
After most of the model has been assembled, but before the paintwork is finished, imperfections should be sanded away. Start with lower grade sandpaper and work up to higher grades, using small, circular motions along any dents or mould-lines that look out of place. Be gentle, and try not to damage any of the bona fide details. The finished product should look polished but not completely rounded.
Decals
Most models come with a range of decals. These are little images that can be applied to the aircraft to look just like they've been painted on. They are not simply stickers, however, and require a careful application process. For a wide range of aircraft decal sets, take a look on eBay under the Model & Kits category.
Decals should ideally not be applied to a simple, painted surface - the plane should be coated in a clear gloss after painting. When a decal has been chosen:
Cut it out of the sheet and dip it in water for 15 – 25 seconds to help it to come free from its paper backing – when it is ready it will slide off easily.
Before placing it on the desired part of the model, wet the specific area with either water or a special decal setting solution.
Apply the decal to the aircraft and slide it into place.
Top with another layer of setting solution; in fact, applying multiple layers of this solution can be helpful.
Dab away any excess water or setting solution with a paper towel, and seal the whole thing with another layer of gloss.
Finishing
The model should now be more or less complete. First-time builders should not be disappointed if their model is not the masterpiece that they were hoping for; building techniques are difficult to master but can be improved with experience.
Buying Model Aircraft on eBay
eBay is home to a wide range of model aircraft and modelling equipment. Shopping for these on eBay is quick, easy, and affordable, thanks to its sellers who offer free shipping and competitive prices on a vast selection of kits and tools.
When you've decided on which model aircraft you'd like to build and have thought about the tools that you'll need, go to eBay and find the Model Kits portal under the Toys and Games heading. Then select Military or Non-Military Aircraft to find those kits, or click on the link for Paints and Accessories, if these are the products that you're after.
You can also narrow down your search quickly by typing keywords into the search box. Simply enter the keywords you're looking for to find the listings that match your product specifications. For help with searching with keywords, have a look at eBay's Searchtips page.
eBay Stores is a great resource if you cannot find your desired item in auction listings.
Conclusion
Building a model aircraft is a hobby necessitating intense creative involvement which offers a unique feeling of satisfaction. Finishing a build after putting in a lot of effort brings with it a rewarding and fulfilling sense of pride. The steps outlined in this guide will help budding hobbyists and seasoned builders alike to construct something that they can really be proud of. Anyone keen to get involved in building model aircraft can find great offers on kits, materials and tools on eBay.