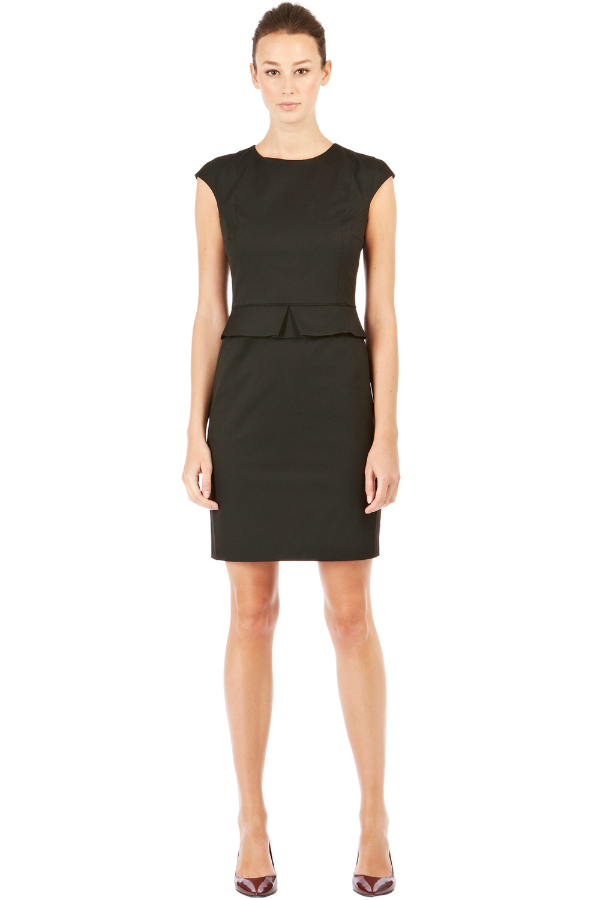 As women gain more and more integrated space in the workplace, they have been able to leverage a good deal more of their personality and unique sense of style in the attire they wear to work everyday. Of course, a woman still needs to consider certain factors in putting together an outfit or wearing a dress to work. Is it too revealing, or does the dress exude the right level of professionalism? This guide walks readers through a few key tips on selecting and accessorising dresses for the workplace. The guide highlights questions of taste, size, and silhouette, in addition to looking at some ways in which a woman can successfully translate a look from one work event to another with the right dress and accessories. Additionally, the guide also offers suggestions on how one can purchase clothes for work from online retailers such as the online auction site, eBay.
Consider Establishing a Uniform
Even if a woman does not wear an actual uniform to work, she might consider creating a uniform and consistent look for herself. Creating a uniform does not mean that a woman should look like an automaton every day. The focus should be on establishing consistency and creating a brand of sorts that can begin to foster a decisive idea of a woman in the mind of others. This carefully crafted image can serve a woman well in her career and be developed over time as she progresses through her work life.
Women on the lookout for good dress options for work should find options that are particularly suited to their figure, sense of style, and ethos. A woman should then consider leveraging her choice with an array of colours or as a core staple to create her own signature look.
Accessorise Pattern Dresses Wisely
As a woman wants a polished look in the workplace, she should work to create a sense of refinement in any dress worn to her place of business. This does not mean foregoing bold prints and patterns; rather, a woman should let a print dress stand on its own, accessorising it minimally. Too busy a look that includes bright prints, large earrings, and dramatic footwear can distract others from what a woman wants to get across at work — that she is competent and focussed on essential tasks at hand.
Print dresses for work should sidestep patterns that are a bit too sensual, such as an animal print for example. Instead, a woman should look for geometric patterns in the colours of the season that ideally compliment her complexion and style.
Wrap Dresses and Draped Dresses
Wrap dresses are a look that can compliment any woman's figure. A wrap dress is also a very polished look that, nonetheless, exudes a hint of femininity. Selecting a dress such as this is a good way for a professional woman to balance femininity and confidence in the workplace.
Given the tailored look of a well-structured wrap dress, a woman can leverage it alone and still present a very professional image. A wrap dress is also a flexible item that can pair well with a wide range of jewellery and shoe options. Most wrap dresses also extend to the knee or just below, making them a highly appropriate choice for the office.
Keep Hemlines No Higher Than 5 cm Above the Knee
A dress worn at work can be above the knee, but should not go into micro-mini territory. A good rule is to keep the hemline on a work dress no higher than 5 cm above the knee. With short dresses, it is also important to consider the silhouette. For example, a dress worn above the knee that is skin tight makes a very different statement than a mini that is cut on the bias. Women who like the freedom of a mini and want to wear one at work would do well to find a mini dress that is cut in an A-line or sheath style and is not too figure-conscious.
Avoid Frills in a Work Dress
While the days of a woman being judged simply for being a woman are passing, it is still important for a woman to maintain a modicum of neutrality in the workplace. Extremely feminine touches such as excessive frills or lace can put unwanted attention on a woman's attire and detract from her real abilities in the office. Women should look for dresses that make a simple statement and do not muddy the waters with distracting touches or add-ons.
Consider Materials Carefully
Wools, silks, and quality cottons are materials that present an air of quality and professionalism. A jersey in a wrap can also be a great choice for creating an image that speaks of confidence and independence. Materials that are too sheer or flimsy can be inappropriate for the workplace, as can tight fabrics or stretch materials. A woman dressing for the office can still find knits and blends as well as cuts that flatter her femininity without going too far over into unprofessional territory.
Choose a Dress That is Age Appropriate
Not all flower prints are created equal. There are certain patterns and cuts that are suited to women of certain ages. An older woman might not want to indulge in a flowery dress, while a younger woman might look off in a very structured dress. A woman's main impetus in finding a dress for the office should be to find one that best embodies her ethos and helps define her in the workplace. A truly professional look varies from decade to decade, so a woman should take this concept into consideration when shopping for a work dress or ensemble. None of this is to say that an older woman should avoid florals altogether or that a younger woman should not invest in quality tailoring; it is simply a matter of finding a balance that is flattering to a woman and appropriate for where she is in her career.
Pair a Dress with a Jacket
The outerwear paired with a dress can be an essential part of a woman's workplace sense of style. Work is often a matter of lunch meetings or after-work drinks, so a woman needs to have a coat or jacket that works as a coherent part of her overall ensemble. Women should keep an eye out for universal pieces like a fitted trench or a jacket or blazer that can work with several dresses. A good outer piece helps a woman look polished in and out of the office and can also help a dress transition from daytime work to evening work affairs.
Think about Day and Night When Selecting Work Dresses
Given the prevalence of evening events associated with work, a woman needs a dress that can work during the day as well as in those crucial after-hours affairs. The classic black dress is a solid answer. A sleeveless black dress can be paired with a jacket in the workplace and then worn without the jacket at night for a more formal appearance that is appropriate for the evening. The classic wrap dress is another dress that can translate easily from the office to dinner and drinks. A woman should look for an elegant, understated dress that can be quickly transformed with a different pair of earrings or shoes at a moment's notice.
Buying Dresses for Work on eBay
While high street retailers like John Lewis stock a wide variety of dresses for work, but online auction sites such as eBay have larger, aggregated collections of clothing options available for women. When a woman is looking to compile a wardrobe of appropriate work attire, she can leverage no more powerful resource than a site such as eBay.
Finding Work Dresses on eBay
To begin a search for work dresses, you can begin by running a general search for the phrase "work dress". This pulls up a wide array of listings and also provides you with a list of related searches that can help narrow down your options. If you have a specific style of dress in mind, such as a "wrap dress" for example, you can also run a search using that term.
When shopping on eBay, it is important that you review all the sellers from whom you are thinking of purchasing a work dress. You can do this by looking through their previous auctions and also looking at the feedback they may have received from previous customers.
Conclusion
Dressing for work can be an easy and straightforward process for a professional woman. Simply by adhering to a few tips, such as seeking out age-appropriate options, looking for flexible options that translate well from day to night, and focussing a search on dresses that exude the right level of professionalism, a woman can begin collecting the dresses she needs to make the right impression at work and exude an image that properly reflects her work persona.
During her search for the ideal work dress, a woman can leverage the unprecedented power of an online auction site such as eBay. With its extensive array of listings and wide variety of dresses in every colour and style and its diverse number of vendors, a woman can find almost any work dress or accessory she wants to satisfy her work dress needs and get quickly on her way to achieving an optimally professional wardrobe.