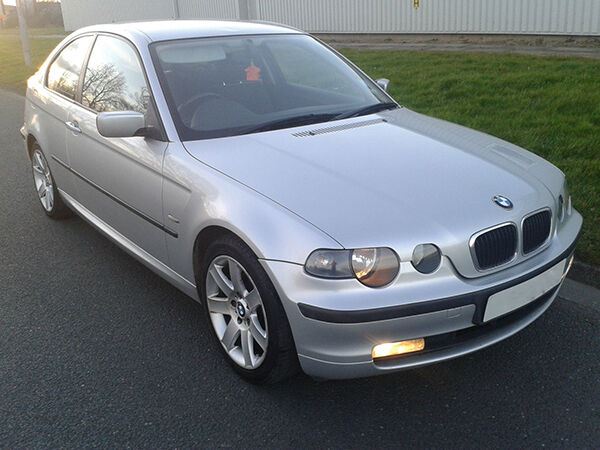 Buyers interested in purchasing a high-performance German car should consider a BMW 318 model. The BMW 318 is part of BMW's extensive 3 Series line and is considered one of BMW's compact executive cars. Sold globally, BMW 318s were manufactured between 1990 and 2000. To match the demands of the consumer market, BMW introduced different styles of 318s that often included a number of distinct design elements. Most 318s had elements in common, however, such as BMW's proprietary Z-axle multilink suspension system.
Buyers can find BMW 318s through local pre-owned car dealers and private sellers. For buyers who wish to see an extensive offering of BMW 318s, a visit to eBay Motors can prove advantageous. Because eBay Motors has a wide network of sellers, shoppers using the site increase the likelihood of finding a BMW 318 model that suits their particular needs and budgets. Before purchasing a BMW 318, buyers should remember a number of tips that can help them make a satisfactory purchasing decision.
1. Know BMW 318 Designations
In addition to the BMW brand name and the 318 model classification, 318s also have specific designations that relate to a 318's body styling. Buyers interested in a BMW 318 should become familiar with these designations before shopping so they can distinguish between different types of 318s.
| | |
| --- | --- |
| BMW 318 Designations | Styling Details |
| BMW 318ti | A hatchback body style that can include three or five doors |
| BMW 318i | A sedan-style car with two or four doors |
| BMW 318iS | A sporty, two-door coupe style |
| BMW 318iC | A convertible version of the 318i |
| BMW 318tds | A touring-style car with two or four doors |
Knowing the designations of a BMW 318 helps buyers focus their shopping searches more efficiently and allows buyers to know which types of body options are available. For example, if buyers need to purchase a hatchback type car, their purchasing options are limited to the BMW 318ti because this is the only model type that includes a hatchback. When comparing more general BMW 318s, buyers have a wider range of options and can choose either a 318i, 318tds, or 318iC.
2. Understand BMW 318 Engine Capacities
The differences between BMW 318s also influence their engine capacities and other mechanical features of these models. The BMW 318i and 318is both contain a four-cylinder engine, but the 318is includes a more powerful 16-valve valvetrain. This allows the 318is to reach a top speed of 215 kilometres per hour (km/h) as opposed to the BMW 318i, which can only reach a top speed of 208 km/h. The BMW 318ti is similar to the 318is because it uses a four-cylinder, 16-valve valvetrain, but is distinct from the 318is, which does not include a hatchback.
Another engine consideration buyers are often interested in is the type of fuel a vehicle uses. Most of the BMW 318s available run on petrol fuel, but the 318tds was developed to include a diesel engine. Because of this, buyers who are concerned with fuel economy and reducing their carbon footprints may prefer to purchase a BMW 318tds over other 318 models.
3. Inspect the Exterior and Interior Condition of a BMW 318
Because BMW 318s are no longer produced, buyers are limited to purchasing pre-owned 318s. Shopping for pre-owned vehicles demands that buyers be vigilant when assessing the condition of potential purchases. It is, therefore, necessary that buyers perform a thorough inspection of any BMW 318 models as part of their shopping approach.
Exterior Inspection of a BMW 318
Inspecting the exterior of a BMW 318 allows buyers to check the integrity of the car's body. This includes the panels, bumpers, and wings of a BMW 318 as well as its headlights, indicator lights, and windscreen wipers. If a BMW 318 also has sporty detailing, like chrome trim, it should be checked to make sure it still remains strongly attached to a BMW 318's panels.
Any signs of rust on a BMW 318's body are problematic because it is difficult to halt corrosion from rust once it first appears. Although a rusty part of a panel can be repaired, rust often resurfaces in the same spot after some time has passed after a repair. Evidence of previous collisions is also a concern for buyers of pre-owned BMW 318s. To check for signs of body repair, buyers can look at the reflection of a BMW 318's panels to see if all the panels look the same. Checking out the reflection relies on a BMW 318 being very clean, so buyers should hesitate to purchase any car that has not been adequately cleaned before an inspection takes place.
Interior Inspection of a BMW 318
Buyers often place most of their focus on checking a used car's exterior and mechanical or electrical systems, but an interior inspection of a BMW 318 can provide buyers with important information about a car's condition. Dashboards and interior door panels could show signs of a restoration caused by front or side collisions. If a dashboard or door panel does not seem to fit perfectly into a BMW 318, it could be a sign of major repair work. In addition, interior carpeting and seating can show signs of water damage if the soft fibres of the carpet or seats are stained or warped. In some cases, water stains are evidence of previous flood damage that can severely impact the integrity of a pre-owned BMW 318 as a whole.
4. Evaluate the Systems of a BMW 318
The mechanical and electrical systems of a BMW 318 provide the car with the ability to drive safely. Because of this, buyers should perform a range of system checks when evaluating potential BMW 318 purchases. Buyers should inspect the engine and suspension systems for any leaks, cracked parts, or frayed belts. Braking system components should be check for signs of wear. Throughout a systems check, buyers should also look for evidence of corrosion among system components and keep potential signs of trouble in mind when they have the opportunity to give a BMW 318 model a test drive.
Looking for signs of problems with a BMW 318's condition require buyers to check the engine and the undercarriage of the car, so buyers should be prepared for a systems evaluation by bringing a torch with them when shopping for any BMW 318 models. When evaluating system components, buyers should remember that it is reasonable to expect that some BMW parts may need to be replaced as part of the car's routine maintenance. Buyers who feel that they do not have the automotive repair experience necessary to determine the condition of a BMW 318's system components should consider consulting a professional car repair person before deciding to purchase a particular BMW 318 model.
5. Conduct a Test Drive of a BMW 318
Because buyers can only learn so much about a stationary BMW 318, they should try to take a model for a test drive before discussing purchasing arrangements with sellers. When driving a BMW 318 model, buyers should pay close attention to how the car's engine responds in different driving situations. Test driving a BMW 318 in stop-and-go residential or urban areas, as well as on high-speed motorways, helps buyers check an engine's performance adequately. Braking and steering can also be assessed during a test drive, so buyers should look and listen for any strange sounds when turning corners or coming to a stop. Lastly, buyers should turn on all of a BMW 318's electrical functions, like the heater, radio, and lights, to make sure they are in good working condition.
Buying a BMW 318 on eBay Motors
Buyers looking for various types of BMW 318s should check out the selection available on eBay Motors when shopping for the model that best suits their preferences and budgets. Buyers can quickly locate specific types of BMW 318 models by utilising eBay Motors' product search capabilities. For example, adding the terms "1999 BMW 318" to eBay's search filter generates a selected search listing that includes all BMW models that match those search terms. Buyers can further limit search results by activating eBay's search sorter options to limit choices based on transmission type, vehicle mileage, and price.
Since it is recommended to test drive BMW 318s before deciding to make a purchase, buyers can use eBay Motors' handy locator to find models within driving distance of their local areas. Once buyers have located some potential BMW 318 purchases, they should review the accompanying vehicle information provided by eBay sellers carefully. This information often includes details about a BMW 318's maintenance history and special features that aid buyers in comparing BMW 318 models.
Conclusion
The BMW 318 was produced as one of BMW's 3 Series cars during the 1990s and was a globally popular model for the BMW brand. To differentiate the 318, BMW designed a number of model types that provided owners with different choices concerning the car's styling and engine capacities. Understanding the options available allows BMW 318 buyers to narrow their choices before they begin their searches to find the most appropriate model. Since BMW has ceased manufacturing the 318, buyers can only purchase this car model in pre-owned condition. Consequently, buyers need to check the condition of any BMW 318s when they are making their purchasing decisions.
Condition affects the amount of maintenance a BMW 318 requires, so buyers should try to purchase a model that is in the best condition possible to avoid costly repairs in the future. When checking the condition of a BMW 318, buyers should methodically evaluate a car's interior and exterior as well as its mechanical and electrical systems. Once buyers have prepared for a BMW 318 purchase, they can visit eBay Motors to find an array of appropriate models in various conditions.