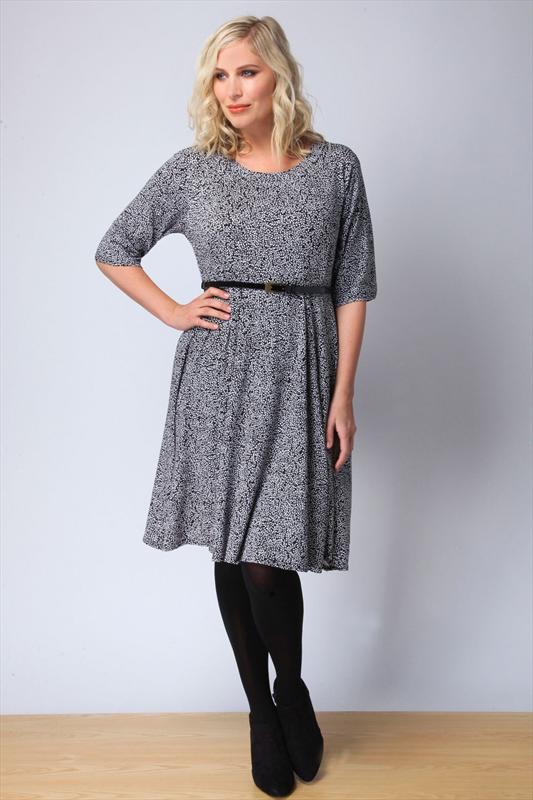 With more and more fashion labels taking the time to address plus sizes, women have many plus-size dress options available to them today. Everything from the mini dress to the tunic dress can be found in plus sizes, giving women of all shapes great ways to feel attractive and confident. Of course, sorting through the wide range of options can be overwhelming for any woman. Trying to decide what dress looks best on oneself, let alone how to accessorise and style the dress, can be a mind-numbing process.
This guide walks women through some tips that can help them decide on and purchase the ideal plus-size dress for their build and personal sense of style. It also looks at some helpful tips that can help make a dress even more flattering. Additionally, the guide elucidates some of the great online retail options available for women, such as the online auction site, eBay.
Look for a More Structured Silhouette
While many women with full figures may want to hide behind loads of material or a wide-cut silhouette, these types of dresses can actually work against a woman. Creating structure and proportion should be the goal of selecting a plus-size dress; as such a woman should look for tailored options and eschew the loose, voluminous lines she is used to. A wrap dress, for example, is a very flattering silhouette for any woman, creating a lovely waist line by drawing the eye in with drapes and the wrap design itself. It also creates an hourglass proportion that looks well on any woman.
A second choice are fitted pencil sheaths. Again, this may seem like a counterintuitive choice for a fuller figure but it can actually succeed in lengthening the form. When paired with a wide, cinched belt at the waist it can create an ideal hourglass and very pleasing silhouette.
Look for Drape to Hide Trouble Spots
If a woman is self-conscious about certain areas of her body, a well-placed drape in a dress can go a long way toward ameliorating that lack of confidence. While other design details such as frills or applique can actually draw attention to a trouble spot, a well-constructed drape can work to hide it elegantly.
Drapes can be leveraged at the hip, or even at the bust to help minimise a larger cup size. Women should also keep an eye out for the direction of the drape. In general, ideal drapes will draw attention toward the center of a woman's form, narrowing the look and minimising width and girth.
Find a Plus-Size Dress That Draws Focus Towards Favourite Features
Women should seek out plus-size dresses that favour strong features. For example, a woman with clear blue eyes might look for a dress that highlights this unique feature. A woman who likes her legs might look for an A-line mini, while a woman with an hourglass shape might look for a dress with a fitted waist.
Likewise, a woman can use accessories to draw attention towards a favourite spot on her form. A lovely neck, for example, can be accentuated with a necklace worn in tandem with a dress that features an open decolletage.
Choose Patterns Wisely
The common wisdom that patterns can be problematic on plus-size dresses is quite false. Patterns and prints can definitely work on a plus-size dress when done properly. Patterns should be all over and consistent, one solid print that addresses the entire dress. A pattern here or there can widen the silhouette or highlight imbalances in a figure. Large, all-over patterns are the key.
Stripes can also be leveraged in a plus-size dress if done well. Generally speaking, a taut and tailored vertical pinstripe is a good option. Larger vertical stripes should be selected with caution, as the wrong fit can leave the stripes looking as if they are warped and distract from the overall elegance.
Leverage Bold, Oversized Jewellery and Accessories
Woman with full figures can wear bold jewellery pieces much more successfully than many other women. Moreover, a well-placed bit of jewellery can draw the eye toward flattering features or create a balanced look for a woman's figure.
Some items for women to consider are large beaded necklaces or large geometric pieces. A wide belt can work to draw attention towards the middle and create an hourglass look. Platform shoes are another good choice; their large surface space and design can create balance while their height can slim and lengthen the legs.
Remember that Plus Size Comes in Different Body Types
"Plus-sized" is not a cohesive category. Just as with all women, plus-size bodies come in different shapes and silhouettes. Women should keep in mind that there are certain silhouettes and accessories that work better with certain figure types. The following chart elucidates the choices that go well with the three main types of plus-sized figures.
Body Type

Do

Do not's

Hourglass Figure

Do highlight a small waist;

Do wear a shrug to soften the shoulders

Do not leverage a tunic that will hide the waist, making for a solid, blockish look

Pear-Shaped Figure

Do draw attention upwards with bold necklace or open neckline

Do not wear large prints on the bottom half;

Do not wear a dress with an A-line bottom and fitted top

Rectangular Figure

Do leverage feminine lines and drape to soften the figure

Do not wear a dress that emphasises the legs or the decolletage without emphasising the waist
By carefully taking her body type into consideration and adhering to the tips in this chart, a woman can zero in on a dress style that best suits her plus-size figure. Rectangular body types should focus on softening the overall look, hourglass figures should enhance the waist and soften fuller spots, and pear-shaped body types should draw attention upwards.
Consider Materials Carefully
The materials used in a dress can be important with any body type, but they are particularly critical when it comes to plus-size dresses. Shiny and satiny materials should be avoided in general, as the stiff and reflective surfaces of these materials can make a woman's body look bulkier and wider. Bulky knits should be avoided for the same reasons, but a tight cable can work well as long as the fit of the dress is good and does not pull the cabling out of line.
The ideal materials for plus-size dresses are quality cottons, silks, and jerseys for the most part. Women want to look for material with a soft drape or a matte finish. Beaded materials are not a strong choice, in general, but a flowing sequin can be sassy and appealing.
Leverage the Right Support Garments
There are countless items of shapewear on the market today that can help any woman look great and feel great. Of special importance to plus-size women are the myriad options that can create a streamlined look to a figure.
All-in-one shape wear can help create a more svelte look, while a waist cincher can help foster a truly attractive hourglass silhouette. Wearing a control skirt with a wrap dress is another good option. In general, women should try to avoid wearing control pants with a dress; while these can leverage excellent control over the hip and thigh areas, they can also create the embarrassing problem of revealing themselves at inopportune moments from under the skirt of a dress.
Avoid Strapless Dresses in General
Strapless dresses emphasise the width of arms and shoulders and should be avoided in plus-size dresses. If a woman finds a plus-size dress that is strapless that she really loves, she should consider wearing a shrug with it to balance out the look.
If a woman feels confident about her decolletage and arms and wants to show them off, she can consider a thin strap with a block neckline. This design of dress will display a woman's favourite upper body areas while still providing a visual structure to the shoulders and decolletage.
Buying Plus-Size Dresses on eBay
While offline and local retailers can offer a woman an array of plus-size dress choices, online websites such as eBay can be great resources as well for such items. On eBay, women can look through countless auction listings that not only feature quality, plus-size dresses, but also offer up ideal accessories for a look.
Searching for Plus-Size Dresses on eBay
To begin looking for plus-size dresses on eBay, you should start by entering a search term in the search bar that can be found at the top of any eBay page. To get an overall idea of the types of items available, enter a general search term such as "plus-size dress". If you already have a dress style in mind, use that specific term to narrow your listings. eBay will also give you some related search suggestions that can help winnow down options.
When shopping on eBay, remember to get to know your sellers. You can do this by perusing their past auctions and reviewing the feedback they have received from other customers.
Conclusion
Finding a plus-size dress that makes a woman feel sassy and appealing is an easy process if she takes certain key tips into consideration. By selecting options that work with her body type, choosing the right accessories, and working with materials that flatter her figure, a woman can end up with an ideal plus-size dress that she can enjoy for years to come. She can also take certain design choices into consideration that accent the more attractive parts of her figure or distract the eye from difficult spots.
In seeking out a plus-size clothing, a woman can leverage no greater resource than an online auction site, with eBay being an especially compelling option. On eBay, women can look through thousands of plus-size dress options in a range of styles and looks. They can also even find accessories or related items they might need to complete an attractive look and complement a perfect plus-size dress.