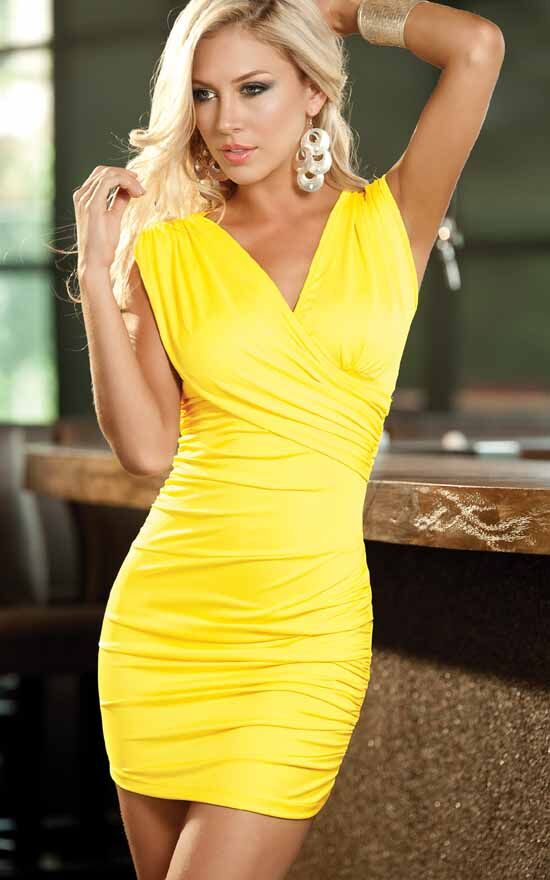 Wearing a mini dress is a fun trend that has appeal for a wide array of women. Of course, getting just the right look with these short dresses can be a bit overwhelming for some. Some women might even think that a mini dress is too short for them to risk wearing. Given their very particular design, how can they be accessorised, and what shoes go with them best? Also, what different silhouettes of mini dresses are available on the market that can go with almost any build?
This guide will walk readers through some ins and outs of wearing a mini dress. It also elucidate some tips that can make these sometimes problematic clothing items easy to wear for any woman. This guide will also go through how to find the ideal mini dress, with details on how to find one via many online auction websites such as eBay.
Finding the Right Silhouette
Not all mini dresses are of the tight clubwear variety. There are many kinds of mini dresses, making them a diverse item that can compliment many varying types of women. In the following section, this guide discusses the different silhouettes of mini dresses and makes recommendations as to what type of figure goes best with each.
The Clubwear Mini
The clubwear mini is considered an iconic mini dress, or at least the picture that comes to mind when many people think of mini dresses. These tight form-fitting dresses can be found in a range of clingy materials including rayon blends, spandex, stretch cotton, velvet, and more. They can also be found with ornate, bright detailing such as sequin designs and applique.
Matching the Club Mini to Different Body Types
Despite its reputation as a skintight mini, the clubwear mini can actually be worn by many body types. Consideration must be given to the length and the design of the decolletage and shoulder area of the dress.
| Body Type | Do | Don't |
| --- | --- | --- |
| Tall Women | Match with tights for a funky look, or find a slightly longer mini | Don't go micro-short; even with slender, long legs, a micro mini can make a tall woman look like her dress shrunk |
| Busty Women | Do try out one-shoulder looks; halter top club dresses with ruching and support in the bust also work | Don't go for strapless; Don't make the decolletage the focus since minis are for displaying the leg |
| Short Women | Avoid club minis with excessive detailing and ornate sequins which can overwhelm a smaller build | Do go for short and sweet, with simple detailing and a micro hem |
| Athletic Women | Accentuate strong shoulders with a one-sleeve or strapless look; go for a T-shirt cut at the top, as well | Don't do a halter-style dress which can over-emphasise strong broad shoulders |
By taking the design of the dress around the top into account and keeping a few small details in mind, almost any woman can find a club-style mini that works well with her frame. Anyone from the smallest build to the most athletic woman can be flattered by the right silhouette of this type of mini and have a smashing time out at a club.
The Vintage Mini
The vintage mini dress is a generally flattering item that can work with a diverse array of body types. Vintage minis can be found secondhand, while there are also newer versions created in a vintage style. These dresses can evoke almost any fashion era of the mid-twentieth century from the 1970s to as early as the 1940s.
Since wearing a revealing decolletage was not part and parcel of any of these fashion eras, the vintage mini is a true "leg" dress. As such, they can be worn with bare legs or with patterned tights of any sort. Shoe options are also rather diverse and can include anything from a charming mary jane to a full knee boot.
Accessorising a Vintage Mini
When working with a vintage mini, it is better to accessorise carefully, looking for one or two key pieces that complement a vintage dress. Accessories worn with a vintage mini do not always need to come directly from the same fashion era; for example, many vintage minis can look charming with a new pair of ankle boots.
The focus should be on matching and accentuating the proportions of the dress. If a vintage mini has a full, A-line design, as with a classic 1960s mini dress, then it can be worn with bare legs and a pair of big boots. A vintage dress with a tailored waist on the other hand would go best with a contained pair of mary janes. Any jewellery or hats chosen should be minimal, as a woman does not want to create either a busy or costume-like look.
The Boho Mini Dress
One of the universally flattering types of mini dresses, the Boho mini dress is usually cut on a spacious line, allowing a woman of any body type to feel feminine and natural in a short garment. Given their wide and loose silhouettes, boho minis can also work well with leggings and boots, allowing a woman the comfort of pairing a very short dress with some leg coverage.
Boho mini dresses are an ideal match for long and disheveled hair. They can also work well with oversized hats. Over-the-knee socks that leave just a few centimetres of bare skin between themselves and the hem of the mini are another cute and fun way to leverage a boho mini dress.
General Tips for Wearing a Mini Dress
Whether a woman chooses a tailored mini dress from the 1950s, a classic club dress, or an eccentric and flowing boho mini, there are certain considerations she should always take into account when wearing a mini dress. The following section offers specific tips women should follow to achieve the ideal mini dress look.
Grooming the Legs
Legs are the focal point when wearing a mini dress. As such, women should pay special mind to grooming and preparing their legs to be on display. Careful shaving or waxing is an essential first step. Exfoliating and moisturising the skin is also important, as having a healthy sheen to the legs can help them look leaner and more toned.
Wearing Undergarments
Mini dresses of any type should be worn with well-chosen undergarments. With a flowing Boho look, boy-cut short knickers can be a fun option. A woman trying on a retro look with a vintage piece might be thrilled by adding in a vintage item of shapewear. Shapewear of any kind, including all-in-one pieces and control skirts can help a club mini look great every time.
Pick a Good Length
A great rule of thumb is for a woman to select a mini dress that is below her fingertips when her arms are placed by her sides. As mentioned earlier, taller women should avoid going too short even with great legs, since it can look as though they forgot a part of the outfit or shrunk a dress. Even very petite women should try to stick with a hem length that falls beneath the fingertips.
Don't Rule Out Flats
Not every mini dress look needs high heels. While a club dress looks well with high heels or platforms, the other types of mini dresses can work well with ballet flats, for example, adding to their charming femininity.
Wear the Right Material in the Right Season
Mini dresses can be found in wools and light chiffons. Given its short length, many women may feel they can wear, for example, a wool jumper mini in the summer. However, it is better to match the material to the season. Keep the knits and wools for the colder months and leverage the lighter ones in spring and summer.
Feel Confident
Wearing a mini dress can leave a woman feeling exposed if she does not approach it with the right attitude. Feeling confident about oneself and the dress is part and parcel of pulling off a mini dress. By carefully selecting a good silhouette and accessorising it tastefully, any woman can approach wearing a mini with the full level of confidence she needs to look great.
Buying a Mini Dress on eBay
While mini dresses can be found to some degree at offline retailers, they are by and large found to a larger degree online. On auction sites such as eBay, a woman can find everything from a vintage item from the 1960s to the latest in clubwear by perusing the extensive list of auctions on the website.
Searching for a Mini Dress on eBay
To begin a search for a mini dress on eBay, you can start entering a search term in the search bar at the top of any page on the site. You can run a general search with the term "mini dress" to get an idea of the array of choices available, or run a very specific search if you already have a style of mini in mind.
When shopping on eBay, remember to familiarise yourself with the business practices of any vendor with whom you deal. You can do this by looking through their past auctions and also reviewing the feedback they have received from other customers.
Conclusion
Wearing a mini dress is a fun and exciting way for a woman to show off her confidence and individual sense of style. Given the wide array of styles available on the market when it comes to mini dresses, a woman of any body type can find a flattering silhouette that makes her feel comfortable and at ease. From the vintage to the contemporary, mini dresses look best when women give special attention to the small touches, including grooming and accessorising issues.
Mini dresses of all kinds can be found to an extensive degree on the online auction site, eBay. At this website, women can peruse vintage listings and contemporary ones, gaining access to one of the widest and most diverse fashion resources online and finding mini dresses that suit their needs. Additionally, the site offers a wide array of accessory items that can add an essential detail to a mini dress look and create a complete and compelling ensemble.