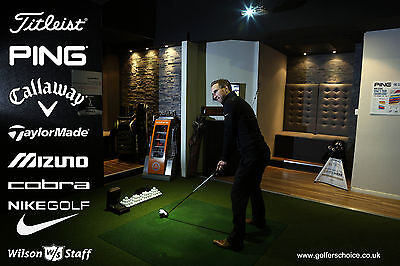 Add a caption
Golfers Choice Fitting Centre - Northampton - NN1 3RL
Tips on choosing the correct irons
1 = Dont bite off more than you can chew ; a common mistake is for players to buy a set of irons which are intended for a low handicap golfer with the thought that this will help reduce their handicap.
In fact it often has the opposite affect as the clubs are too hard to hit and performance is worse.
2 = Shaft Type ; if your looking to gain height in the flight of your irons then a lighter softer tip shaft can help, if your looking to bring the ball flight down then a heavier firmer tip shaft can help achieve this.
3 = Shaft Flex ; Often players confuse clubhead speed with Tempo, if you have a very quick take away and a quick transition into the downswing ( quick tempo ) this does not always mean the clubhead is travelling quickly and therefore the clubhead speed can be lower than it visually looks like.
Smooth tempo players with slow swing speeds will suit softer shafts which are lighter whereas quick tempo players tend to suit heavier shafts to help them gain control.
4 = Wide sole irons might look chunky but they make the game easier ; wide sole designs help the club with "turf interaction" stopping the club dig on a "fat" shot allowing for a more forgiving strike.
Wide sole designs have a higher MOI ( forgiveness) and hit the ball higher with less backspin de to the lower Centre of Gravity position which helps gains distance.
5 = Cast or Forged? ; Cast irons allow the manufacturer to make the faces thinner in the middle of the face of the iron making the sweetspot more powerful where as forged irons would collapse if they were made as thin so in general you will find forged irons wont go as far as cast but will have a "softer" feel compared to cast.
6 = Custom Fitting ; a visit to a recognised Custom Fit Centre ( like Golfers Choice Northampton ) will give you an idea of length of the club, lie angle and grip size you should be looking for and a recommendation on shaft type/head design will also be given.

Buying the correct specification of irons is far more important than buying a brand name, so my advice would be look for what irons suit you then look for the brands you like rather than being a magpie and buy something shiny with a big brand on that you cant hit.