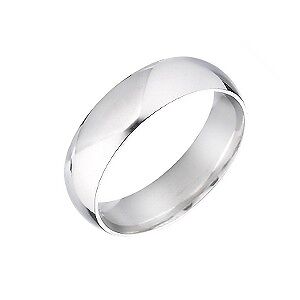 In ancient cultures, people often present simply braided grass rings to commemorate weddings. The wedding rings were symbols of controlling the partner's spirit. Eventually, grooms presented their brides with gold rings to celebrate an engagement and iron rings to consummate the marriage. The difference in quality between engagement and wedding rings has continued to this day. Contemporary wedding rings comprise understated designs and less expensive metals. Many of the rings that demonstrate the lifelong bond between partners are constructed with titanium, a metal that many consumers do not know much about.
Consumers can find titanium wedding rings at most jewellery shops, as well as have a professional jeweller perform an accurate fitting. They can also go online and purchase high-quality titanium wedding rings at the leading auction site, eBay. Buyers on eBay may find practically new titanium rings that sellers offer at discounted prices. Before shopping for titanium wedding rings, consumers should understand what differentiates wedding rings from engagement rings, the three primary grades of titanium, the benefits of wearing a titanium wedding ring, and the factors to consider before making a purchasing decision.
What Is a Wedding Ring?
A wedding ring, which many jewellers refer to as a wedding band, represents a metal ring that indicates the wearer has married. Wedding rings can be worn at the base of the right or left ring finger, depending on the culture and local custom. For centuries, only women wore wedding rings, but that began to change in some cultures at the onset of the 20th century. In many cultures, the best man or maid of honour present the wedding rings at a symbolic moment during the wedding ceremony. During more elaborate weddings, the rings may be brought to the altar in a ceremonial procession that includes the ring bearer. Some people confuse wedding rings with engagement rings. Engagement rings typically are more ornate than wedding rings, which means simpler designed rings denote the consummation of marriage.
Titanium Grades
Consumers who want to buy a titanium wedding ring seemingly have the daunting task of choosing among 30 grades of titanium. However, they should focus on the three major grades of titanium that most manufacturers utilise to produce titanium wedding rings. Each of the following titanium grades receives a rank based on the metal's tensile strength.
Titanium Grade

Description

Titanium 6/4

Consists of 90 per cent titanium, six per cent aluminium, and four per cent vanadium

Stronger than basic grade titanium and most other jewellery metals

Titanium 6/6/2

86 per cent titanium, six per cent aluminium, six per cent vanadium, and two per cent tin

The strongest titanium alloy metal on the market.

130 per cent stronger than titanium 6/4, which makes it the most popular choice for wedding bands

High resistance to scratching and bending

Commercial Pure (CP) titanium

Superior in durability to other jewellery metals, such as gold, silver, and platinum

Often used in fine rings that include diamonds or gemstones embedded into the titanium
The strength of titanium vacillates with the composition of other metals. Besides aluminium, vanadium, and tin, titanium wedding bands can include combinations of zirconium, nickel, silicon, and palladium.
The Benefits of Wearing a Titanium Wedding Ring
An increasing number of jewellers recommend that couples consider buying titanium wedding rings. Titanium has become the preferred metal choice for other types of jewellery because of the outstanding properties that produce myriad benefits
Strong and Lightweight
While the strength of titanium is well-known, many consumers equate strength with heavy materials. On the contrary, titanium is both strong and lightweight. Wearers can wear a highly durable ring that feels comfortable around the finger.
Corrosion Resistant
Titanium wedding bands are resistant to corrosive fluids, such as sweat and most solvents. This is another factor that ensures titanium's long-lasting properties. Other metals do not stand up as well against corrosive materials as titanium.
Hypoallergenic
Titanium wedding rings do not cause skin irritation because naturally coloured titanium possesses hypoallergenic properties. However, lower quality titanium that includes impurities can trigger allergic reactions in wedding ring wearers. Consumers who have adverse reactions to other metals should consider pure titanium wedding rings.
Scratch Resistant
While titanium can receive scratches when it is exposed to sanding or grinding, it does not scratch during typical wearing conditions. The grade level of titanium influences its scratch-resistant capabilities, as lower grade titanium is more susceptible to scratching and bending.
Low Cost
Despite providing more benefits than white gold, sterling silver, or platinum, titanium costs less than the other primary metals used to make wedding rings. However, some consumers may perceive the lower cost to translate to lower prestige, but this mistaken perception has slowly faded since the late 1990s.
Safe Emergency Removal
Titanium wedding band wearers face the possibility that the ring needs to be cut during emergency removal. Manufacturer tests prove that titanium wedding rings can be cut and removed within a few minutes.
How to Buy a Titanium Wedding Ring
Most consumers head to jewellers to purchase wedding rings. While in-person shopping may provide more quality assurance, a growing number of consumers have turned to eBay for their titanium wedding ring purchases. Whatever shopping venue consumers choose, they face the same buying factors that determine their purchasing decisions.
Ring Size
No other factor is more important than buying the right size titanium wedding ring. Unlike engagement rings, wedding ring purchases do not involve the cloak of secrecy. Ask the wearer for the correct ring size, take a sample ring to the jeweller, or bring the wearer to the jeweller shop to obtain an accurate fit. Rings measure by quarter sizes, therefore, it is imperative to obtain a titanium ring measurement to the most accurate quarter. Err on the side of a looser fit that does not constrict finger blood flow.
Personal Taste
Since wedding rings do not require clandestine purchase, ask the wearer what he or she wants in a titanium wedding ring. More flamboyant personalities may prefer ostentatious gemstones flushed within the titanium. Introverts may prefer simple designs engraved in the titanium band. Titanium wedding rings can include religious symbols, national emblems, and deeply personal messages. They can also be covered in diamonds for the wearer who wants the titanium wedding ring to carry more significance, maybe carry as much significance as the engagement ring.
Grade and Finish
Some jewellers only sell pure titanium wedding rings to enhance the ring's value. Titanium 6/6/2 is the most popular grade because of its durability. The titanium grade chosen goes a long way towards determining the value of the titanium wedding ring. Finish also determines quality, as the type of finish chosen plays a huge role in providing scratch-resistant ring properties. While certain chemicals can degrade other metals, titanium wedding rings finished with the right substance can be highly corrosion-resistant.
Engravings
Because wedding rings represent a more subdued fashion statement, many titanium ring wearers opt for simple messages or symbols engraved into the titanium bands. The engraved messages can include expressions of love or a commitment to "until death do us part". Typically, four or five words should be enough to convey powerful messages. Font and number of characters must be considered due to the limited space on titanium wedding bands. Remember that engraving cannot be altered, so select a message or image that possess long-lasting meaning.
Budget
Before considering a titanium ring, consumers should create a budget that places minimum and maximum limits on spending. Then, after every other factor has been considered, see if the titanium wedding ring chosen falls within the predetermined budget. If it exceeds the budget, look to change features, such as adding gemstones or diamonds.
Buying Titanium Wedding Rings on eBay
Consumers find that eBay is a fertile venue for finding titanium wedding rings. Some sellers discount near mint condition titanium wedding rings because of a wedding being cancelled. Simply type keywords into eBay's search engine, and then navigate through the search pages until you find a seller who matches your titanium wedding ring buying criteria. Type keywords, such as "new titanium wedding rings" or "size small titanium wedding ring", to reduce the number of search result pages. Once you find the right seller, review the accepted payment methods, delivery terms, and return policies located on the seller's product page.
Consider buying a titanium wedding ring from one of eBay's Top-Rated Sellers. These sellers have earned reputations for selling superior products and running fair auctions. Look for the electronic ribbon icon that eBay places by each qualified top-rated seller's product photograph. You can also review customer feedback that eBay compiles on seller product pages. Look for sellers who have garnered positive customer feedback for at least the past year and have received positive feedback for selling fine jewellery. Once you form a business relationship with an eBay seller, ask the seller if he or she runs an eBay Store where you can buy products directly, instead of having to participate in auctions.
Conclusion
Popping the big question typically involves the presentation of a high-quality engagement ring that most likely includes an array of carefully cut diamonds. The irony is that on the most important day of a groom and bride's life, a more understated ring is presented during the wedding ceremony. While the presentation of wedding rings goes back to ancient cultures, it was not until the early part of the 20th century that they were made with materials other than yellow gold or iron. Since the 1990s, titanium has become the most popular metal used to construct wedding rings, because the metal possesses strength, scratch-resistant properties, and no allergens. Titanium is also a lightweight metal that feels comfortable around the wearer's finger.
Titanium's rising popularity means consumers should learn more about the metal. There are the primary grades of titanium that receive their grades mostly because of tensile strength. Knowing the three primary grades of titanium provides consumers with a starting point during the shopping process. Then, consumers must consider a number of factors before they reach a purchasing decision. The titanium wedding ring buying factors, include: ring size, personal taste, grade, finish, and engravings. Finally, consumers must ensure that all of the factors under consideration fits within their titanium wedding ring budgets.