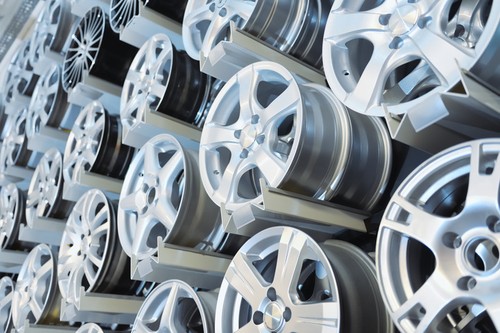 There are a number of advantages to using a titanium wheels on your bicycle. It's a strong, lightweight material providing a good level of shock absorption, making it an ideal choice for bike wheels as this is where the majority of the stress in daily riding will occur. With the right choice of wheel, you can improve the comfort and speed of your ride. Titanium is one of the more expensive materials used in bike construction, but due to it's quality it has a devoted following among cyclists. This guide will give you enough information to enable you to buy the right wheel on eBay for your needs.
Components of a Bike Wheel
Rim: This is the outer edge of the wheel, and it is where the tyre attaches. If the wheel takes a clincher tyre there will be a lip for it hook onto, if the wheel takes a tubular tyre then it will be sewn on.
Hub: This is the centre point of the wheel, it is where the bike wheel will be attached to the frame. It should turn freely so as to give you a smooth riding experience. This is also where the gear system will be attached.
Gear System: If gears are included in the wheel it will either be hub gear system, or a dérailleur. A hub gear is where the gears are contained in the hub, this means the gears are protected from the elements whilst riding but does mean they are harder to repair if something goes wrong with them. The dérailleur is the more seen option, and is where the gears are open to the elements. If gears are not included as the bike is a single speed then it will either be a fixed gear or free wheeling. Fixed gear is where the pedals have to move whilst the bike wheel is moving, and free wheeling is where you don't have to pedal continuously, both have advantages but free wheel is the recommended option if you don't have experience of riding with a fixed gear as they can be tricky to get the hang of.
Spokes: These are thin bits of metal that attach the hub to the rim, the reason for their thinness and such a large number of them is that they absorb shock, protecting your bike from unexpected impacts whilst riding.
Different Uses for a Titanium Bike Wheel
| Uses | Description |
| --- | --- |
| | As titanium wheels are stronger and lighter they provide a good option for mountain bikers. When going off road it is important that you have confidence in your equipment and a titanium wheel can provide the additional security in your ride where it counts. |
| | The purpose of a racing bike is to be able to accelerate quickly and maintain speed. So having a titanium wheel can be a great benefit in this, especially as the manufacturer has more flexibility to create something aerodynamic and lighter. |
| | The advantages of using a titanium wheel for a town bike is not as immediately obvious as with other bikes, but carrying that little bit less weight can make a substantial difference to your daily commute, or mean that you can go the extra distance on the your weekend ride. |
| | One of the key attributes of a folding bike is that it is easily portable, especially if you're using it in your daily commute. |
| | As with a town bike, the difference is not as immediately obvious, but having a stronger wheel means that you can be more adventurous whilst being secure in the knowledge that you have the right material for your ride. |
Aspects to Consider
It is important to consider what purposes you'll be using the bike, and hence the wheel, for. There are a large number of options available, and with the right choice you can enhance your riding experience.
Where will the wheel be used?
What size wheel?
Clincher or Tubular?
Which spoke count is best?
Terrain
Where and how you intend to use the wheel will dictate the width of the wheel and the number of spokes.
Off road: Due to the uneven surface and rugged terrain you would need a wider wheel with a higher number of spokes. A wide wheel provides greater balance and traction, which in turn will mean that you have more a forgiving ride.
On road: As the surface you'll be encountering will be uniform and smooth you don't need as many spokes as there will be less shocks transmitted through the wheels. A narrower wheel provides more a more aerodynamic ride, enabling you to travel at higher and more consistent speeds.
These are rough guidelines, and personal preference does play a part. For example some people prefer to use a wider tyre on the road for the additional balance it brings, however, it is not recommended to use a thin wheel off road as it is not durable enough to deal with unexpected drops or shocks.
Wheel Size
The width of a bike wheel is something that will need to take into account the width of your frame, it is important that it is able to rotate freely. The standard width for a road bike wheel will be 23mm, whilst a mountain bike wheel can be up to 53mm. The larger the width the easier it is to balance on the wheel, but the extra width means that more tread touches the ground. This increases the friction generated and gives you a greater rolling resistance, meaning that you won't be able to go as fast on thick wheels as you will on thin ones.
The diameter of a bike wheel will be determined by the kind of bike that you'll be using the wheel for. They are measured either in metric, between 650 – 700 mm, or imperial, between 26" - 29". If you are changing or upgrading a bike then it is wise to go with the same diameter wheels as those that were on the bike previously.
Clincher and Tubular
This has already been mentioned earlier, but there are two different types of wheels on the market. The first is the clincher, this is where the inner tube is separate from the wheel and tyre. The second is the tubular, this is where the inner tube is sewn to the tyre which is fixed to the wheel. There are a number of benefits to either option, but essentially the clincher option is easier to replace and repair whilst the tubular option gives a smoother ride.
It is important to decide which option you'd like to go with for your wheel, as a each wheel is specific to a type and can't be used with the other option. It is worth noting that clinchers are more popular as they are easier for those who don't have a lot of technical experience to replace or repair.
Finding a Titanium Wheel on eBay
There is a large range of wheels available on eBay, and this can be accessed through the Cycling section of the Sporting Goods category. You can reach this by selecting it from the menu on the left hand side of the main page. The wheel section is under Bike Parts, and this can be further filtered to show only titanium wheels. You can also filter the options by condition, buying options, brand, and wheel size, as well as by the general search term. This makes it easy to find the right titanium wheel to match your particular specifications.
Important information, such as the condition of the wheels and postage and packing information will generally also be readily visible on the item's listing, meaning it is possible to see at a glance the all the important information required to make a decision. Further information about the seller, such as feedback and reviews, can be found on their page, enabling you to make a purchase with confidence. It is also possible to ask the seller any questions that you might have about the item, and they often are able to provide advice should you require it on an items suitability.
To find the right kind of titanium wheel for you, it may be faster and easier to use the search function available at the top of every page. For more information on effectively using the search function, go to the Search Tips page.
Conclusion
Titanium is a fantastic material for a bike wheel, being both strong and lightweight, and you can benefit from using it no matter what kind of bike you ride. It is important to consider what you're expecting to achieve with the wheel and then you can decide which kind of wheel you'd like to get. If you can budget for it, it may be an option to have two different sets of wheels for the same bike, enabling you to switch them out depending on what kind of use you're putting the bike to. With a small amount of time spent on eBay looking through the options you can easily find the right choice for you.