Basic calculators are useful for anyone that wants to make fast, accurate calculations, and some models come with additional features and mathematical functions. Basic calculators are available in handheld and desktop versions. Before shopping, buyers should consider their requirements in order to establish which features are necessary. Factors to consider include portability, display size, key layout, and functionality. Buyers should learn about the top 10 basic calculators available before shopping at electronics stores, supermarkets, and online from marketplaces such as eBay.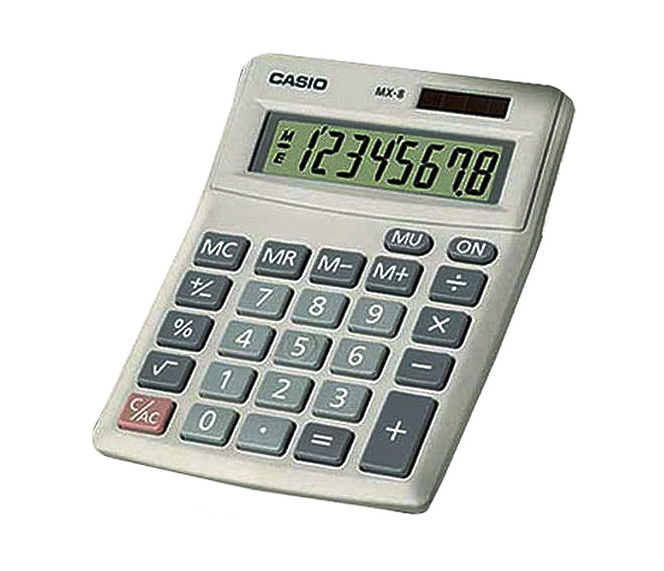 The Casio MX-8 is a basic desktop calculator that is battery and solar powered. It has a clear display and performs basic mathematical functions; it has a square root key, positive and negative number key, four-key memory function, and mark-up capabilities. It switches off automatically when not in use. This calculator comes with a large, angled, eight-digit display and non-stick plastic keys.
---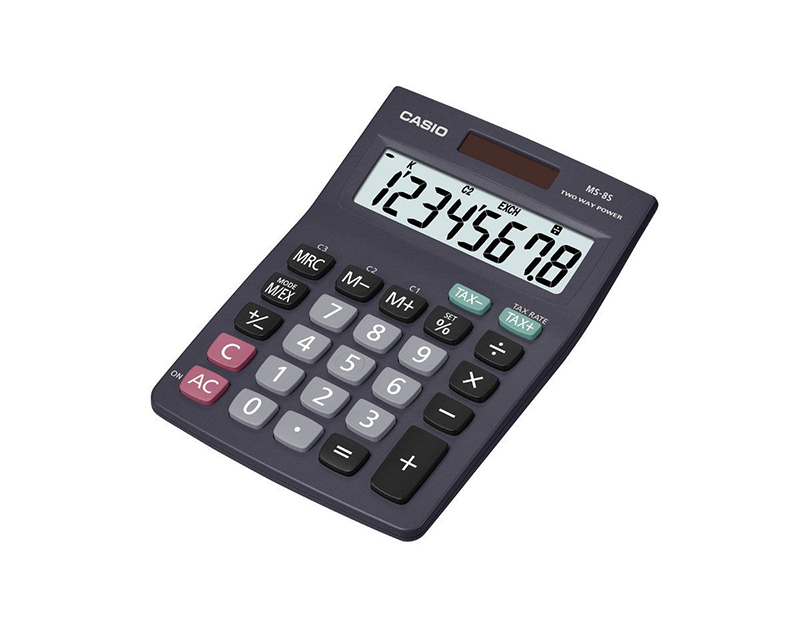 The Casio MS-8S includes currency conversion and tax calculation functions. It is battery and solar powered. It comes with an extra-large tilt eight-digit LCD display, plastic keys, and features, including a sign change key, large plus key, four constants, three-key memory, and profit margin percentage functions.
---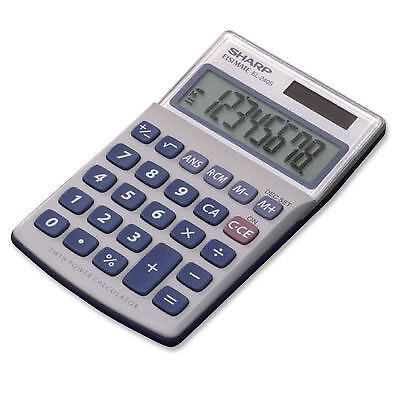 The Sharp EL-240SAB is a dual power source pocket calculator. It has a large tilt eight-digit display, protective cover, and last answer function. It features a decimal setting, three-key memory, and root and sign change keys. It automatically switches off after a period of inactivity.
---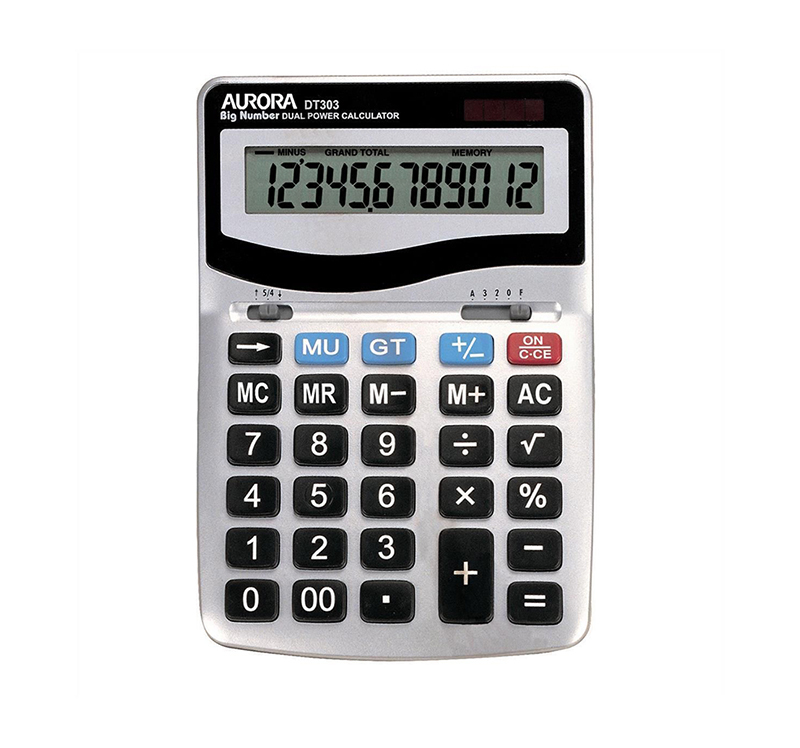 The Aurora DT303 is a heavy-duty desktop calculator with a large 12-digit fixed-angle display. It has a large keypad and durable hard keys. It features a four-key memory, mark-up and grand total functions, backspace correction key, rounding and add mode, and decimal point selector settings. It can calculate percentages and features double zero and square root keys. Rubber feet hold the device in place while in use.
---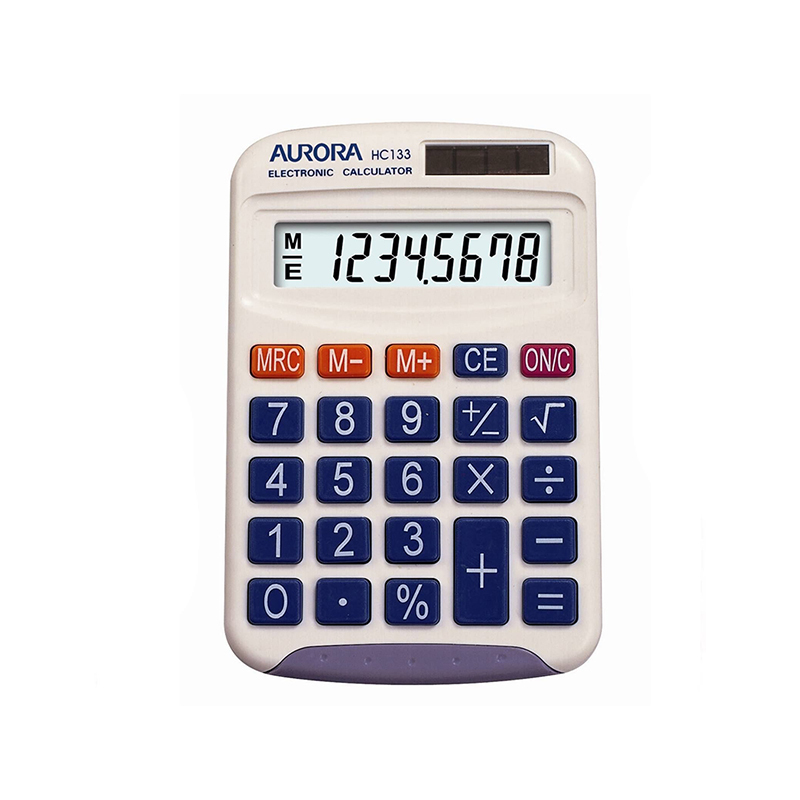 The Aurora HC133 is robust with durable hard keys, a large keypad for easy viewing and use, and a clear eight-digit LCD display. It comes with a three-key memory, change sign key, and percentage and square root functions. It is solar powered with battery backup.
---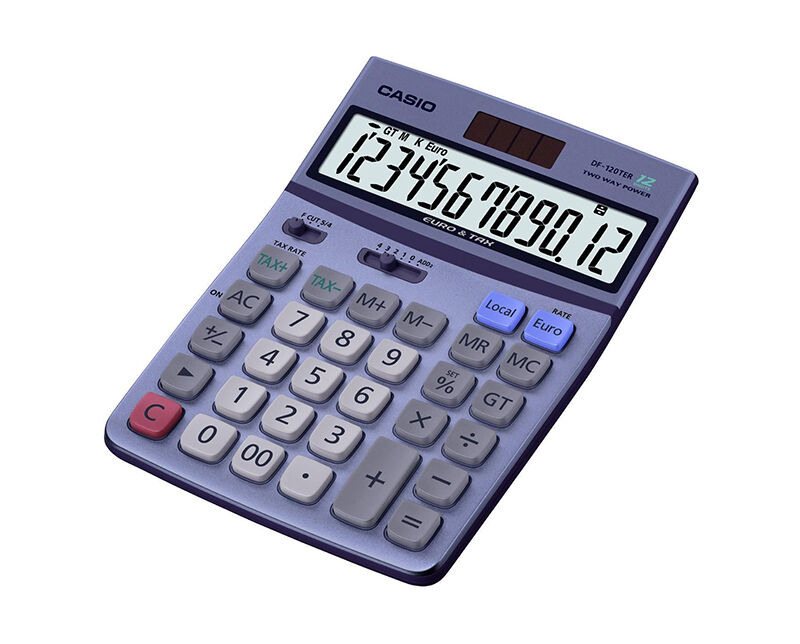 The Casio DF-120TER features a 12-digit display, grand total memory, Euro and currency conversions, tax calculation functions, independent memory, and a double zero key. It is dual powered with battery and solar and power, and features an automatic power off function. It has an extra large angled display and non-stick plastic keys.
---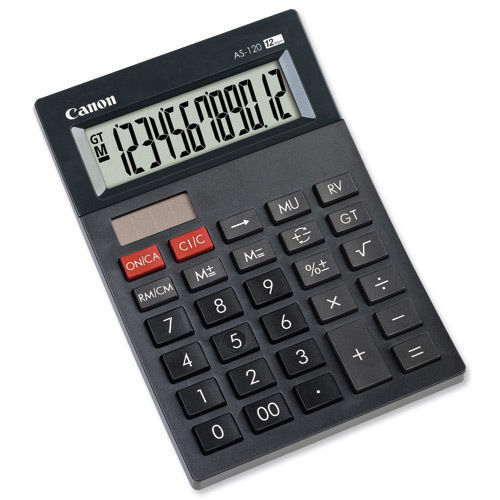 The Canon AS-120 is a 12-digit mini desktop calculator with dual power and an angled display. The upper and lower sections of the case are made of Canon recycled material. It can perform mark-up, reverse, and grand total calculations. It also features constant calculation, key rollover, and a change function key.
---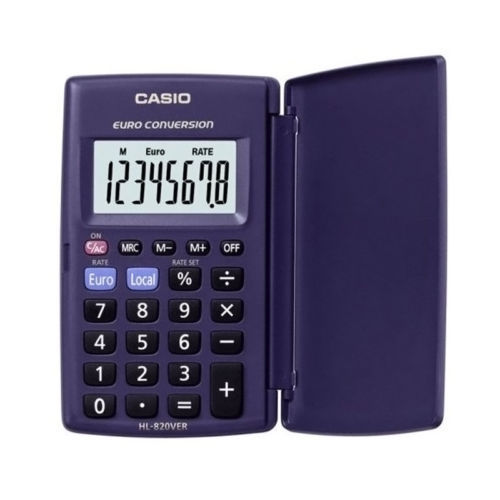 The Casio HL-820VER features a large eight-digit LCD display and independent memory. This compact pocket calculator comes with currency conversion and percentage calculation capabilities. It is battery powered and has an automatic power off feature. It has plastic keys and a fold-over protective cover. Other specifications include a large plus key, four constants, three-digit comma marking, a three-key memory, and function command signs.
---
| | |
| --- | --- |
| 9 | Texas Instruments TI-1795 |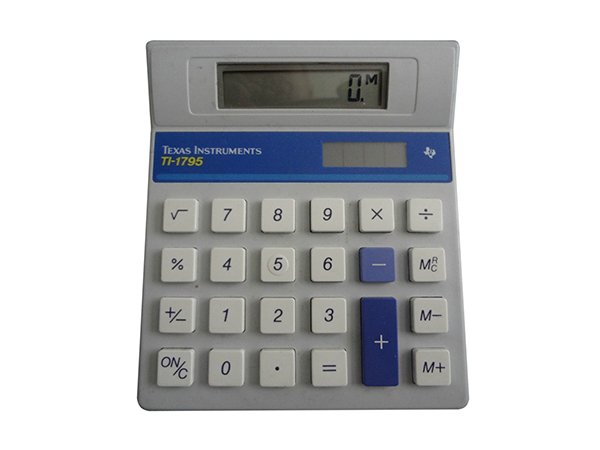 The Texas Instruments TI-1795 SV is a desktop calculator with an angled LCD SuperView display that is 14 millimetres high. It comes with memory, sign change, and square root keys. The keyboard is well spaced, large, and contoured. The battery and solar powered calculator displays up to eight digits.
---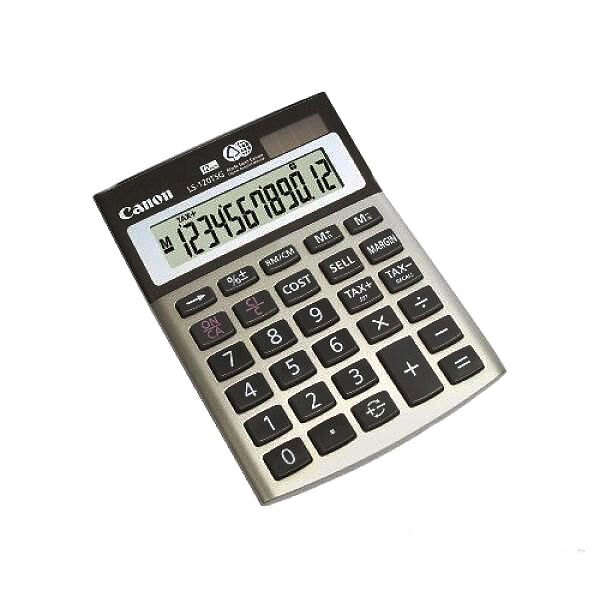 The Canon LS-120TSG is a 12-digit mini desktop calculator with business and tax calculation capabilities, including cost, sell, and margin functions. It has a large, angled LCD display and is made of 100 per cent Canon recycled plastic. It comes with key rollover, dual power source, backspace key, and automatic power off. It features durable hard plastic keys and non-slip rubber feet.
---
How to Buy a Basic Calculator
eBay sellers offer a variety of handheld and desktop basic calculators. You can search by typing a phrase, such as " Casio basic calculator", into the field that you can access from every page. Browse the results or refine them by choosing the most suitable category features. A basic calculator is an excellent tool for making accurate simple calculations. Buyers should consider their requirements before shopping. Handheld calculators are useful for students and business users that need a portable device for tax and simple accounting calculations. Larger displays and keyboards are ideal for those who find standard calculators difficult to use.