One of the quickest and easiest way to make a child's bedroom a special place to spend time,
bed-in-a-bag
sets for children come in many patterns and styles to please young tastes of all types. These sets include everything a parent needs to construct a completely dressed bed in twin or full size, including a flat and fitted sheet, comforter or duvet, one or more pillowcases, one or more sham cases, and a coordinating bed ruffle to tie the look together. Whether the bed-in-a-bag comes from a local linen retailer or online at eBay, a bit of research into the top sets for children allows shoppers to make a confident buying decision in order to give a boy or girl a room to treasure.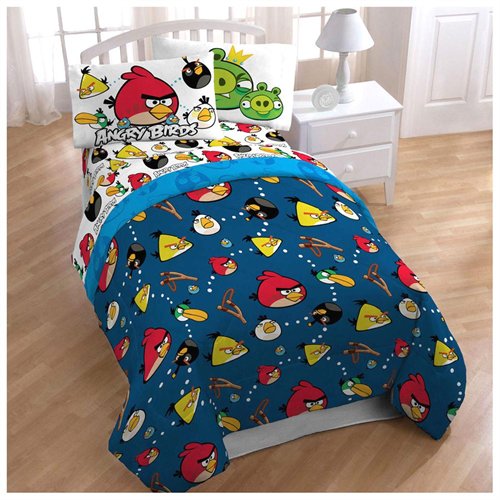 Based on the popular video game series of the same name, an Angry Birds bed-in-a-bag set depicts an accurate representation of the angry birds, pigs, monkeys, and other iconic characters found on gaming screens around the globe. The duvet, pillowcase, and sheets come coloured in vivid shades of red, blue, and green, with the game's logo boldly emblazoned across the pillow and other coordinating accessories such as curtains and rugs.
---
| | |
| --- | --- |
| 2 | Everything Kids Bed-in-a-Bag Set |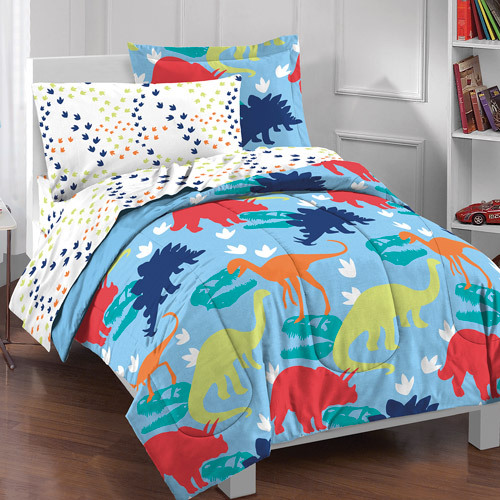 Made from comfortable materials, the Everything Kids bed-in-a-bag set is ideal for both boys and girls. These sets includes flat and fitted sheets for either a twin or full bed as well as pillowcases and a duvet.
---
| | |
| --- | --- |
| 3 | American Kids Collection Peace, Love, Rock and Roll Monkey Bed-in-a-Bag Set |
A favourite of toddlers as well as older girls, the American Kids Peace, Love, Rock and Roll Monkey bed-in-a-bag set features the smiling face of a monkey on a white background as well as the words "peace, love, and rock and roll" in fluffy blue, pink, and green bubbles. The set combines soft sheets along with a duvet and coordinating pillowcases to complete the look.
---
| | |
| --- | --- |
| 4 | Monster Jam Motorsports Bed-in-a-Bag Set |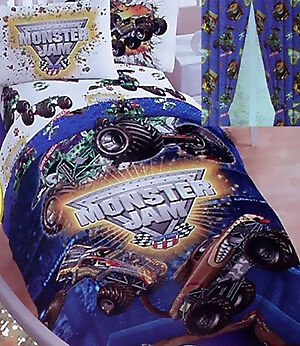 Made to delight boys of all ages, a Monster Jam motorsports bed-in-a-bag set shows race cars, monster trucks, and lightening bolts on a background coloured in vivid red, blue, and yellow. In addition to the included duvet, sheets, and pillowcases, extra items such as curtains, throw pillows, and race car toys complete the monster truck look.
---
| | |
| --- | --- |
| 5 | Purple Leopard Bed-in-a-Bag Set |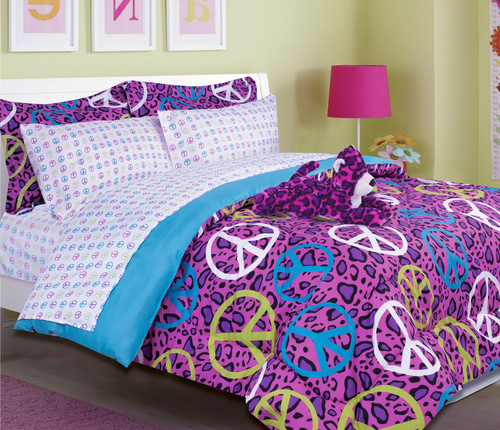 A pattern first made popular by all-girl singing groups such as Girls Aloud and the Spice Girls, a purple leopard bed-in-a-bag set takes a fun animal print and adds a touch of pizzazz with a fun purple colour. This set is ideal for girls of all ages, as the sheets, duvet, bed skirt, and pillowcases fit right in with other fun and colourful items commonplace in the bedrooms of children and tweens. If girls want even more purple pizzazz, coordinate this set with solid or printed curtains, a fuzzy rug, and a lamp with fringe.
---
| | |
| --- | --- |
| 6 | Kids R Us Bed-in-a-Bag Set |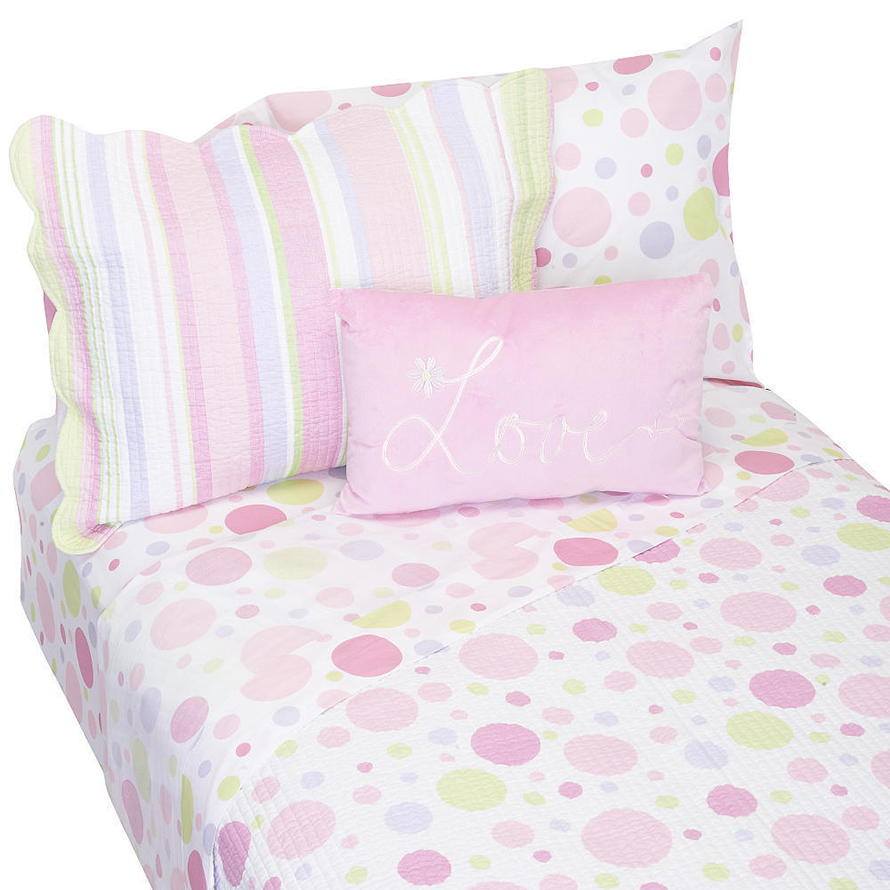 Bed-in-a-bag sets from Kids R Us offer a great deal of versatility and give kids the characters they want so that their bedroom transforms from somewhere boring to a place to play with their favourite characters. Some of the many designs offered from this line of bedding include Lolli Living Whimsy, Hello Kitty, Disney's Little Mermaid, and Monsters University in sizes ranging from toddler to full size beds.
---
| | |
| --- | --- |
| 7 | Pottery Barn Kids Bed-in-a-Bag Set |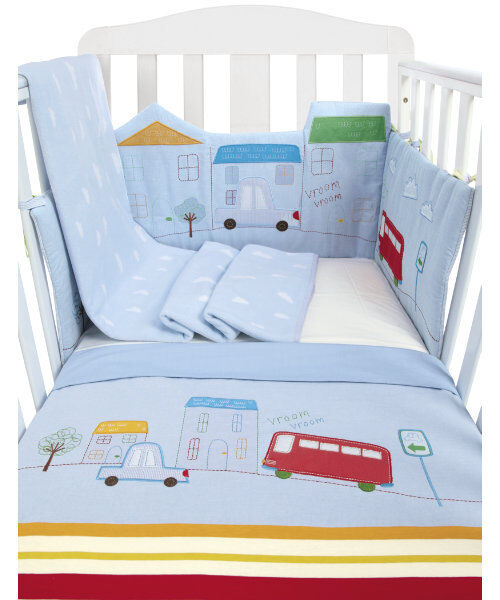 From cute and whimsical to bright and bold, bed-in-a-bag sets from Pottery Barn Kids come in a variety of colours ranging from pastel pink, green, blue, and yellow to vivid neon yellow, pink, and purple. A few of the styles include Harper, Brooks, and Tobin for boys and Veronica, Ava Mod Giraffe, and Daisy Garden for girls.
---
How to Buy Bed-in-a-Bag Sets for Children on eBay
When shopping for child's bed-in-a-bag sets on eBay, many options present themselves when entering a generic term such as "children's bedding" into the eBay search bar. To combat listing overload, try specific query phrases like "Pottery Barn Kids bed-in-a-bag sets", "Monster Jam bedding set", or "purple leopard matching bedding set" for the best results. As you browse through the returned listings, pay close attention to the feedback score of each seller as well as their location. Shopping with local sellers ensures quick delivery and a lower postage cost due to the shorter shipping distances, so your bed-in-a-bag set can arrive fast enough for even the most excited children.