The factory speakers for PCs and Macs tend to be limited in terms of volume and overall performance. They may sound flat and tinny, or produce only enough sound for one or two people to hear. Fortunately, owners looking to improve the audio quality of their computer setup can choose from a broad selection of quality
computer speakers
. These include small, portable units for a laptop as well as larger cabinets for a table or desktop. These speakers offer great sound quality for movies, music, gaming, and other applications.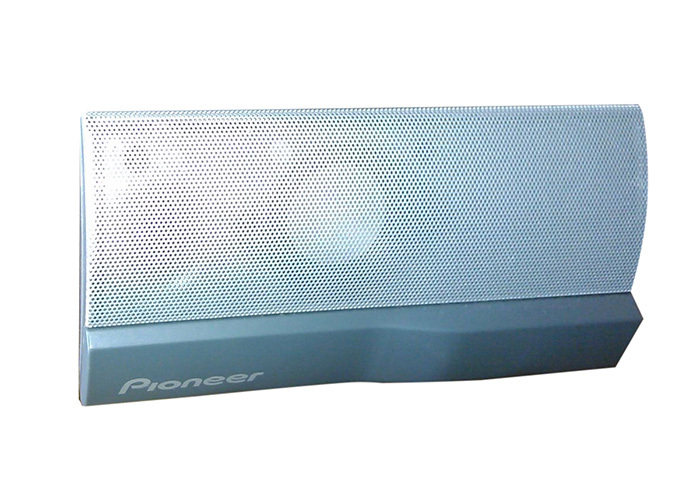 Pioneer designed its thin, box-like S-MM301 speaker for portability and ease of use. It features USB connectivity and a single woofer design, which makes it ideal for laptop use. Due to the straightforward design, the S-MM301 speakers are also an affordable choice.
---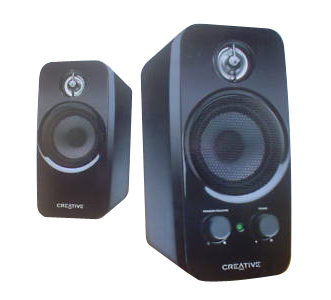 The T10 speakers from Creative Inspire feature dedicated tweeters to handle high frequencies. The product also uses BasXPort technology for bass representation that rivals subwoofer systems. The speakers feature a headphone jack and an auxiliary input to allow connectivity with computers and portable devices like smartphones and MP3 players.
---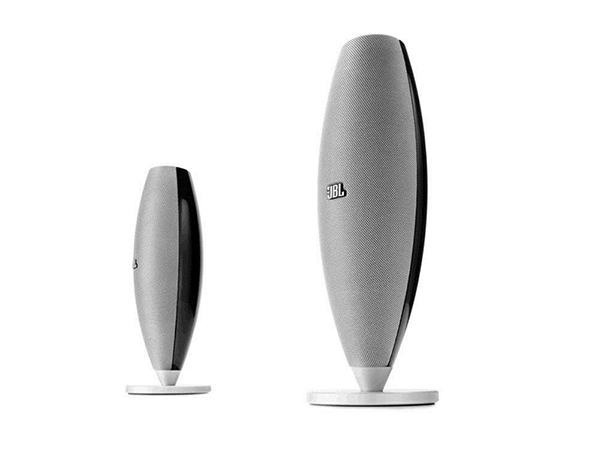 The JBL Duet III speakers offer a sleek, modern design, and their small size allows owners to integrate the speakers into crowded environments. The Duet III uses a 3.5-mm cable for connection to a broad variety of devices. Each speaker uses a single transducer to produce its sound, which helps keep the Duet III affordable.
---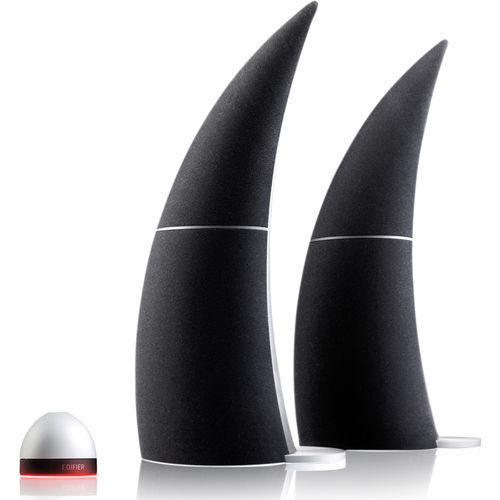 One of the most visually striking speakers on the list, the Edifier Spinnaker uses its curved cone-like design to enhance performance. In addition to the mid-range driver, the speakers utilise separate tweeters for high-end sound and a downward-facing 4-inch subwoofer for enhanced bass. The Bluetooth connectivity enables use with A2DP and AVRCP profiles, and an included remote control allows users to make adjustments from as far away as 10 m.
---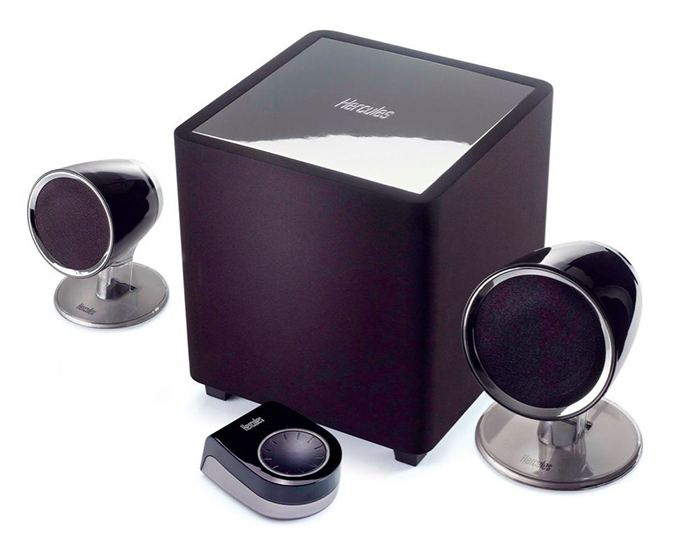 The Hercules XPS 101 uses front-facing subwoofers to provide high-performance 2.1 audio. Two smaller, passive subwoofers enhance clarity and performance of the low end. The circular design and piano black gloss paint of the speakers is coupled with translucent Plexiglass stands for a modern look. The speakers connect via a 3.5-mm cable jack, and the package includes a remote control.
---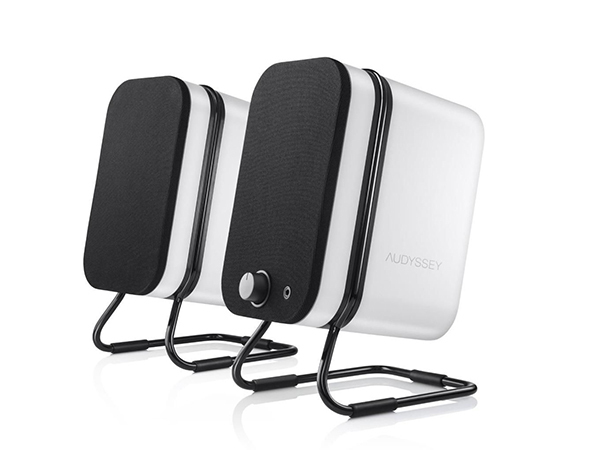 The Audyssey Wireless does not use separate subwoofers or tweeters, though its Audyssey EQ, Dynamic EQ, and BassXT technologies create a full and detailed sound. The speakers feature Bluetooth connectivity for wireless use, and an audio input allows owners to use the speakers with a 3.5-mm auxiliary cable. Visually, the speakers have an attractive, compact design. The white speaker boxes rest on simple black wire stands for a minimal and unobtrusive look.
---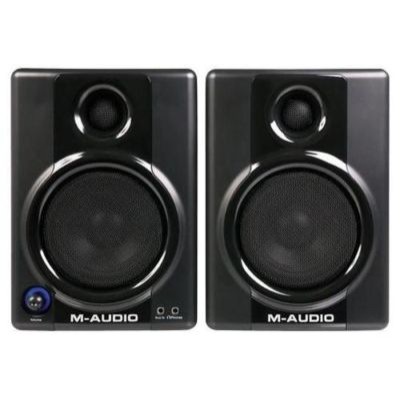 The M-Audio AV 40 is among the largest computer speaker products on the market. Their size allows the speakers to reach higher volumes than other products, though it also means the AV 40's wooden cabinets occupy more desk space. The 2.0 design keeps things simple, though a 1-inch tweeter adds clarity to upper ranges, and the size of the speakers allows greater bass playback than other 2.0 units.
---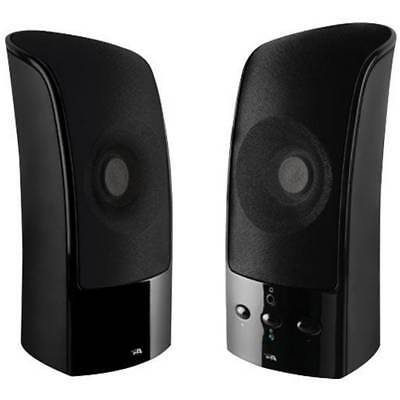 The Cyber Acoustics CA-896 uses a USB cable for easy connections with smartphones, tablets, and other devices. The speakers are tall and narrow, with a front panel that slopes backward at the top. The speakers utilise a single woofer to produce audio, though the sound performance is well rounded. The most attractive feature of the CA-896 is its low price, which makes the product an accessible way to improve the audio of any computer.
---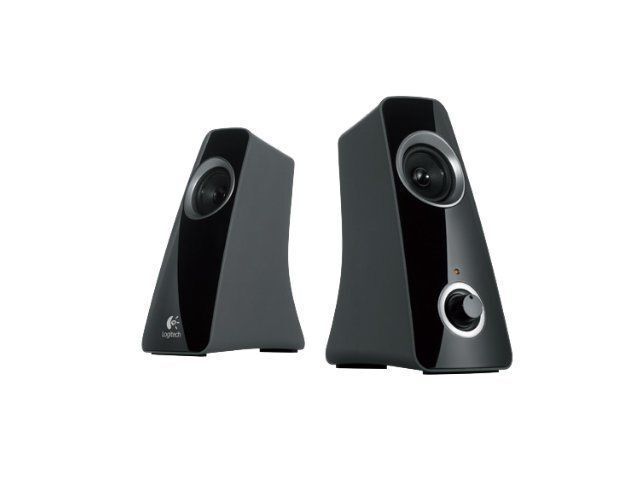 The Logitech Z320 features an affordable single woofer design and a 3.5-mm auxiliary connection. The speaker cases comprise a durable, gloss black plastic, and the face of the speakers slopes backward to project audio into a room. The Z320 uses Logitech's 360-degree sound to enhance a listener's experience from all sides of the speakers.
---
| | |
| --- | --- |
| 10 | Harman Kardon SoundSticks III |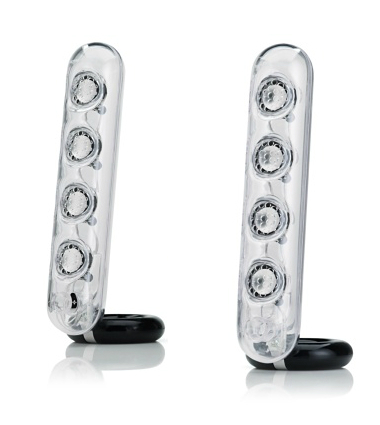 The Harman Kardon SoundSticks III is a 2.1-channel sound system. It features a domed case for the amplifier and subwoofer, along with cylindrical satellite speakers. Independent subwoofer volume control and angle adjustment for the satellite speakers allows owners to cater the unit's sound to their needs.
---
How to Buy Computer Speakers on eBay
Private and commercial sellers list a broad selection of computer speakers on eBay. You can shop for these items by using keywords on any eBay page or by clicking on relevant category links. Once you find desirable products, take a moment to review item and seller information. Staying informed on the top products available allows buyers to select products that match their budget and needs.