Nothing is more fun for small children than to dress up and use their imagination to pretend they are someone or something different. Whether the
costume
is for celebrating Halloween or just for fun, there is a large selection of playful costumes to choose from. To make quick work out of picking a costume, parents are encouraged to familiarise themselves with some of the most popular costumes on the market. From pirates to witches, there are great possibilities for infants and toddlers to wear. Costumes are available at many retailers or at specialty shops. To skip the hassle of running around town in search of a costume there are also online sites, such as eBay, that sell costumes for all ages and occasions.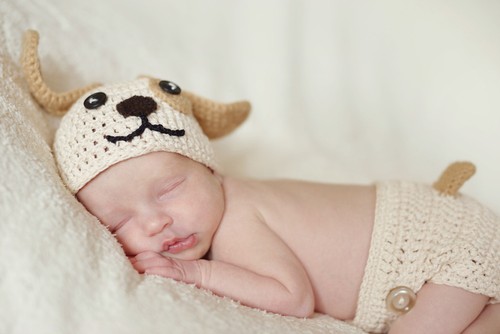 There is nothing more adorable than a puppy or a kitten, so this is a natural pick for infants and toddlers who are not ready to don a frightful costume. There is a variety of choices to pick from when looking at puppy and kitten costumes. These costumes usually come as one piece to keep kids warm during the cold autumn months.
---

Kids are sure to shake their tail feathers in a whimsical duck costume. Duck costumes usually consist of a body suit or onesie. The duck feet and head, depending on the make of the costume, come attached or are separate pieces. For toddlers, the duck feet come as shoe covers to wear over the child's own shoes.
---
---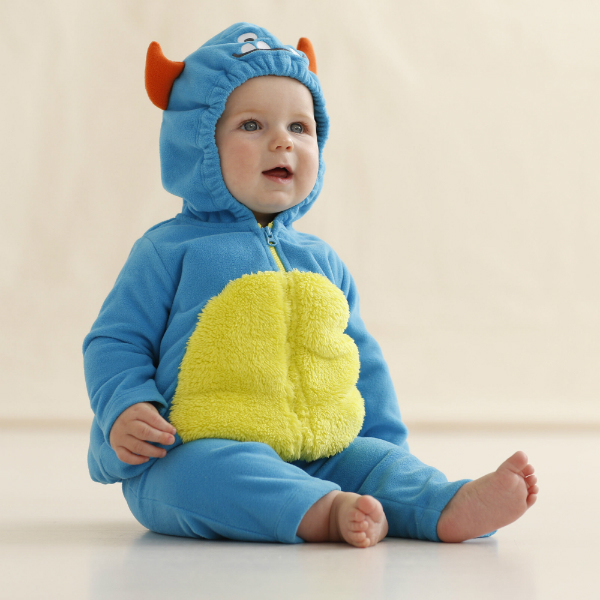 Monsters are no longer only for older children and adults, since there are monster costumes for toddlers and infants. Most monster costumes are not scary so parents need not fret. A top choice for a monster costume is Dracula or a vampire with a simple, black cape and white dress shirt. White face paint is the finishing touch for any vampire costume.
---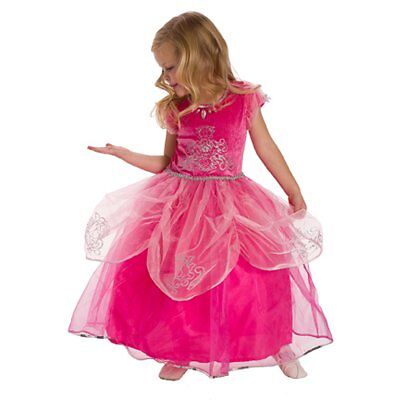 Many little girls dream about being a princess, and Halloween provides the perfect opportunity to live out their dream. Parents are not limited to one or two princess costumes, since there is a wide variety of princess costumes. Children are able to pick their favourite Disney princess costume or create their own unique look simply by picking different gowns and accessories. Little boys are not left behind, since they are able to dress up as princes too. For the aspiring heroes, an alternative to the prince costume for boys, is the knight costume that provides armour, shield, and sword choices.
---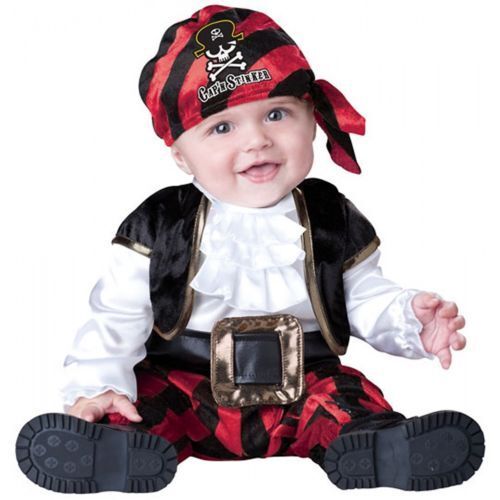 Pirate costumes are always a fun choice for young children and vary in design, from simple to intricate. For smaller children, like infants, parents cannot go wrong with simple and breathable fabrics to adorn their little swashbuckler. Toddlers are able to pair their outfits with play swords and pistols, although it is advisable that buyers do not get their children swords with sharp points to avoid injury. A good alternative to hard plastic swords, are foam play swords.
---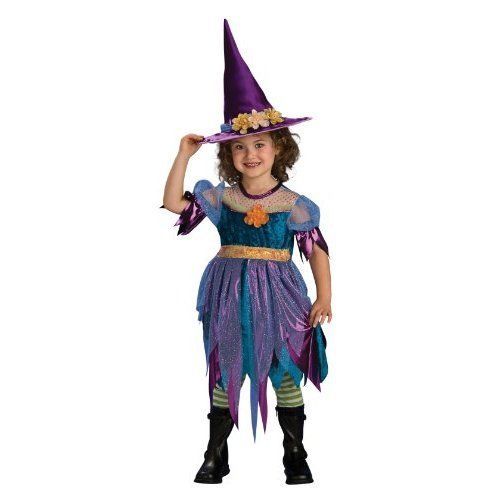 Witch costumes are a classic choice for all ages, from infants to adults. Witch costumes are easy to find, and if in a pinch, are easy to make for crafty parents. This costume usually consists of a black dress or gown, combined with a pointy hat. Popular accessories for witch costumes are brooms and cauldrons. To keep little legs warm, tights with stripes or bold colours pair well with the witch costume. Green makeup is another must for the witch costume, although it is not the best choice for infants since they are likely to rub their faces.
---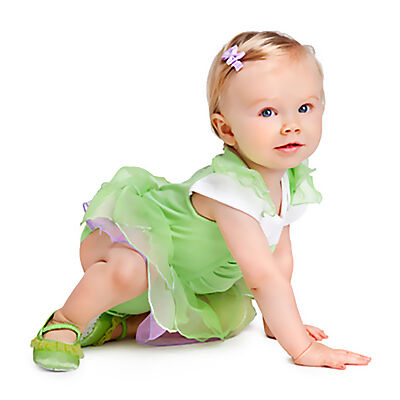 The fairy costume is a good alternative to the princess costume since it also features a dress but comes with an added bonus of fairy wings and a magic wand. Fairy costumes are usually very sparkly with tulle accents and skirts. In inclement weather, it is advisable that parents buy fairies warm tights or leggings to wear with their costume to stay warm.
---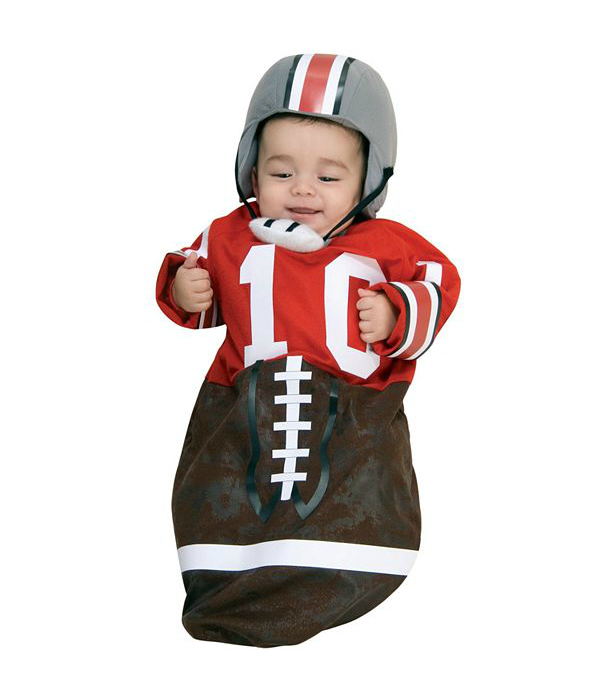 Another good choice for a costume is dressing up a toddler or infant as a sports star. Whether it is their favourite football or tennis star, kids are happy to emulate their sports heroes by wearing team jerseys. Other accessories, like socks, sweat bands, and shoes are good ways to finish a sports star look.
---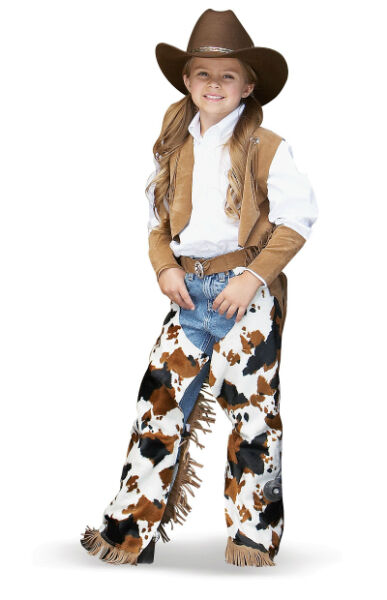 The Wild West is not a thing of a past, especially when children decide to dress up as a cowboy or cowgirl. While there are many variations to this costume, no cowboy or cowgirl look is complete without a hat and cowboy boots. Cow print vests or chaps are also top choices for little buckaroos, as well as plastic six shooters and spurs.
---
Choosing a Toddler or Infant Costume
Choosing a toddler or infant costume is easy if one remembers some basic tips. When picking a costume, parents need to make sure there are no small components that detach and cause a choking hazard. Masks are not recommended for infants or toddlers, but if the parents chooses a child safe mask he or she must ensure the eyeholes are large enough to see clearly. As with any other clothing or accessory items for children, it is always best to read the costume tags for any warnings or to make sure it is age appropriate.
How to Buy Toddler or Infant Costumes
With the top costumes in mind, it is only a matter of clicking in the right keyword into the search bar of any eBay page. For instance, type in " witch costume" to yield all the associated listings. To narrow down the results for a more specific list just click on any of the relevant filters located in the sidebar. If there are any questions or concerns not addressed in the listing, you can contact the seller by using eBay's message system. By shopping from Top Rated sellers and reading the product descriptions, buyers are sure to find the perfect costume for their little one from the comfort of their own homes.