A graphics tablet
, or a digitising pad or drawing
tablet
, is an essential tool for artists as well as for other people who need to create sketches and store them digitally. Many such tablets come with a trackball, mouse, or some other pointing device. A typical graphics tablet contains two parts, a flat drawing surface and a drawing utensil, such as a puck, stylus, or pen. Tablets are available in several sizes, with different interfaces (USB or Bluetooth) and accessories, as well as pressure-sensitivity. Ten of the best graphic tablets include models from Trust, Wacom, and Aiptek. They are available in high street electronics stores as well as sites such as eBay.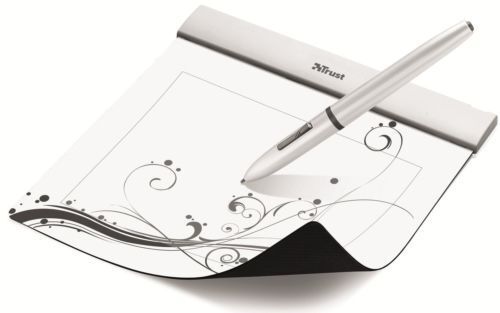 The Trust Flex Design tablet is thin, like paper, and is thus easy to carry. The workspace on the tablet measures 120 mm by 155 mm and the pad comes with a pressure-sensitive pen. Thanks to the anti-skid bottom, the tablet stays easily on any surface to allow for quick doodling, drawing, colouring, or sketching. The tablet connects to a computer via USB.
---
| | |
| --- | --- |
| 2 | Wacom Intuos5 Medium Pen & Touch |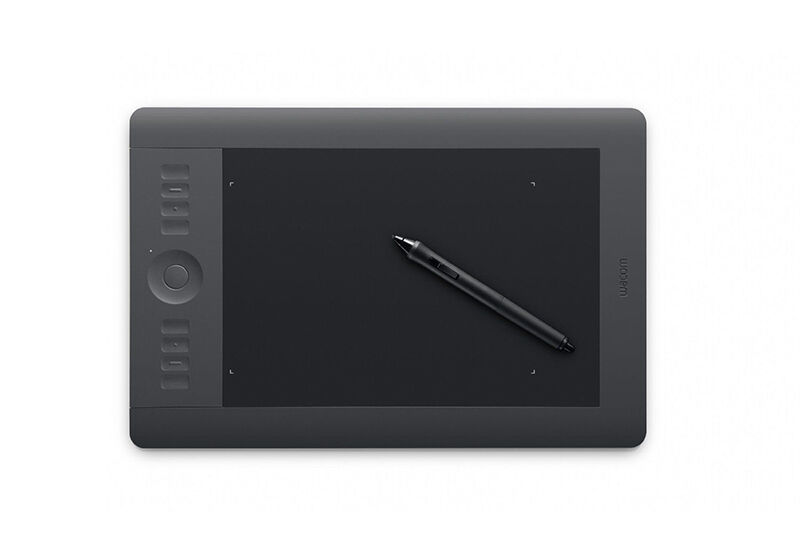 The Wacom Intuos5 responds to both touch and special pen. There are eight expresskeys as well as a display toggle available on the device. The tablet is compatible with both Windows and Mac computers and connects to them either via USB or wirelessly. The workspace is about the size of an A5 piece of paper.
---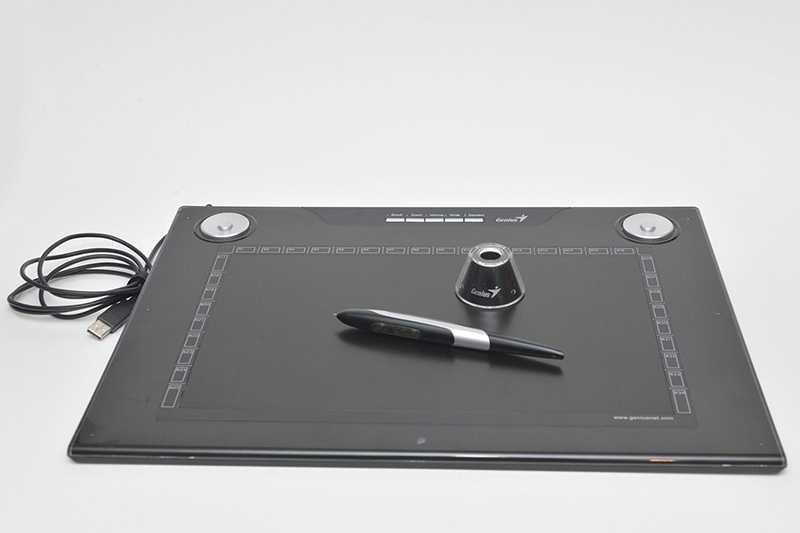 The Genius G-Pen M712X tablet has a switchable workspace, allowing users to work with both standard (22.9 cm by 18.4 cm) and wide (30.5 cm by 18.4 cm) screen sizes. The cursor is highly reactive and accurate, and it is possible to scroll the pad in four directions, change the brush width and volume, and zoom in and out.
---
| | |
| --- | --- |
| 4 | Aiptek SlimTablet 600u Premium II |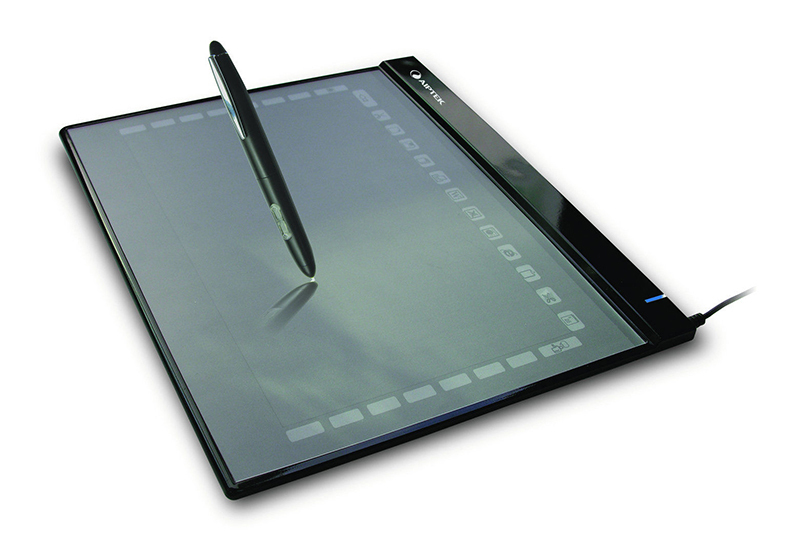 The Aiptek SlimTablet is a large tablet with a workspace area measuring 30.7 cm diagonally. With 29 programmable macro keys and two programmable buttons, this tablet is a convenient tool for quick multitasking. The device is very slim, with a thickness of only 5 mm. It connects to a laptop or desktop via USB.
---
| | |
| --- | --- |
| 5 | Wacom Cintiq 24HD Pen Display |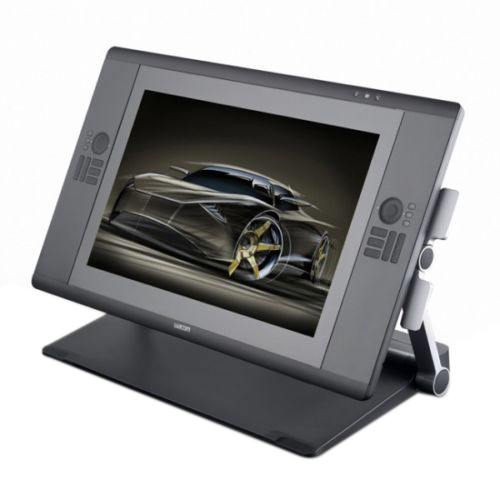 The Wacom Cintiq 24HD is a large tablet measuring 61 cm diagonally, and the screen is in full HD. Programmable expresskeys allow the user to create shortcuts, and the touch ring allows one to pan, zoom, rotate, or navigate as necessary. The pen is very sensitive and feels natural in the hand.
---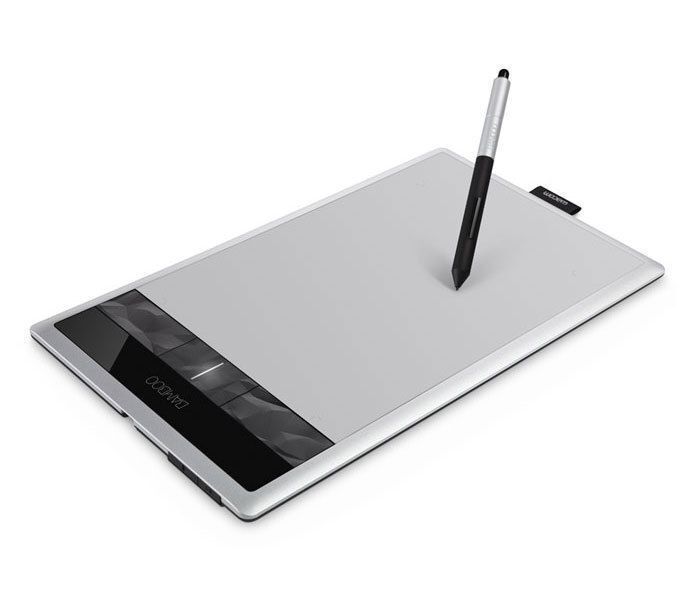 The Wacom Bamboo Create has a workspace measuring 21.6 cm by 13.7 cm. It is compatible with both Windows and Mac via USB. This multi-touch tablet has four programmable exppresskeys and is suitable for beginners. The tablet is reversible, so it is suitable for both left-handed and right-handed users.
---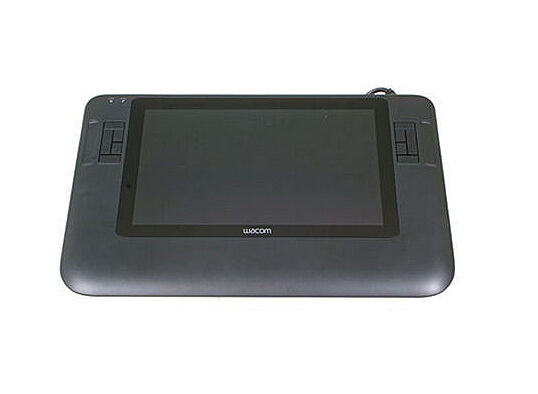 The Wacom Cintiq 12WX is sensitive to tilting and rotation and has a pressure-sensitivity of 1,024 levels. The workspace area is 26.1 cm by 16.3 cm and the screen displays over 16 million colours. The tablet connects to a computer via USB and it also has ports for VGA and DVI. This tablet is wired.
---
| | |
| --- | --- |
| 8 | Aiptek MediaTablet 14000U |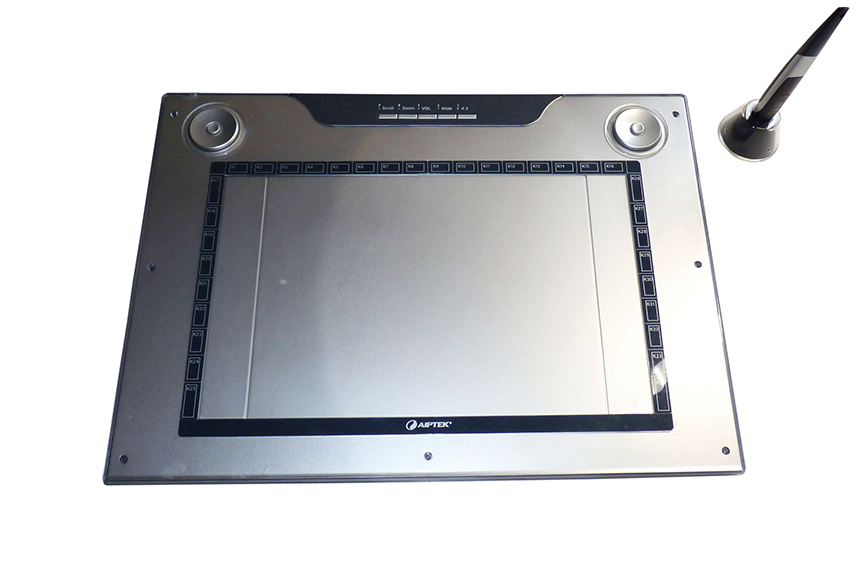 The Aiptek tablet is a large device that measures 35.5 cm diagonally. It has 34 programmable macro keys for quick multitasking, as well as five hot keys. This graphics tablet is compatible with multiple monitors and works with Windows as well as Mac operating systems. The device is ergonomic and suitable for both left-handed and right-handed users.
---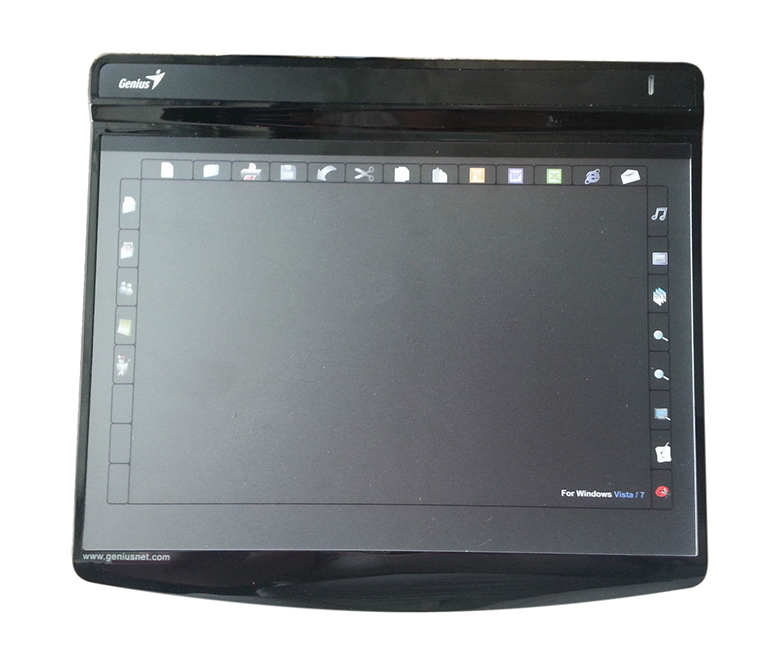 The Genius G-Pen F610 has a workspace measuring 15.2 cm by 25.4 cm, and the pad itself is rather slim. This tablet incorporates 29 programmable hot keys for shortcuts. The two buttons on the pen are programmable to left and right mouse buttons, respectively. With Vista,, the plug-and-play pen enables one to create handwritten emails and notes, and to take advantage of handwriting recognition.
---
| | |
| --- | --- |
| 10 | Boogie Board Original 10.5 |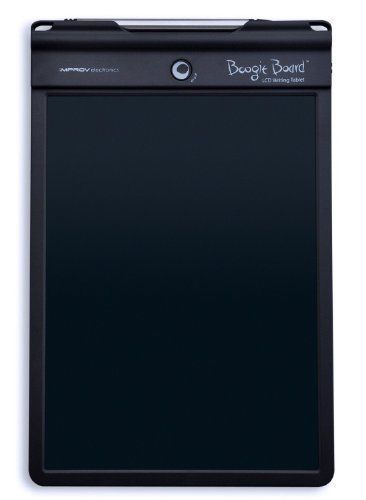 The Boogie Board Original 10.5 is a large graphics tablet measuring 26.7 cm diagonally. It can function as a board, memo pad, or sticky note. The tablet works with two AAAA batteries and has a scratch-resistant LCD screen as well as an erase lock and stylus holder.
---
How to Buy Graphics Tablets on eBay
On eBay, you can sort tablets by time or price after you have performed the initial search. If you choose products by top-rated sellers, you can be sure that you are getting the best quality as well as good service. Top-rated sellers have received high ratings and positive feedback from other buyers. In any case, read through the detailed item listing to make sure that all the features meet your needs. Pay attention to the graphics tablet's screen size, interface, compatible operating systems, and pressure-sensitivity. Should you have any doubts or questions, for example, about refunds, delivery, or exchanges, feel free to contact the seller.