For many people, almost any time they buy new computers, they expect to also invest money in accessories to go with them.
A keyboard and a mouse
are probably the most common accessories purchased for a new computer, and regardless of why people buy these items, buying them together in bundles is a great way to save some additional money. Located at computer supply stores, buyers also find keyboard and mouse bundles online at eBay. Becoming familiar with the top 10 keyboard and mouse bundles helps users find the items that are right for their own computing needs.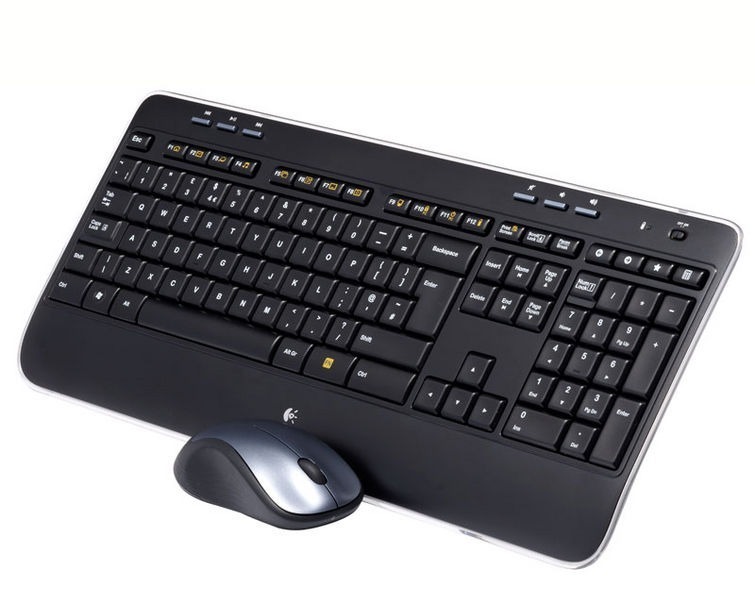 The Logitech MK520 is a combination bundle set which includes a standard QWERTY keyboard and optical mouse that keeps the comfort of the user in mind. The sleek keyboard design has ergonomic features that include rounded keys, a palm rest, and full-length key positioning. The optical mouse has an angled ergonomic design as well that includes soft rubber side grips for optimum control. Batteries power both the keyboard and the mouse so there are also no wires to get in the way, making keyboard and mouse positioning more comfortable.
---
The Logitech MK550 is a wireless wave keyboard and mouse combination bundle set. The wireless, ergonomically correct keyboard and laser mouse is ideal for people who use Windows-based personal computers. This bundle also includes a mini receiver for increased wireless connectivity that attaches to any available USB port. Its adjustable legs regulate the height of the keyboard, and the keyboard also features a padded armrest. The contoured mouse includes rubber grip sides which allow the user full control of the mouse.
---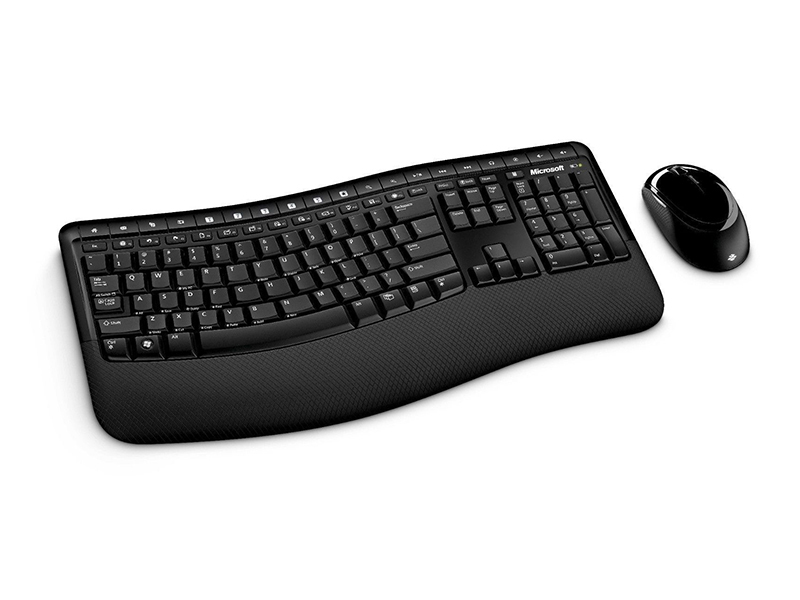 Another keyboard and mouse bundle that makes the top 10 list is the Microsoft Blue Track Comfort Desktop 5000. This bundle features an ergonomically correct, standard QWERTY keyboard that helps improve the wrist posture of the user due to the unique keyboard design which includes removable feet. The keys are responsive with minimal pressure and are very quiet. The bundle comes with a mini receiver that plugs into any USB port which gives the user an increased Internet connectivity range. The mouse includes Blue Track Technology by Microsoft, which allows the user to go places they otherwise could not with a laser or optical mouse.
---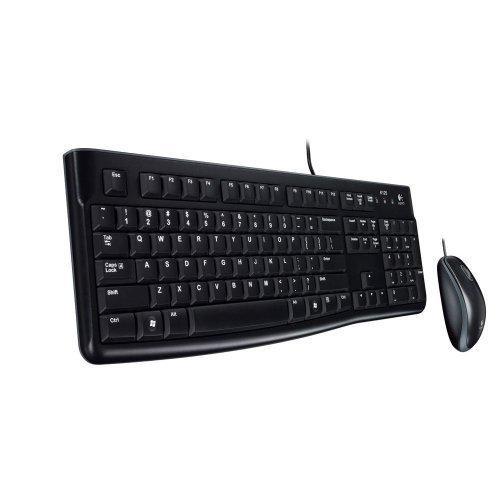 Another bundle set featured in the top 10 list includes the Logitech MK120. The keyboard and mouse are both wired devices that conform to fit the user in a comfortable fashion. The standard keyboard features a spill-resistant design which allows spilled liquids to flow out of the keyboard without ruining the device. Both the adjustable keyboard and the high-definition laser tracking mouse plug directly into the USB port of the computer, allowing the user immediate access to begin computing.
---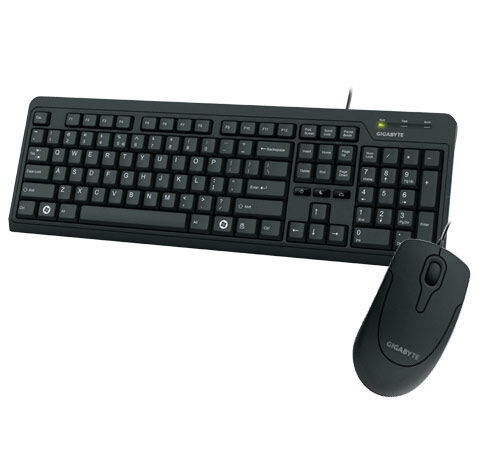 The Gigabyte GK-KM5200 bundle features a slim keyboard with a dual USB interface. The design of the keyboard also has features which allow spills to roll of the surface of the device without damaging the internal components. The keys come with engraved printing so it is easy to find and see what letters the user is typing. Included with this combination set is an optical mouse that has high-definition, 800 dpi optical capabilities for smooth handling and optimum performance.
---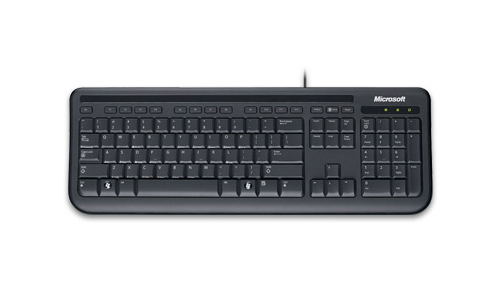 For those users who like wired keyboard and mouse combination sets, there is the Microsoft 400 bundle. This bundle comes with a standard QWERTY keyboard which is also spill resistant. This set features an optical mouse that is ergonomic and features a design which is ideal for people to use either their left or their right hand, allowing for ultimate comfort. The optical mouse incorporates a high-resolution sensor in the make-up that also delivers optimum control and accuracy.
---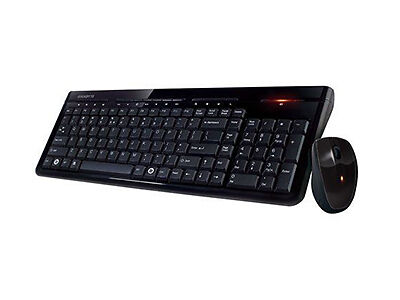 Wireless keyboard and mouse bundles are easy to set-up and use right out of the box which is one of the features that make the Gigabyte GK-KM7580 so versatile. Features in this bundle include a 2.40 GHz wireless technology interface along with an invisible USB wireless nano receiver. The keyboard is spill resistant and comes with key caps which are laser engraved for easier viewing. This set includes a wireless, high-resolution optical mouse which has adjustable settings that range from 500 to 1000 dpi.
---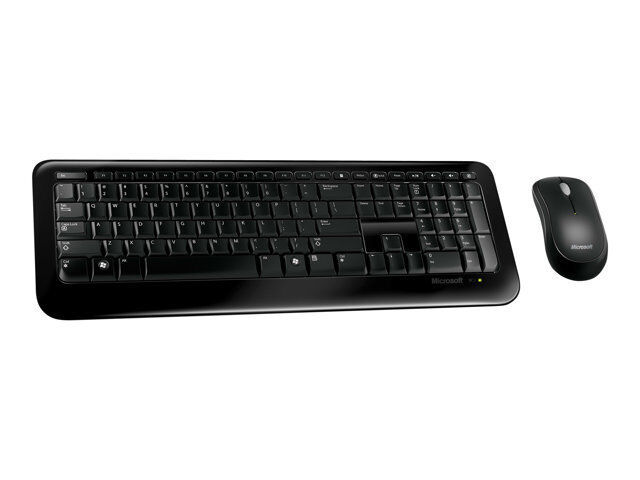 Another top keyboard and mouse bundle is the Microsoft 800 combination set. The keyboard comes with infrared wireless USB connectivity with an ergonomic design. The ambidextrous optical mouse has a max of 1000 dpi and four-way scrolling capabilities along with a navigation wheel, a power saving switch, and a battery level indicator on both the keyboard and the mouse. This set has a 4.57 metre range due to the 2.40 GHz wireless capabilities. The transceiver stores itself under the mouse for optimum portability.
---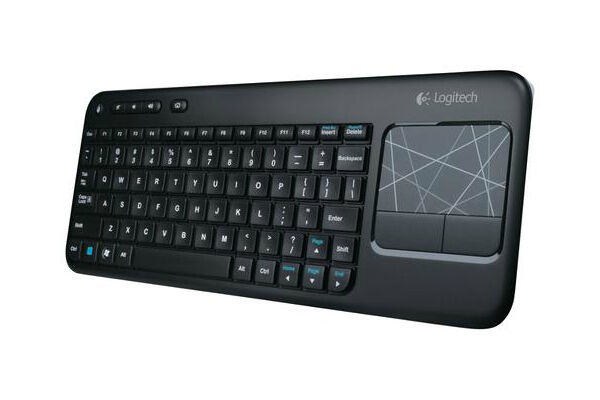 The Logitech K400 has a variety of features that makes this bundled set convenient and comfortable to use. One feature that the keyboard possesses is an inbuilt touchpad which replaces the use of a mouse, making navigation and use more versatile for computing purposes. Not only does the keyboard function as a typing mechanism, it also is useful as a remote control for the television from a distance of 10 metres away. This set comes with a small transceiver that connects to a USB port making it ideal to use with a laptop.
---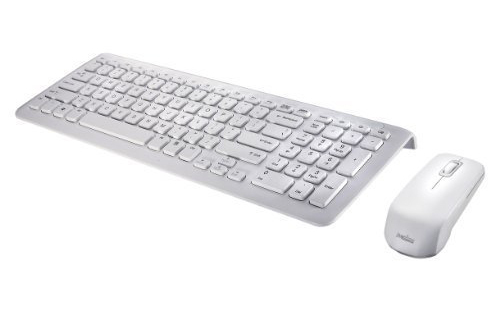 Another keyboard and mouse bundle is the Perixx PERIDUO-710W. This wireless combination set includes a compact design for easy portability and use in small spaces. It includes 2.40 GHz wireless capabilities that have an operating range of over 9 metres. The keyboard comes complete with a 1000 dpi wireless optical mouse that is easy to control and gives the user supreme accuracy and control. This stylish keyboard has a white piano finish which comes with batteries included, making set-up and use easy right out of the box.
---
How to Buy Keyboard and Mouse Bundles on eBay
There are many keyboard and mouse bundles with features that include either a wired or wireless design available on eBay. Finding the right bundle is easy by typing relevant keywords into the search query box on any eBay page or by using the advanced search option feature. Clicking on an item allows you to view the full item description for other useful information. Buying a keyboard and mouse in a bundled set ensures that you are getting compatible devices that work with your personal computer or laptop. This kind of electronic set also allows you to save some extra money in the process.