Cycling is one of the easiest ways to get exercise since most people already know how to ride a
bike
. Many types of bicycles exist, and
road bike
s are designed to ride on roads everywhere, making them a good choice for beginning cyclists. Choosing the perfect road bike can be a bit of a challenge for beginners. Learning about the top models as well as why they are popular choices can help beginners determine which bike works best for them. For great deals and a large selection of road bikes, shoppers can find what they need on eBay.
The Schwinn Fastback Sport road bike is a good choice for beginners because it is simple to put together. With its triple-butted aluminium frame and carbon fibre forks, the road bike is lightweight, making it easier to handle. Additionally, the bike can handle a lot of abuse, which is great for those getting used to riding. The Schwinn Fastback sport has nine speeds to ensure an easy and comfortable ride.
---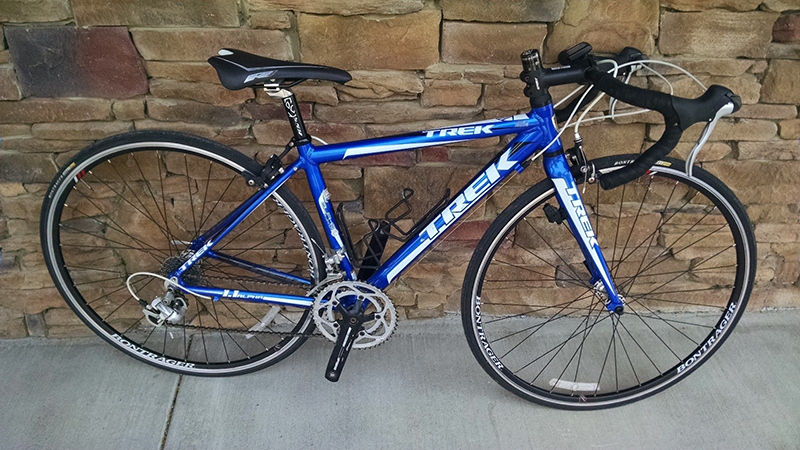 The Trek 1.1 is an entry-level road bike with a custom feel. Available in eight different sizes ranging from 47 cm to 62 cm, riders of all sizes can find the right fit. This bike features front and rear mudguard mounts that allow cyclists to ride in a variety of weather conditions all year round. With its aluminium frame, the bike is resistant to corrosion. This flexible and versatile bike is reliable and helps beginners get comfortable on the bike.
---
| | |
| --- | --- |
| 3 | Cannondale CAAD8 6 Tiagra |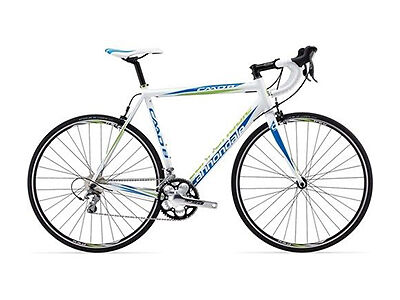 The Cannondale CAAD8 6 Tiagra use the same technology that high-end models do, but is available at a lower price. With optimised chain stays, cyclists have excellent bump absorption and comfort. The frames feature true smooth welds to make a strong and lightweight bike. The pedals feature a clip and a strap rather than a full guard for more versatile fit.
---
| | |
| --- | --- |
| 4 | Specialized Allez Sport |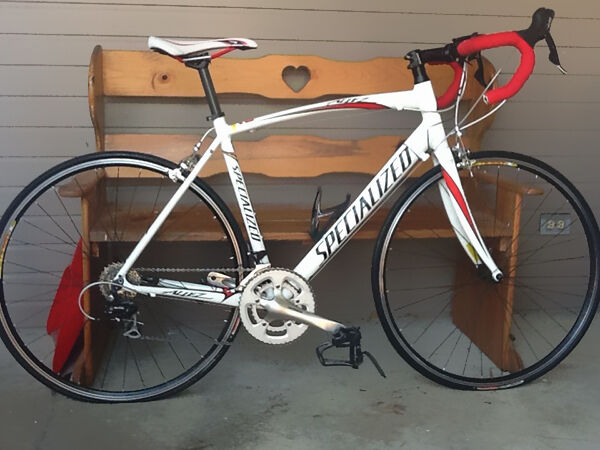 The Specialized Allez Sport offers great acceleration and handling for those new to road cycling. The double-butted smooth-welded aluminium frame offers lightweight combined with quality and durability. The specialised FACT carbon fork reduces the weight more and helps make steering more precise through narrow turns.
---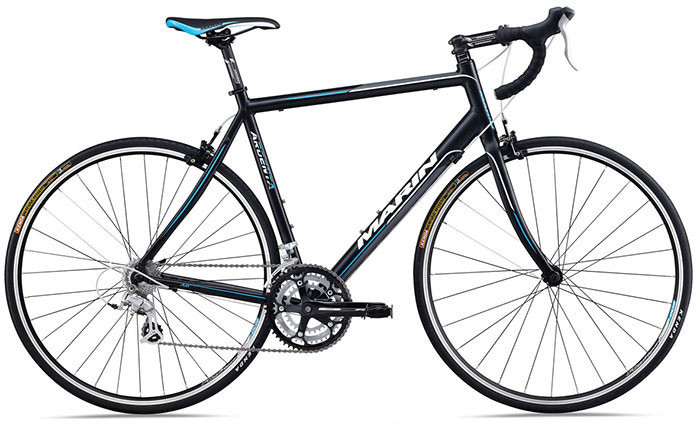 The Marin Argenta A6 2300 is the perfect road bike for easing new riders into the sport. Whereas more advanced road bikes make cyclists ride in a bent over position with the chin between the knees, the Marin Argenta A6 2300 allows cyclists to remain in the upright position for maximum comfort. This also makes it easy to ride the bike for an extended period of time. This bike features a double-butted aluminium frame for low weight and increased durability.
---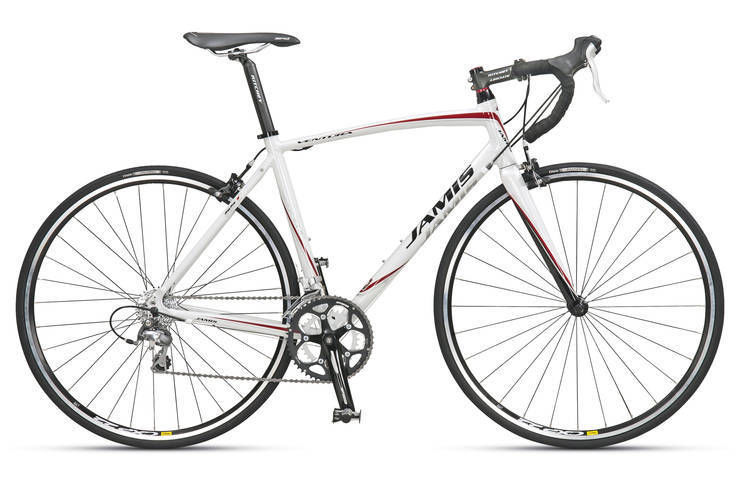 The Jamis Ventura Comp is an upright bicycle that allows for a comfortable and smooth ride. This bike is a bit heavier than most cyclists like due to the Mavic CXP-22 rims, but these wheels have a proven record for withstanding rough roads and running over potholes with ease. The carbon highlighted frame gives it a sleek appearance normally seen in high-end bikes.
---
The Felt Z95 road bike is easy on the knees, which makes it a good choice for new riders or experienced riders who have knee injuries. Equipped with nine gears and strong low gears, the Felt Z95 is ideal for long-distance riding. Additionally, the saddle comes with extra cushioning, which means a more comfortable ride, especially for long distances.
---
The BH Zaphire road bike has a unique geometry that makes the ride more stable and allows cyclists to ride in a less aggressive position. The eight-speed cassette allows riders to benefit from 16 different gears to ensure an easy ride. This lightweight and versatile bike is a good choice for beginners or those looking for a smooth and easy ride.
---
Of all the road bikes listed, the Orbea Aqua T23 has the brightest and most attractive design. The red hydroformed aluminium frame allows cyclists to ride around in style. It is heavier than other bikes, but it is easily upgradable to make a custom bike. This budget-friendly bike handles hills and flat roads with ease.
---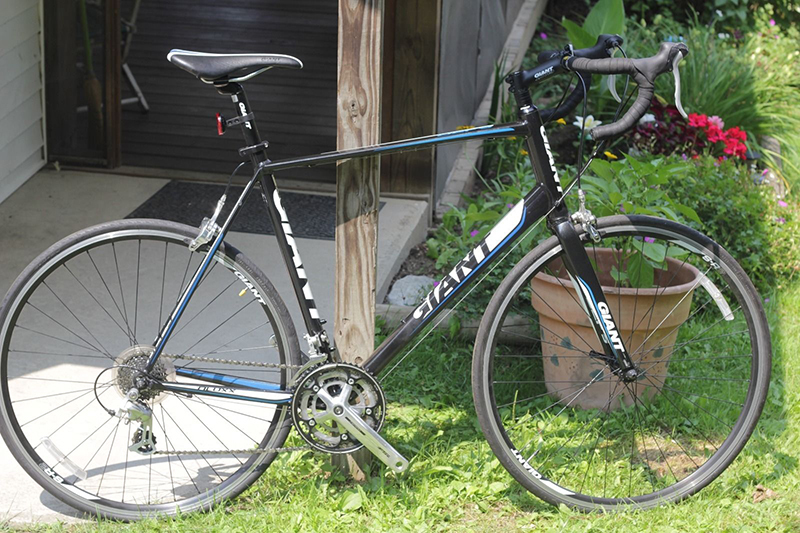 The Giant Defy 5 road bike is the perfect balance between performance and comfort. Produced by world-leading aluminium engineers, the Giant Defy 5 climbs hills, carves out turns, and sprints on straight road better than many other more expensive road bikes. The high-grade aluminium frame and stainless steel wheels offer durability for many years of riding.
---
How to Buy Road Bikes on eBay
eBay offers a large selection of road bikes and cycling gear. Browse the large inventory of sporting equipment to see what is available or perform a basic or advanced search to find a specific type of bike. If you have a budget to work with, specify a price range and shop only for those that fit within your budget. Be sure to read the item description to ensure that the bike is in good condition and is the proper size. Cycling is an easy sport for beginners, and the only gear needed to start is a road bike. Shopping the top brands and models makes it easy for beginners to find a road bike that best suits their needs.