The 00 gauge is the most popular type of model railway standard in the United Kingdom and manufacturers still produce numerous detailed 00 gauge models and starter kits. Hornby 00 gauge models are the most popular and they produce the top three products on the market: the Flying Scotsman Train Set, the Mixed Freight Electric Train Set, and the RailRoad Breakdown Crane.
Hornby Flying Scotsman 00 Gauge Train Set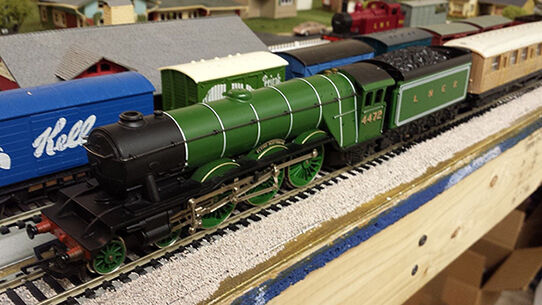 Hornby manufactured several versions of the Flying Scotsman and the different incarnations of this model form part of every catalogue. The R1072 version is a top seller and replaces the R1039. The R1072 comes with three coaches and the 1998 steam locomotive. This Class A1 4-6-2 locomotive has a round dome without a smokebox patch, a corridor tender, and couplings at both ends. This model is in LNER green and includes brake rods and pipes for the buffer beams. The coaches are 1977 teak Gresleys marked '22356', '22357', and '4236' respectively, with grey roofs and dark metal wheels. The set includes a TrakMat, a third-radius track that forms a large oval and two sidings, a controller, a transformer, and leads. The TrakMat comfortably accommodates the track and two sidings. The set is digital ready.
Hornby Mixed Freight 00 Gauge DCC Electric Train Set
The Hornby R1126 Mixed Freight 00 Gauge DCC Electric Train Set is a digital command control (DCC) fitted set that includes a 0-6-0 tank locomotive and four wagons. The Select digital controller in this set can control up to 60 locomotives, run 10 locomotives at a time, and operate 40 solenoid-operated accessories. The train set is ideal for beginners and those who want to change from analogue to digital because it makes an excellent base for creating a full model railway layout. It comes with a MidiMat that allows for additions such as track and building packs. The Mixed Freight Electric Train Set includes BR 0-6-0 diesel-electric class 08 models, namely the BR 0-6-0T class J83 locomotive, and two wagons, a tanker, and a vent van. It comes with an oval track and Track Pack A, a TrakMat that measures 1.800 x 1.200 mm, a wall-mounted power unit, and a Hornby Select digital controller.
Hornby RailRoad Breakdown Crane
The Hornby R6369 RailRoad Breakdown Crane is a 00-gauge model that enhances railway layouts. It is compatible with all Hornby layouts including standard Hornby and the Thomas and Friends series. The crane features a pristine finish and British Rail livery, and it is 250 mm long. The Hornby RailRoad range includes a variety of individual models, such as locomotives and rolling stock. The RailRoad Breakdown Crane comes fitted with standard Hornby hook and bar couplings.