Cufflinks provide an elegant finishing touch to a man's suit, accessorising the cuff of the dress shirt. With the sheer quantity of shapes, metals, and designs available, you may feel confused as you start the hunt for your next pair of high-end cufflinks. Save time by investigating the top three brands of designer cufflinks, including some fantastic designs that can take your workwear from everyday to exceptional.
Louis Vuitton Cufflinks
As one of the great designer houses, Louis Vuitton supplies high-end cufflinks that take any suit up a notch in elegance. The signature nacre cufflinks from Louis Vuitton feature a bold rectangular shape with a sterling silver setting and inset mother-of-pearl. For a dramatic masculine look, choose the square Damier 4 graphite cufflinks, divided into quadrants and inset with graphite panels. Men who want a thoroughly modern look should try out the Champs Elysees black men's cufflinks, made of tough, durable stainless steel with black lacquer and an imprinted monogram flower pattern. The Moon Shadow cufflinks from Louis Vuitton, created with darkly opalescent mother-of-pearl, lend a subtle, otherworldly aura to the wearer. Laser-engraved Digit cufflinks, Karakoram cufflinks, and motif cufflinks are simple enough to go with any work suit or dress shirt, yet interesting enough to catch the eye of colleagues and other acquaintances.
Tiffany & Co. Cufflinks

Tiffany & Co. sells a broad variety of beautifully crafted, distinguished-looking cufflinks that add a touch of elegance to any dress shirt. These pricey accessories make a statement about the wearer, proclaiming him as a man worth listening to, one who values himself and the image that he presents to the world. For men who like a touch of colour in their cufflinks, the Tiffany & Co. Schlumberger Olive cufflinks work well, since they include bands of vivid blue enamel along with the 18kt gold. For a simple yet eye-catching look, men can select the twisted knot cufflinks in 18kt gold. The Tiffany Twist round cufflinks lend a slightly antique yet still chic look to an outfit, while the Elsa Peretti Eternal Circle cufflinks in gold appeal to men with more modern tastes. Tiffany & Co. also sells cufflinks with brilliant blue lapis lazuli, stunning turquoise, pearly grey hematite, black jade, and midnight titanium.
Paul Smith Cufflinks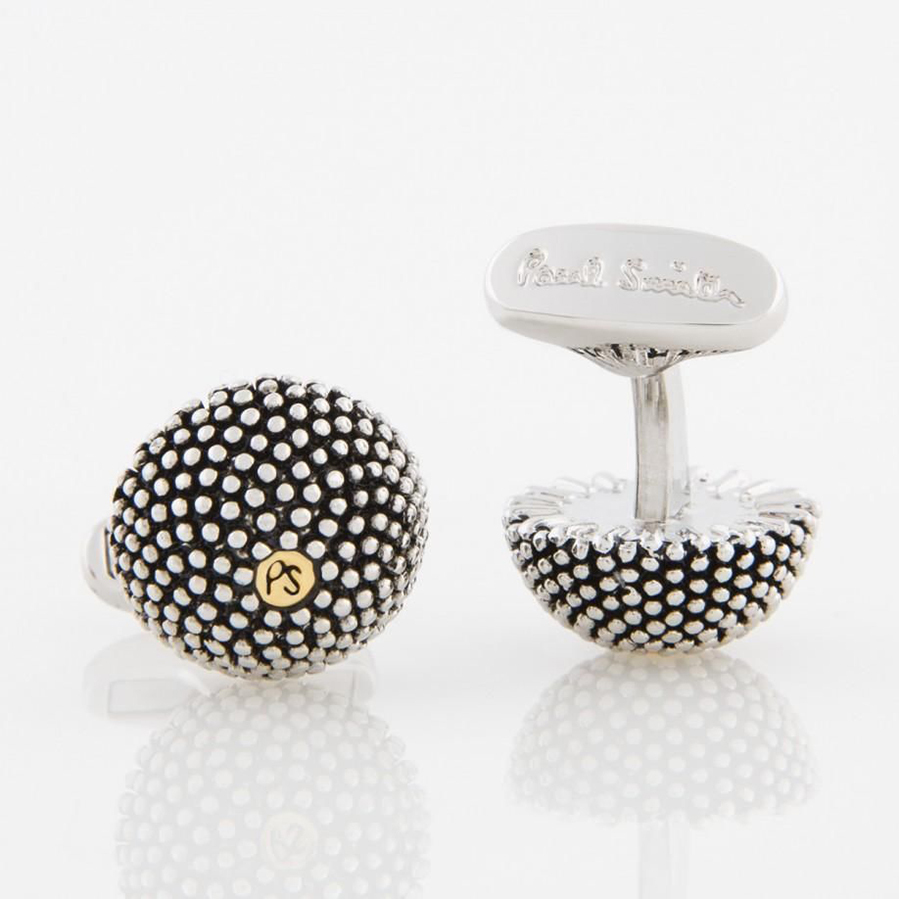 The Paul Smith brand designs a variety of unique cufflinks, including two different versions of Union Jack cufflinks. One set is grey-striped while the other is blue-striped. Men who enjoy playing cards typically appreciate the Paul Smith playing card cufflinks, made of steel-plated brass and resin. The collection also includes Lucky Dice mother-of-pearl cufflinks. Along with geometric patterned cufflinks, Paul Smith sells a line of cufflinks featuring birds, including the eagle, the kingfisher, and the crow. Chevron, houndstooth, polka dot, and striped Paul Smith cufflinks are also available.