If you own a professional camera, you probably have lots of camera equipment too. Protect your gear and carry it with you anywhere with a camera bag that has padding as well as internal divisions for organising your accessories. For best performance, compare the features of the top camera bags for professionals before purchasing.
Lowepro Fastpack Backpack
The Lowepro Fastpack is a comfortable camera bag backpack in which you can store your photography gear. The compartments are easily accessible when on-the-move so you can reach your camera whenever you need it. The Fastpack series backpacks also have a tripod mount on the side and some even accommodate a laptop. You can choose from several sizes, depending on the amount and size of your equipment.
Backpack

What It Holds

Fastpack 100

DSLR camera with a compact zoom lens

An extra mid-range zoom lens or a flash

Fastpack 200

DSLR camera with a mid-range zoom lens

One or two extra lenses or a flash

Fastpack 250

DSLR camera with a mid-range zoom lens

Two or three extra lenses or a flash

Up to 15.4-inch widescreen laptop

Fastpack 350

DSLR camera with a lens

Two or three extra lenses or a flash

Up to 17-inch widescreen laptop
All of the Fastpack bags also accommodate some personal items as well as accessories.
Domke RuggedWear Shoulder Bag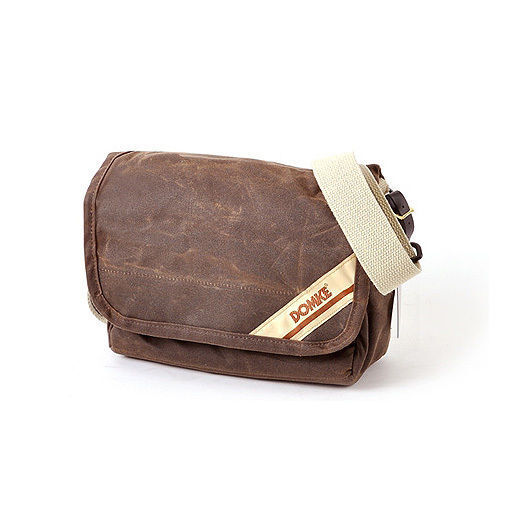 The Domke bags from the RuggedWear collection have a weathered and distressed look for people who enjoy vintage bags. The cotton canvas is durable, weather-tough, and high quality. Thanks to a treatment with non-solvent environmentally friendly waxes, the bag can stand up to any weather conditions. However, the fabric is still breathable and, with a refinishing wax, you can easily restore the bag to its original finish. The shoulder strap does not slip and you can tote the bag with a convenient hand carrying strap. The compartments all feature padding to protect your gear.
Manfrotto Pro Field Jacket
The Manfrotto Pro Field Jacket is not exactly a bag, but rather a functional outerwear item. The garment is suitable for all seasons and has many large pockets to hold all of your camera gear comfortably. It even contains a double pocket for small tripods as well as a media card wallet for a multitude of media cards. The jacket's material is both durable and breathable as well as wind-resistant and waterproof, allowing you to stay warm as you take photos. The Manfrotto jacket comes in black and grey.