To give guitars customised, one-of-a-kind looks, many consumers purchase custom replacement control knobs. Other consumers find replacement control knobs necessary when the original control knobs on their guitars crack or break. In either case, consumers should decide on the type and style of guitar control knobs they need ahead of time in order to make intelligent purchasing decisions.
Replacement Control Knobs for a Split Shaft Potentiometer
Almost every electric guitar has potentiometer, or pot shafts of a standard height and length. This makes it possible for a variety of different style and brand knobs to fit onto just about any guitar potentiometer. That said, there are two common designs, and you should determine which kind your guitar features in order to purchase the appropriate potentiometer control knobs. The split shaft potentiometer, as its name indicates, has a ridged shaft with a split down the middle. This kind of potentiometer is ideal for friction-mounted, press-on knobs. Although not designed for set-screw knobs, these often fit onto this type of potentiometer just as well as friction-mounted knobs, making its design more flexible than that of a solid shaft potentiometer.
Replacement Control Knobs for a Solid Shaft Potentiometer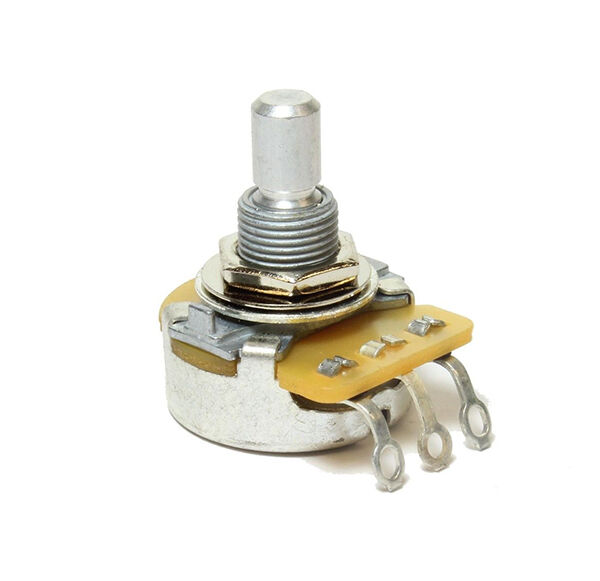 Choices are slightly more limited when it comes to a solid shaft potentiometer. This design features one solid shaft with no ridges and no split in the middle. Friction-mounted knobs do not mount correctly to a solid shaft potentiometer, as they cannot grip the surface of the shaft. Instead, use set-screw knobs on this kind of potentiometer. Set-screw knobs have small screws on the sides which hold them in place. They usually feature either a hex screw or a standard slotted screw. You need a corresponding screwdriver or hex wrench to remove and install these kinds of knob.
Replacement Control Knob Designs

Guitar control knobs do not have to break in order for you to replace them. For a customised look, choose unique knob designs which show off your personality. Vintage control knobs are a popular choice with vintage designs from a wide variety of known guitar brands like Fender, Gretsch, and Ibanez. Control knobs featuring dice, skulls, and shotgun shells are all available as well as standard control knobs in dozens of different colours. Some musicians prefer guitar control knobs with exotic wood designs, chrome or gold finishes, white or black pearl tops, or even abalone tops. There is a huge variety available, so search for a knob set that matches both your personal taste and guitar style.