Pearl beads are a beautiful type of bead to work with and are useful for dozens of different projects including jewellery, clothing, and ornaments. Pearl beads come in a variety of qualities including genuine pearls, freshwater and saltwater, shell pearl beads, faux glass pearls and plastic pearls. You can use any of them for the top three craft projects that you can make with pearl beads.
Using Pearls as Fabric Ornaments

You can use pearls as an ornamental lining on almost any craft item, but especially for dresses, hats, cloth jewellery, headbands, chokers, and other small items that could use decoration. Pearl beads for this type of project are best when very small, although larger pearls also work well for some projects. Seed pearls are the smallest option and offer an easy way to add beadwork embroidery to a fabric without making pearls stand out too much. Larger pearl beads make great accents to hemlines and other fabric projects. If you want to use pearl beads in this way, simply sew them on with a small needle or a beading needle to affix them to your fabric.
Creating Pearl Clusters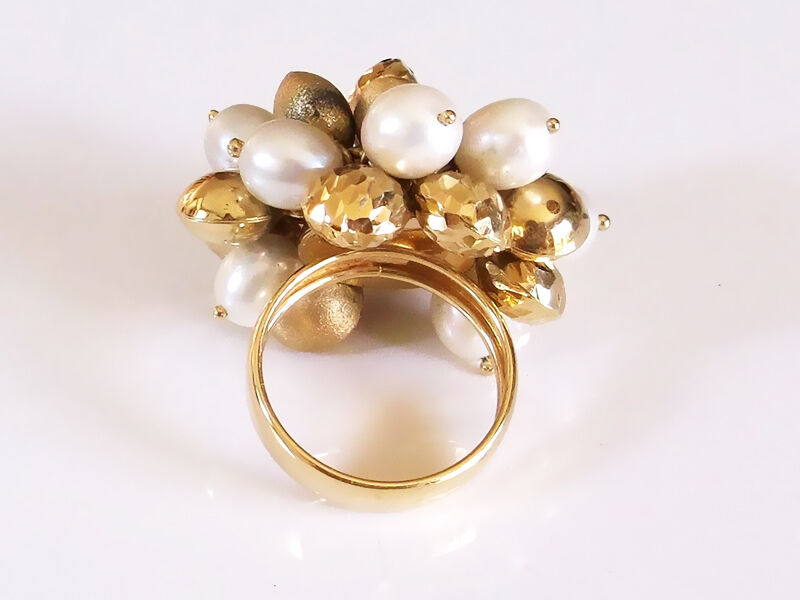 Pearl clusters are great for earrings, bracelets, and necklaces, so they make a great project if you want to create matching sets. Making pearl clusters is actually easy, but there are two ways to do it. The easiest way to make a pearl cluster is to use beading thread and a beading needle. You can thread and knot the beads like you normally would with stringing, and then knot them together to form a cluster. You can also use beading wire to create pearl clusters, which usually requires you to use jump rings or beading wire to attach the beads around a single centre ring. Both options are great, although the jump ring option is best for use with larger clusters, and the wiring method is better for small clusters.
Knotting Pearls into a Necklace or Bracelet
The traditional way to use pearl beads in crafts is making jewellery, such as a knotted pearl necklace or a bracelet. While knotted pearl necklaces look fancy, they are actually relatively easy to make and are an appropriate project for beginners. You need necklace quality thread or pearl thread, beading needles, a selection of pearl beads, spacers if you want them, a clasp, and glue to get started. Knotting pearls is easy because all you have to do is tie a knot between each pearl by carefully wrapping the thread around the bead and then tying it. You can also use a bead knotting tool to help make holding the beads easier but it is not necessary. Then, all you have to do is tie the string to a clasp and apply glue to hold the knot.