A digital thermometre is a must for any home first-aid kit. Although these devices can measure the temperature of almost anything, most people use them to check if a someone has a fever so they can take appropriate action. A digital thermometer can be especially useful for parents of small children as these are non-invasive and can read body temperature quickly. Discerning mothers and fathers or individuals who only want to purchase the best device should look at the different types of digital thermometers on the market so they can make the right decision.
Philips Avent Digital Thermometer Set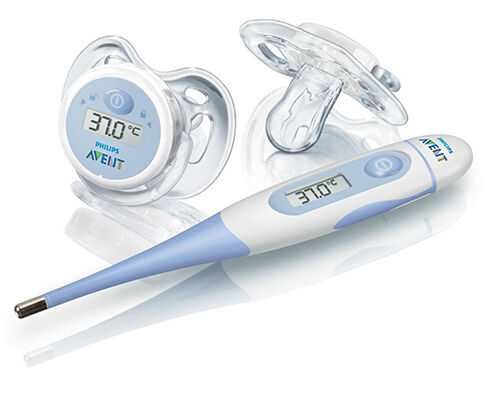 The Philips Avent Digital Thermometer Set includes two types of thermometer, a standard oral thermometer and a soother version. This set is perfect for parents with kids of different ages or for those with infants. They could use the soother version for infants and then switch to the standard version as the child grows older. It also has an additional freeflow dummy to help babies get used to using the soother thermometer. The Philips Avent thermometer features a large, easily-to-read display and a battery indicator.
HoMedics 10 Second Rigid Digital Thermometer
The HoMedics 10 Second Rigid Digital Thermometer is simple, easy-to-use, and has many features to help alleviate new parents' anxiety when their children are ill. For example, it can read temperatures in a mere 10 seconds and has a large display that is easy-to-read. It also has a fever alarm to instantly alert parents when their child needs extra care, plus it can recall the last temperature reading so they can tell if their child is getting better or not. It has an ergonomic design plus automatic shut-off to save battery life. Parents can use this device as an oral, underarm, and even rectal thermometer. It comes with its own case, with probe covers, and a battery.
Lloyds Pharmacy Digital Forehead Thermometer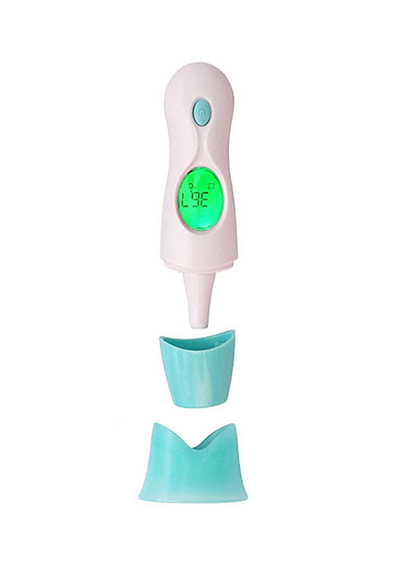 Many Infants and young children do not like the invasiveness of oral or ear thermometers. The Lloyds Pharmacy Digital Forehead Thermometer is a great alternative for these kids. Although it is actually an ear thermometer, it has a forehead adapter that parents can easily pop on and then place on the child's forehead for easy temperature reading. However, once the child is older, the parent might want to get him or her comfortable with using the ear probe and so the thermometer can easily revert back to being an ear thermometer. Ear probes tend to be more accurate and this device reads ear drum temperature. The ear drum shares its blood supply with the brain's temperature control centre and so it gives a more accurate reading for worried parents.