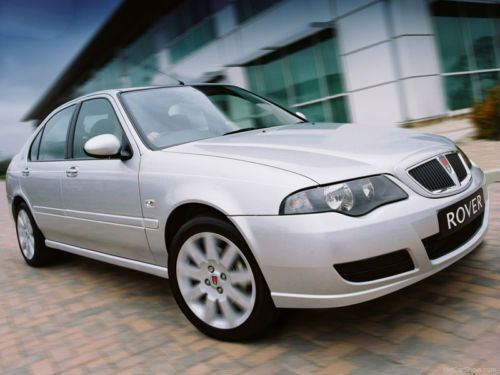 The Rover 75, later manufactured under the Rover MG ZT model name, drew a cult-like following after it won the 2002 ITM Car of the Year Award. Though it is no longer in production, used car shoppers still seek it out for its unique diesel engine performance, luxurious design, and consistently high safety rating. Find a Rover MG in top condition to benefit from its innovative luxury features.
Diesel Engine Performance
The full diesel engine on the Rover MG boasts an economical 59.2 mpg fuel rate, which is above the average 50 to 55 range of other diesel vehicles. The unique fuel intake system—which was eventually sold with the rights to the Rover MG name—optimises the energy derived from diesel. Diesel fuel historically costs less than petrol, which makes lifetime cost of ownership of the Rover MG lower than comparable options. In addition to its fuel efficiency, the 2.5 L V6 engine goes from 0 to 100 in 11.4 seconds and tops out at 220 kph. Later models of the Rover MG have a V8 engine option.
Luxurious Design
With its unique European sports car body design, the Rover MG has an angular front bumper that connects with a mesh lower grille. It attaches to the bumper moulding instead of the bonnet in order to limit the amount of over slams, which preserves the condition of the front end. Late iterations feature a retooled suspension system that absorbs bumpy road conditions, yet maintains its sports car characteristics. Wide front seats covered in leather or velour feature electronic adjustability and memory for up to three positions. A flashy leather and wood steering wheel contributes to the overall lavish feel. Passengers also enjoy the spacious rear seats. In addition to cruise control and dual zone climate control, it features a six-speaker, six-drive CD player with controls on the steering wheel. Rear parking sensors, front fog lamps, a wood rim gear knob, satellite navigation, and heated front seats are other options that contribute to its lux image.
Consistently High Safety Rating
Regularly rated as one of the safest cars of its era, the Rover MG features anti-lock brakes, electronic brake force distribution, and numerous airbags throughout the vehicle. The brake force distribution system reduces skidding and improves control in poor weather conditions. High-end models of the Rover MG also feature traction control and twin projector headlights that help drivers avoid unforeseeable obstructions. Moreover, it is one of the least expensive cars to insure due to its superior safety features.