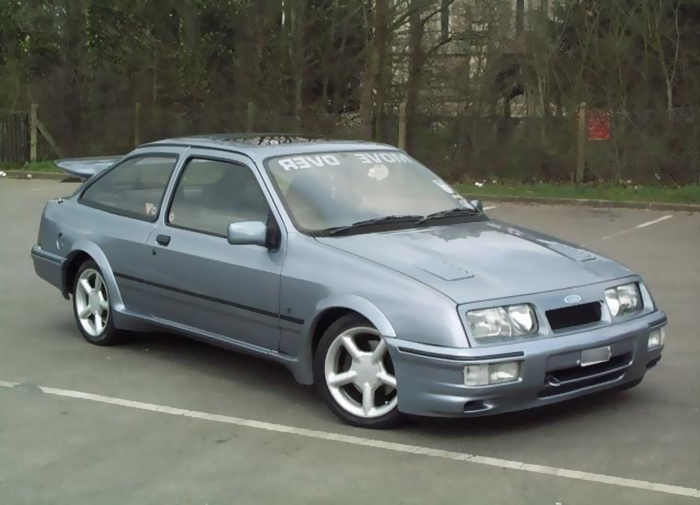 Ford's Sierra Cosworth was originally released in 1986 in an effort to make Ford Motorsport more competitive in European car racing. The company released slightly more than 30,000 of their three and four door versions. Today, the car remains popular for amateur racing and is widely praised for its four wheel drive, increasingly rare body style, and 16 valve engine.
Four Wheel Drive on the Sierra Cosworth 4x4
Although the original Ford Sierra Cosworth didn't have four wheel drive, the third generation released in 1990 does. The purpose of this feature was to make the vehicle competitive in the World Rally Championship. Four wheel drive was not common in racing cars at the time. Unfortunately, the car didn't do well in the Championship and never won an event, but it gained popularity among rally drivers and was largely successful in national championships. Even today, people value the four wheel drive and improved engine in the Sierra Cosworth 4x4 and use it to their advantage in racing.
Ford Sierra Cosworth Body Styles
The Ford Sierra Cosworth comes in two body styles: four door notchback and three door hatchback. The four door was not released until 1988, two years after the release of the three door Sierra Cosworth. However, the three door version is significantly rarer than its four door counterpart. In fact, fewer than 6,000 of them were ever released compared to roughly 24,000 four door Sierra Cosworths. Some people seek three door Sierra Cosworths for the novelty of having one. Out of the 30,000 cars released, Sierra Cosworth enthusiasts believe mere dozens remain in mint condition with the majority of the cars having crashed, broken down, or been stolen in the past couple decades. Still, the car remains an affordable and reliable option for amateur racers in Europe.
Ford Sierra Cosworth 16 Valve Engine
The Ford Sierra Cosworth started as an idea for a 16v engine based on a T88 engine block called the Pinto Engine. The car's designers requested an engine that could achieve at least 200 horsepower on the road and 300 horsepower in racing trim. Much of the rest of the car was shaped around the engine; for example, the manufacturers had to create a gearbox specifically for this car. Due to the significant costs of the car's mechanics, the manufacturer could not afford to release the car in more colours than three. They went with white, black, and moonstone blue. Sierra Cosworth buyers also had no options for the car's interior colour, which is always grey, and they could either choose a Sierra Cosworth with or without automatic windows and locks.