Rocket building kits make for a great hobby and provide a fascinating excuse to learn more about the solar system. These kits have become a longstanding pastime, whether building a model rocket for decoration or fun. Consider your skill level, as this greatly influences the type of model kit you purchase. Novice kits are often colour coordinated, can be glued together, and feature self-stick decals, while more advanced model rocket kits require hardware assembly.

Estes Pro Series II E2X Prowler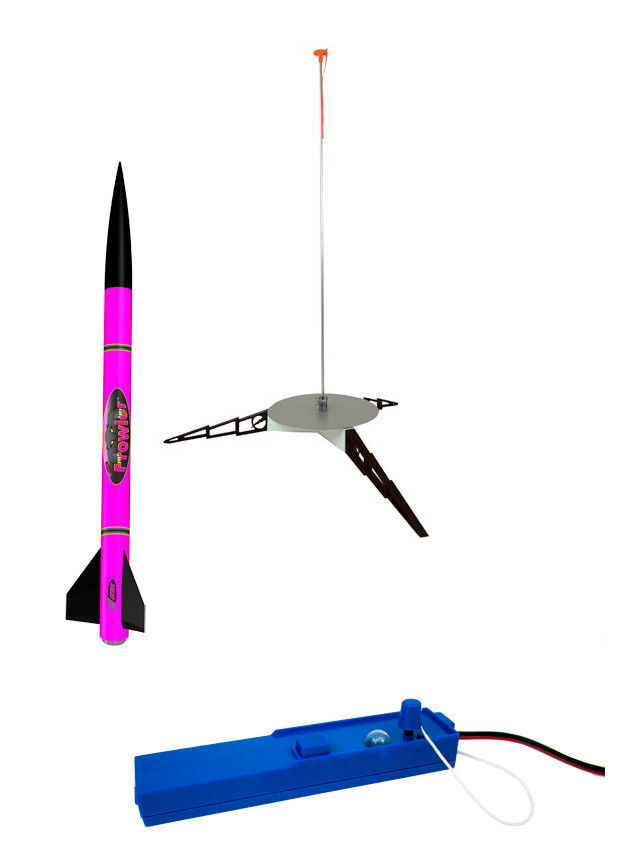 The Estes Pro Series II E2X Prowler comes equipped with a complete rocket launcher system, including the MP rocket, E Launch Controller, and the Porta-Pad E launch base. Easy to assemble, it is recommended for ages 18 and up. However, keep in mind that you need to buy all tools and finishing supplies separately. This rocket kit features nicely moulded plastic fins, self-stick decals, and a screw-on motor retainer. A pre-slotted body tube further eases assembly efforts. The rocket measures 86.6 cm in length and has a 5.1-cm diameter. A 46-cm nylon parachute is included for recovery purposes. Pink and black in colour, the flying rocket has a projected altitude of 610 m. Moreover, it has a 29-mm motor mount. While it can be adapted to take Estes 24-mm D motors, it will be underpowered. Recommended engines include the E16-6, F15-6, F15-8, G40-7, and G80-10.

Estes Maxi Alpha III
The Estes Maxi Alpha III space model kit suits kids of all ages. Based on the original Alpha III E2X kit, this newer model is nearly three times larger, measuring 845 mm in length and 66 mm in diameter. The rocket features plastic fins and self-adhesive decals for easy assembly, and it can punch up to 210 m in the air before recovering via its included 610-mm preassembled parachute. A launch controller and launch pad come included in this rocket kit as do the required materials, including glue, rocket motors, ignited, recovery wadding, and batteries. A D12-3 motor is recommended for use. Estes Alpha Suitable for ages 10 and up, although adult supervision is recommended for those under 12, the Estes Alpha high-performance model space rocket is easy to assemble. Therefore, this rocket building kit is perfect for first-time rocket builders. It features high quality components, including a one-piece body tube, laser cut wood fins, and an aerodynamic nose cone. Red, white, and blue self-stick decals also come in the kit. It measures 31.2 cm in length and 25 mm in diameter. When powered with a C engine, this space rocket can reach altitudes of 300 m before floating back down with its 30.5-cm preassembled parachute.