People know estate cars as practical cargo haulers, but many also boast plenty of luxury and style, just like the saloons that share the same wheelbase and drive train. The best estate cars combine practicality and fuel efficiency with style in an affordably priced car and shoppers looking for a solid vehicle should consider the top estate cars before making a decision.
What to Look for in an Estate Car
Classic estate cars are all about practicality and lots of cargo space, but some modern estates sacrifice some cargo for a more stylish look. Whether a buyer should prioritise style or storage comes down to a lifestyle decision. Diesel estates often have good fuel efficiency and are more popular than petrol estates. Used cars should have a history free of major accidents or water damage and should be current on oil changes and other maintenance. Buying used is a good way to get a deal on an expensive car, but high-end cars also have high-end maintenance costs because their replacement parts often cost more.
Skoda Octavia
The Skoda Octavia is an affordable, practical car with a stylish look. Its standout feature is the 610-litre boot, which offers more storage space than other estate car. With the seats folded down, the potential cargo area of this car is 1,740 litres or more. There is plenty of headspace and foot-space for passengers as well, although the central transmission tunnel does reduce foot-space for the middle seat. The car handles well. In addition, depending on model and model year, it gets around 40 MPG fuel efficiency, with some getting up to 74 MPG. A five-star Euro NCAP safety rating is a definite plus.
Mazda 6 Tourer
The Tourer has 1,632 litres of cargo space with its seats folded down, which is generous but over 100 litres shy of the Skoda Octavia. However, it is a more sporty and luxurious car. All models have air-conditioning, a 5.8-inch touch screen, and Bluetooth connectivity. Features like radar-assisted cruise control and a brake system that automatically stops the car in the event of a collision make this a safe and easy to use vehicle. The Tourer is also one of the most fuel-efficient cars of its size; the best of its available engines, the 2.2-litre turbodiesel with the i-Eloop system, gets 64 MPG.
Skoda Superb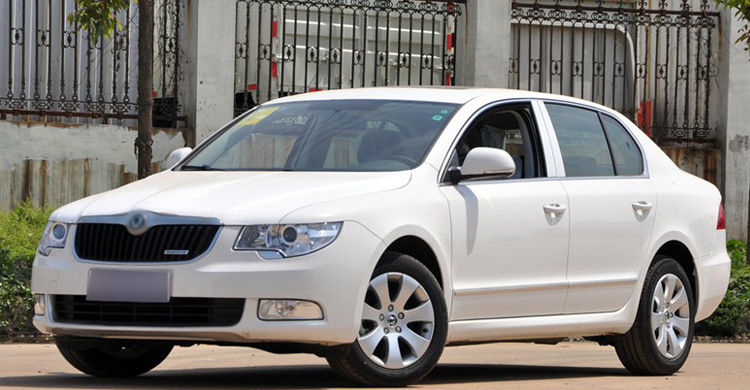 The Skoda Superb has most of the advantages of the Skoda Octavia, although it typically costs more and is not as fuel-efficient. Its maximum cargo space is an impressive 1,865 litres, with the boot itself featuring 633 litres. Fuel efficiency tops out at 61 MPG for the diesel options, while the petrol models get in the 30 to 45 MPG range. Passengers get plenty of leg- and head-room and the car is reportedly fun to drive, with responsive, confident steering.