At the heart of a digital camera lies the SD card. Differences in capabilities, capacity, and speed mean careful consideration is necessary. Class 2 SD cards work for standard definition video, while Class 4 and up support 1080p full HD video. Class 10 SD cards are the fastest and are meant for still photography, even burst shooting.
32 GB SanDisk Extreme Plus SDHC UHS-1
A class 10 SDHC card, SanDisk's 32 GB Extreme Plus card is also UHS-1 certified; UHS or Ultra High Speed formatting allows for maximum bus interface speed of 104 MBps. Write and read speeds reach 60 and 80 MBps, respectively, with minimum sustained speeds of 10 MBps for both. This SanDisk SDHC card is built for 3D and 1080p HD video as well as burst shooting. Plus, it's shock, water, and X-ray proof. It can withstand and operate in temperatures from-25 to 85 degrees C. The write-protect switch helps ensure users do not lose data while shooting. The 32 GB capacity is enough for 4,000 photos—assuming a 3.5 MB each—and up to 40 minutes of 1080p HD video at 30 fps.
64 GB Delkin Elite 633x SDXC UHS-1
The Delkin Elite 633x 64 GB SDXC card, a class 10, suits JPEG and RAW burst shooting as well as 3D and HD video. It boasts write and read speeds of 45 and 95 MBps, respectively, and the UHS-1 interface results in a bus speed of 312 MBps. This 64 GB SDXC card is also engineered to withstand static, shock, vibrations, and UV light, thereby being safe to use in harsh outdoor and indoor environments. Error Correction Code and wear levelling both help preserve data integrity as well. Operating temperatures range from -25 to 85 degrees C. The card also comes with CPRM (Content Protection Rights Management) technology to give users peace of mind and protect the data from unauthorised copying.
32 GB Transcend Ultimate 600x SDHC Class 10 UHS-1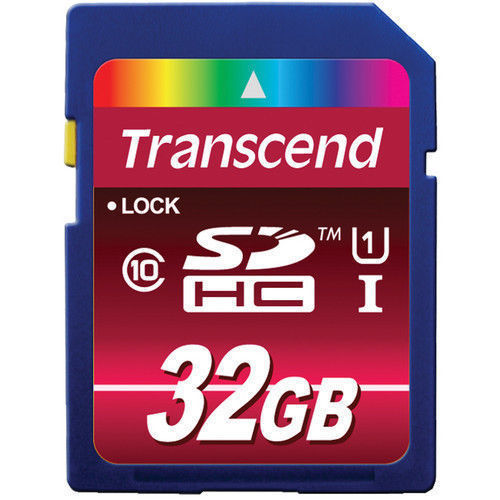 A class 10 card with UHS-1 certification, Transcend's Ultimate 600x SDHC offers the same design that makes it ideal for high-resolution and burst-mode photography, 3D video, 1080p HD, and even 4k HD video. Write and read speeds max out at 45 and 85 MBps, respectively. Built-in error correction code also helps preserve data, along with CPRM, and a mechanical write-protection switch. This Transcend 32 GB SDHC card can hold more than 5000 JPEG photos at 12 MP, nearly 2200 RAW photos, or 480 minutes of 4k HD video.