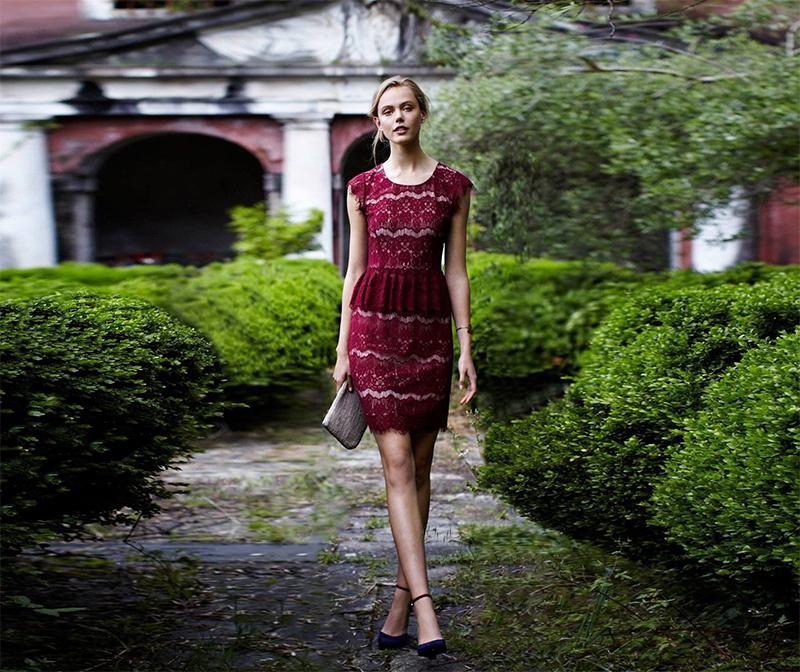 Peplum dresses, skirts, and trousers are interesting, flamboyant, and cheeky ways to heat up your wardrobe. Peplum, the tutu like look at the bottom of a jacket or shirt, or the waistline of dresses and skirts, is a design that tall and slender, or short and curvy people can wear. Whether you prefer a peplum midi dress, or a pencil dress with an above the knee hem, choosing one of the top peplum dress styles can make a super addition to any woman's wardrobe.
Peplum Mini Dresses

Peplum mini length dresses are flirty and add an extra layer to this short look. The peplum tutu at the waist and falling just past mid hip narrows the look of the waist and gives hips the flare needed to achieve a feminine and soft look. A structured jacket over the mini dress gives the outfit a bit of a coy look, mixing business with charm. When wearing a peplum mini dress, more structure at the top is a great way to balance the flounce at the waistline. Strapless dresses that have a straight across top or wide straps are a great way to wear this style. Plunging necklines with peplum tend to cut the body in half, giving the illusion of a wider look, something most women prefer to avoid.
Peplum Midi Dresses
The midi length is perfect for a peplum women's dress as it falls far enough below the knee to give the silhouette a long, lean, and sleek look. Creating the illusion of a smaller waist while keeping the hips flared just enough to flatter, the peplum midi dress is one that easily goes from office to dinner out without a misstep. Just as you might wear a peplum jacket over a pencil dress, the structured jacket, again, works well with a peplum dress, skirt, or trouser. Sky-high heels always work with midi dresses and the peplum is no exception. Avoid fussy styles and go for the sleek look that compliments the dress.
Just Below the Knee Dresses
Mid-knee or just below the knees is a popular peplum dress style for women of all ages. Available in a wide variety of colours and styles, the modern peplum with a more structured feel is a super way to dress up. Women's clothes lengths vary quite a bit, so finding a dress that fits individual leg length is easy. Tall women look great in peplum dresses that fall just below the knee, while shorter women may prefer to wear their peplum dresses to mid-knee or just above. Dress shoes work well with any length dress, but with peplum, it may be best to leave the boots and sandals at home.