The use of pine in making quality furniture is not new, and finding pine chests of drawers that are more than 300 years old is not impossible. While most chests of drawers serve the basic purpose of offering storage space in bedrooms or workshops, they sell in an assortment of styles and can suit a range of decor.
Antique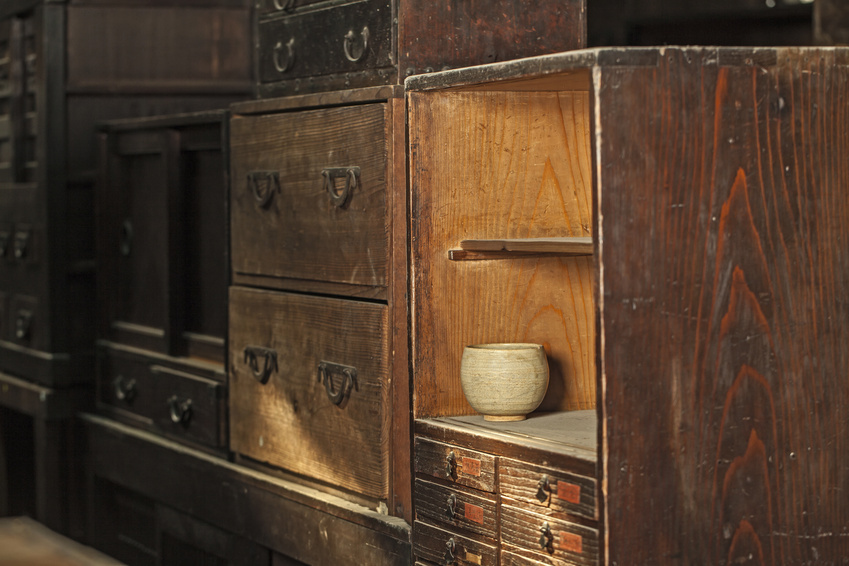 An antique pine chest of drawers not only serves a functional purpose, but it can also appreciate in value. They date back to the late 1600s, when basic designs included three long drawers in varying depths along with two short ones on top. Some early designs also made use of flat pull-out slides on top to offer increased surface area, and designs soon moved to include tall double chests, or tallboys, thereby offering even more storage space. Many pine models from the 17th century have survived the test of time, and buyers can also find oak, French walnut, mahogany, and rosewood options. Styles varied during the course of time. For example, pear drop handles are indicative of the Queen Anne period, swan neck handles came into being after 1750, and ovolo mouldings indicate the George II period. Initial drawer pulls used wood and later brass; the use of brass escutcheons and shields followed.
Vintage

While an antique chest of drawers is at least 100 years old, no strict parameter defines vintage furniture. In general, a vintage pine chest of drawers reflects the era it belongs to, while exhibiting fine workmanship and attention to detail. By this rationale, a Victorian pine chest of drawers qualifies as vintage. Typically, it should not be less than 50 years old. As with antiques, vintage units also sell with varied number of drawers, which include tall chests of drawers. Some vintage chests of drawers come with narrow frames, enabling people to use them in areas with space constraints.
Contemporary
While many old pine chest of drawers rate highly on the aesthetic front, so do a number of modern designs. Standard units come with three to six drawers, sometimes with mirrors on top, and buyers can also find painted chests of drawers in white. Modern models do not conform to traditional shapes, and options include short, tall, curved, as well as units that fit in corners. Tejo Remy, a Dutch designer, offered his own take by famously building a chest of drawers using 20 second-hand drawers tied together using a jute strap. Also a variation of a chest of drawers, an armoire, with a cupboard on top and drawers at the bottom, offers more versatility.